Back to selection
"Like Illustrations from a Children's Book": DP Kuba Kijowski on Sundance Entry The Lure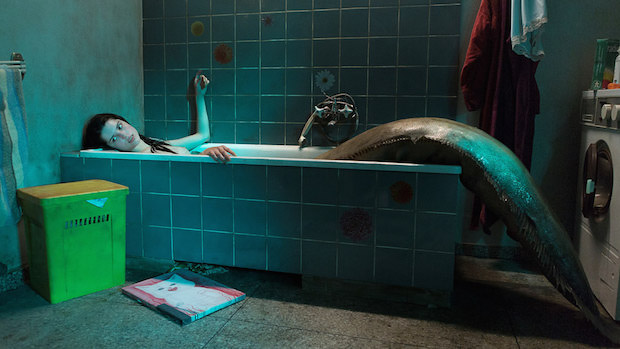 The Lure
Jakub "Kuba" Kijowski has served as cinematographer on two feature-length films: 2013's Floating Skyscrapers and The Lure, aWorld Cinema Dramatic Competition selection at Sundance 2016. Kijowski has also acted as a camera operator on a number of short films, including the Oscar-nominated In Darkness. Below, he discusses the fairy tale and musical-like aesthetic he sought to achieve for Agnieszka Smoczynska's The Lure.
Filmmaker: How and why did you wind up being the cinematographer of your film? What were the factors and attributes that led to your being hired for this job?
Kijowski: I actually didn't know the director, Agnieszka Smoczynska very well. We might have spoke once at a film festival. I think she remembered another feature I had worked on, Tomek Wasilewski's Floating Skyscrapers (Tribeca 2013). Although very different in style than the concept for The Lure, Skyscrapers gave me a lot of exposure among interesting young directors in Poland. I started to be considered as a DP with a very evocative style. I also think that a recommendation of Jola Dylewska didn't hurt – a few years earlier, I was her camera operator on the Academy-nominated In Darkness by Agnieszka Holland.
Filmmaker: What were your artistic goals on this film, and how did you realize them? How did you want your cinematography to enhance the film's storytelling and treatment of its characters?
Kijowski: When I began working on The Lure, I defined its style for myself as a fairy tale. I read the script more like a short story in which the innocent world of children is juxtaposed with the merciless world of adults. That's what informed my thinking of the lighting, camera work, color and composition. I almost wanted for the scenes to feel like illustrations from a children's book. Thus the saturation of images and sometimes abstract camera views. I wanted to really get across the physical aspects of both humans and mermaids. But The Lure is also a musical. We decided on creating a separate aesthetic for each of the songs. As if they were their own little "shows". In between the songs, the camera is handheld, more realistic. I stay close to the main characters.
The final scene is the end of the night and the end of all performances. As the sun rises, the colors become washed out, and the handheld camera becomes almost documentary like.
Filmmaker: Were there any specific influences on your cinematography, whether they be other films, or visual art, of photography, or something else?
Kijowski: Our key visual inspiration was the work of Polish painter, Alexandra Wasilewska. It just reinforced my approach to try to create this clash of naive innocence and brutality. I like her colors – dirty greens. And I was able to find that in some of the scenes. When it comes to the general look of the movie, I was inspired by the photography of the 1980s and how, especially by night, the imperfections of technology enhance the low light settings. General look is often greenish and bluesh. And very surreal. It's a result of the mixture of fluorescent lights and warm street lights.
I used gels to mimic that. And then, we emphasized that effect in grading.
Filmmaker: What camera did you shoot on? Why did you choose the camera that you did?
It was Arri Alexa XT. I like its pastel colors and the range. It really gives you a lot of options in post.
Filmmaker: What lenses did you use?
Kijowski: The Lure is a panoramic film but shot with spheric lenses. I wanted "old" lenses for a vintage look from the get go, and went with Zeiss Super – Speed MK II T1.3.
For underwater shots we used Zeiss Ultra-Prime to avoid any resolution problems with older lenses.
I also used new Angenieux zoom 15.5mm-94mm, to play with the "kitchy" zoom in/ zoom out effect.
Filmmaker: What was the most difficult scene to realize and why? And how did you do it?
Kijowski: The Lure is basically a musical-in-a-movie and each of our musical scenes presented its own challenge. It was new to me to collaborate and prepare each scene with a choreographer.
As for the other scenes, we went for realism. The opening scene wasn't easy as we had to match the cool, dark night by the river with underwater elements that we had to film in an indoor pool.
And then the finale scene – where we go from the night and the outdoor party, into a cool, desaturated dawn.
We needed to show how the approaching day turns the mermaid into sea foam. But we were only able to tell that part of the story with the first rays of sunlight. Otherwise it would have been too subtle. And so to really have full control over the scene, I decided to use lamps – Tungsten with a dimmer to create the effect of the sun.
We actually had a problem with the main 20KW lamp that was on our main characters. As a result I had to go with the second best. But I'm probably the only person who sees it now.
Camera: Alexa XT
prime lenses set: Zeiss super speed T1.3 – prime lens set.
zoom : aungueni zoom 19.5mm – 94 mm