Back to selection
DP Philippe Bellaiche on Israel/Palestine Doc The Settlers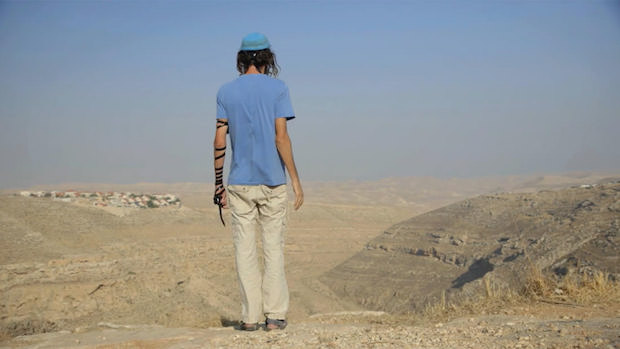 The Settlers
Documentary DP Philippe Bellaiche has worked steadily on more than 30 documentary features and shorts over the past 16 years. On The Settlers, the Israel/Palestine documentary from Shimon Dotan, he had his first encounter with physical violence. Below, Bellaiche speaks about the film's evolving structure, the region's landscapes and getting assaulted by a group of young men while on a shoot. Dotan and Bellaiche's previous film together, Hot House, won the Special Jury Prize in the World Documentary program at Sundance 2007.
Filmmaker: How and why did you wind up being the cinematographer of your film? What were the factors and attributes that led to your being hired for this job?
Bellaiche: I've been shooting non-fiction auteur films, especially in Israel/Palestine, for almost 20 years. Since Shimon Dotan and I worked together on his previous documentary, Hot House, working together on The Settlers was a natural continuation.
Filmmaker: What were your artistic goals on this film, and how did you realize them? How did you want your cinematography to enhance the film's storytelling and treatment of its characters?
Bellaiche: When we first got started, we shot it like a road movie, and that went on for some time while Shimon got to know the human and physical landscape better. In a sense, that was the most exciting part: looking at whoever/whatever we encountered with a critical, yet very curious eye. We knew from the beginning, before we even thought of doing aerial shots, that the physical landscape would be a major player in the film, as it is in reality — the conflict is first and foremost a dispute over land. So the emphasis in the cinematography was to show the land in all its splendor, and therefore shoot as much as possible — including interviews — outdoors.
Filmmaker: Were there any specific influences on your cinematography, whether they be other films, or visual art, of photography, or something else?
Bellaiche: The challenge in this film, as I saw it, was to let people be at ease in front of the camera and let them open up and relay their truth even though there was no time to build intimacy, unlike other documentaries, where intimate relationships are forged over time. We had very direct and honest contact with the characters, but no intimacy. We let them decide how far they would go. The challenge for me as a DP was to find the right distance, i.e. not to fake an intimacy that didn't exist. Instead, we captured each encounter for what it was: warmer, colder, casual, formal, etc. without creating a standard or formula into which everyone needed to fit. I believe Shimon's idea to let the characters present themselves on a green screen helped them to understand their own responsibility for the way in which they'll be represented in the film; that what they'll say will be taken at face value and that the camera will not try to manipulate their image.
Filmmaker: What were the biggest challenges posed by production to those goals?
Bellaiche: The Settlers was an exploration, and it evolved as we went. What may have begun as a road movie turned with time into a historical epic. Along that journey, filming styles and storytelling approaches changed. That can be very challenging for a DP, especially if s/he falls in love with one style/approach. The test of a good DP is always seeing the film and its needs as a whole, beyond his or her domain or "department."
Filmmaker: What camera did you shoot on? Why did you choose the camera that you did? What lenses did you use?
Bellaiche: We shot on a Canon C300 with, alas, Canon DSLR zoom lenses, since cinema lenses — including those manufactured by Canon — are too cumbersome for dynamic documentary work. I would have loved to use cinema lenses, but the people who design them don't seem to take handheld documentary situations like moving from the inside of a house, out to a car, over to a neighbor's house, and down to a field, into consideration. In this film, we never knew what our days would be made of, and we needed to be very responsive and versatile.
Filmmaker: Describe your approach to lighting.
Bellaiche: Sunshine (seriously!)
Filmmaker: What was the most difficult scene to realize and why? And how did you do it?
Bellaiche: The most difficult scene to shoot was one that never made it into the film. One day, we went for a pick-up shoot near a settlement in the northern West Bank known for its extremism. The neighboring Palestinian village had suffered attacks on its fields, and some Israeli and international activists were trying to help them harvest their crops. We went a few days after the settlers had attacked both the farmers and the activists. The day we got there, there were no activists, just Palestinians. We positioned ourselves "neither here nor there," trying to capture the scene as a whole. But neutrality is not the name of the game in these parts, at least not as far as the settlers are concerned. For them, you're either with them or against them, and since we approached the settlement from the wrong side, i.e. the Palestinian side, we were cast or marked accordingly.
Long story short: before I knew it, I was attacked by five young settlers, masked and armed with metal rods. Like any good cameraman, I ran while trying to get the memory card out ("footage first!). Needless to say, they caught up with me. They did not ask any questions, like who I was or what I was doing there. The beating was immediate and brutal, but the fact that they took the camera was somehow harsher; an instrument they didn't need and couldn't use, a precious piece of equipment that was no more than trophy to them: "We beat the press to a pulp!" It was the first time in 20 years of working in various conflict zones that anything like this had ever happened to me. Being a documentary DP means keeping your eyes and ears wide open; not so as to register danger, but rather to keep your heart and mind wide open, to offer people your trust in exchange for their truth. I've worked hard since that experience not to let those guys change my approach to people, places and situations, as volatile as they may be.
Filmmaker: Finally, describe the finishing of the film. How much of your look was "baked in" versus realized in the DI?
Bellaiche: In this film, post-production came to emphasis what was already established in the shoot.
Cameras: Canon C300; BMPCC
Lenses: Canon Zoom 17-55; Canon 24-105; Canon 70-200
Lighting: Sunshine; Arri HMI Pocket PAR
Color Grading: DaVinci