Back to selection
Five Questions for How to Tell You're a Douchebag Writer/Director Tahir Jetter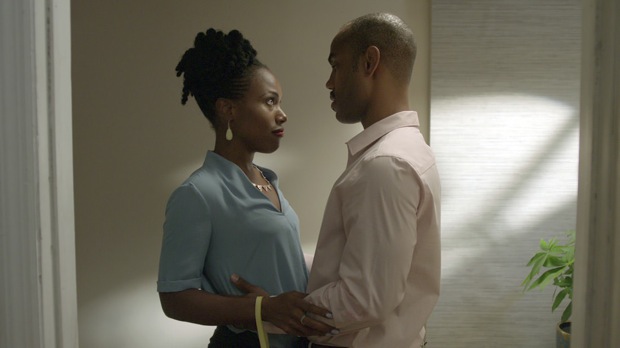 How to Tell You're a Douchebag
Having made his Sundance debut with the short film Close. in 2011, filmmaker Tahir Jetter returned with his debut feature, How To Tell You're A Douchebag — a film that, as he discusses below, he wasn't sure would bring him back to Park City. After his web series Hard Times was picked up for distribution by Issa Rae Productions in 2014, Jetter set his sights on a feature film about dating in the modern world. To raise awareness of the project, Jetter published a blog, Occasionally Dating Black Women, written in a voice that would turn out to be his fictional main character. Inspired by films that handle romantic relationships in a clever way (Woody Allen and Spike Lee are cited as influences), Jetter's How To Tell You're A Douchebag premiered in the NEXT section of the 2016 Sundance Film Festival.
Filmmaker: Your NYU student thesis film, Close., screened in the 2011 Sundance Film Festival. In a series of journal entries you wrote for Shadow and Act, you noted "some people didn't think [the film] showed that I could tell a proper story. Two years after Sundance and it already feels like I might not be able to return." Well, you're now at Sundance with your first feature! How has your career changed in the interim?
Jetter: [laughs] I remember that journal entry. It's great to be back at Sundance! Truth be told, I don't know if my "career" has changed much since 2011, but I am eager to see what happens after having made this film. In my estimation of how independent film is viewed today, it seems that indie features are serving the purpose that short films served several years ago, i.e. that of a calling card for up-and-coming talent. So we'll see what happens!
Filmmaker: Could you talk about the creation of the "Occasionally Dating Black Women" blog and how it led to the arrival of How To Tell You're a Douchebag?
Jetter: To be honest, I developed the "Occasionally Dating Black Women" blog after the script had been written. I thought that making Ray's blog real could be a hilarious point of reference for just how much of a douchebag this character really is — not only for prospective audiences, but also for our lead actor as we were approaching production. I think having the blog helped us delve a little deeper into Ray's psyche and make him feel authentically terrible.
Filmmaker: Were there other notable films that dealt with relationships that inspired you?
Jetter: Other notable films dealing with relationships that inspired me were a lot of the guy-centered movies I remember having seen at a younger age — Mo' Better Blues, Annie Hall, High Fidelity, etc., about these angsty guys who struggle to cope with relationships that have reached an impasse.
Filmmaker: The film touches on the idea of love in the digital age, an age in which men and women are more connected to their social media personas than with forming person-to-person relationships. How did you approach such material without having it appear as a condemnation of today's 20somethings?
Jetter: That's a great question. The ubiquity of social media (and the tacit pressure that comes with having to carve out one's "persona" on various platforms) is something that I find very annoying in a Luddite kind of way. I miss talking on phones. I miss seeing people. I miss not having to look at screens all day. Nevertheless, we basically attempted to use sound design and music to highlight the conventional omnipresence of the online world in a humorous and matter-of-fact way. Screens, bleeps, clicks, etc., are all part of our modern lexicon, and I wanted to incorporate that as much as possible without making it feel obtrusive. Because the movie is appreciably noisy (in a good way), we were very intent on deciding when and how to present various sounds in the "actual" world as well, paying particular attention to how we would use silence to underscore various characters' moments of introspection, isolation or loneliness. Honestly, I think that we succeed at not condemning 20somethings due to their use of social media, because I think the movie positions it as a kind of nuisance that happens to plague everyone in the story, through no fault of their own.
Filmmaker: Has social media played a role in how you've crafted and marketed this film?
Jetter: Social media has totally played a role. The whole story (in addition to being inspired by real life) was significantly informed by a lot of the conversations that I'd seen exchanged on Twitter since 2009. I find Twitter fascinating in the sense that there can be a slew of praise for a deceased celebrity one day and a flurry of virulent arguments on another.…it's just all very interesting and strange. With How To Tell You're A Douchebag, I was particularly interested in the internet pillory that takes place when an individual (usually a person with a lot of followers) offends some other "internet-famous" person, and receives the collective wrath of some online community shortly thereafter. This is obviously something that we explore in our film. In addition to Ray's "Occasionally Dating Black Women" blog (which I think that we'll continue to highlight as we move forward), there's also plenty happening within the movie that is meme-ready and conducive to being shared online. The movie is full of funny moments, and so I'll be excited to put them out into the world as we proceed with distribution.