Back to selection
"I Love Everything About Exorcism": Five Questions for Another Evil Writer/Director Carson Mell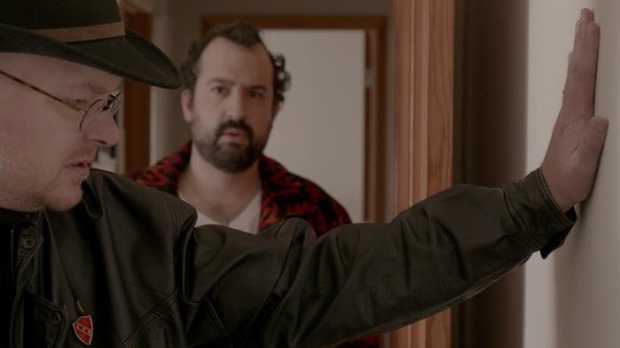 Another Evil
Multi-hyphenate Carson Mell has been known in the independent film world for some of the most subversively entertaining animated shorts of recent years, including Bobby Bird: The Devil in Denim. He's acted, appearing recently in Marielle Heller's The Diary of a Teenage Girl. And he's now an established television writer, having written for the series Eastbound and Down and Silicon Valley. Which is all to say that the subject matter of his first feature would have been anyone's guess. Beating a comedy about alcoholic astronauts to the punch is his SXSW-premiering, IFP Narrative Lab selection, Another Evil, a comedy about exorcism starring Togetherness's Steve Zissis. Below, Mell talks about choosing between animation and live action, breaking into TV and why exorcism is hilarious.
Filmmaker: After being so successful with your previous animated shorts, what led to your decision to do make your first film live action?
Mell: I like all storytelling mediums. Animation, live action, prose. When I get an idea for a story, I want to make it with the medium that would work best to tell the story. Ever since I got the idea for this movie, I saw the characters as flesh and blood people, so it had to be live action.
Filmmaker: And, what specifically sparked this idea of a comedic film dealing with exorcism?
Mello: I love everything about exorcism. The process of binding someone to a bed, the accoutrements. All of it. But to me the movie is more about ghosts than exorcism, really. There's something very funny about reactions to ghosts and other supernatural phenomenon. In horror movies, it's always pretty straightforward and scary. But if I showed you a video of your friend reacting to a ghost, you wouldn't scream, you'd laugh. For the most part, people in fear of something as vague and misty as ghosts is a pretty funny thing. So it just makes sense to make fun of it.
Filmmaker: Do you yourself believe in ghosts?
Mell: I completely believe in ghosts. One hundred percent. Don't know if they're the souls of dead folks wafting about, but there's something funky going on in plenty of old buildings all over the world. I'm a devout agnostic, and for me the fun in ghosts and other unexplained phenomena are the questions they inspire. Is this really happening? Are these demons, angels, something else? Is this just a blip in time? All that kind of stuff. How a character answers those inherently unanswerable questions gives you a big insight into who they are and how they approach the world. So extreme situations like ghosts are a great way to explore character.
Filmmaker: Following your early shorts you moved into television writing. How did you make that transition, and how is your work as a TV writer now affecting your work as a director of your own films?
Mell: It was a self-published novel, Saguaro, that actually lead me to my first TV work. I was hired to write some shorts for Fox by someone who'd read it, and that was the gig that eventually lead to a manager, and then working with HBO. That's why I think anyone having a hard time breaking into TV or Hollywood in general should self publish as much as possible. Writing for Eastbound And Down taught me how to write fast and that no one wants to read florid prose in a screenplay. Everything I write now is much more direct. I've also learned a lot of good writing tricks from the people I work with at Silicon Valley.
Filmmaker: Looking past your film's supernatural elements, what were the character-based or thematic or social issues you were tackling in this film?
Mell: Thematically, without saying too much, to me this is a film about fear. It's also about the question, "When is a good time to take a break from work and just rest?"