Back to selection
"If Something Looks 'Lit' My Skin Crawls": Free in Deed D.P. Ava Berkofsky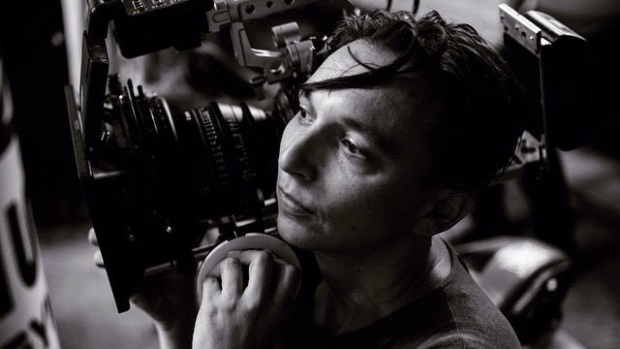 After shooting a number of well-regarded shorts, including former SXSW selection Sequin Raze and Picturing Barbara Kruger, Ava Berkofsky makes her impressive dramatic feature cinematography debut with one of the most bracing movies on this year's independent circuit, Free in Deed. The third feature from 2005 Filmmaker 25 New Face Jake Mahaffy, it's a probing and at times assaultive story inspired by a real-life tragedy: the death of a young boy at the hands of a religious faith healer. Berkofsky's fluid, expressionistic lensing brings the mental turmoil of the film's characters — the healer, the boy, and the boy's distraught, confused mother — into physical space, creating an immersive experience for the viewer. Following Free in Deed, Berkofsky went on to shoot another movie produced by Mike S. Ryan, The Missing Girl, and is now being celebrated as one of today's rising directors of photography. Below, Berkofsky talks influences, her approach to lighting, and getting a bold look on a short schedule.
Filmmaker: How and why did you wind up being the cinematographer of your film? What were the factors and attributes that led to your being hired for this job?
Berkofsky: Jake Mahaffy and Mike (Ryan) were referred to me by a couple of people who we all really respect. Once I read the script I was 5,000% certain I wanted to shoot it. I immediately connected to the nuanced way it looked at systemic poverty, religion, and bigger questions of faith. The script was not judgmental of its characters, and, honestly, it really moved me. Jake and I had many conversations before I was hired. He's got an amazing mind and in order to understand each other, sometimes we first had to disagree. Because I felt so connected to the script I spoke from my own point of view. I think this was interesting to Jake because it offered him a different perspective, and in the end, I'd say we got somewhere new together.
Filmmaker: What were your artistic goals on this film, and how did you realize them? How did you want your cinematography to enhance the film's storytelling and treatment of its characters?
Berkofsky: First and foremost my goal with shooting Free In Deed was to create a world where our main character's logic made sense in every aspect of the visual language. I wanted his sense of the "end of days", and his intense and immediate relationship to an invisible force (god), to be embedded deep in the texture of everything we see. The way I exposed the digital negative was to pull out and expand on the subtleties in the darker tones. I also used lots of cramped dirty framings, as well as disorienting and incomplete framings. It felt important to take risks and fully commit to this way of seeing, or else jeopardize what felt so true and specific about the script. The narrative felt to me like a deep pull toward something that's unseen but inevitable- pulling like a magnet. In order create this feeling, we used lots of slow, patient camera moves that fit together throughout the film, and work to push that tension between faith and what's inevitable.
Filmmaker: Were there any specific influences on your cinematography, whether they be other films, or visual art, of photography, or something else?
Berkofsky: The first thing we did when I got to Memphis was attend a whole series of different Pentecostal church services. The music and the energy from all the services (including the ones in the film) were a huge influence on my visual approach. There's an ecstasy and a spirit that is impossible not to feel. I felt really connected, which translated in my pushing for an experiential method of shooting some of the church scenes. I also looked at films where the camera took on a spirit of its own. Jake showed me The Double Life Of Veronique which has such a moment when one of the Veronique's dies, and my brain exploded. I also looked at the Passion of Joan of Arc, Prisoners, and Biutiful. In terms of tone and quality of image, I'm very influenced by a certain kind of poetic documentary photography. Martina Hoogland Ivanow has been extremely inspiring to me.
Filmmaker: What were the biggest challenges posed by production to those goals?
Berkofsky: Our biggest challenge was time. We shot the film in something like 19 days which necessitated a certain pace. I wish we could have taken more time.
Filmmaker: What camera did you shoot on? Why did you choose the camera that you did? What lenses did you use?
Berkofsky: We shot on the ALEXA classic with Zeiss Standard Speeds from TCS in NYC. I chose the camera because its color reproduction is very natural, and its dynamic range is strong on the lower end of the gamma curve. I know that, while it's not the most light sensitive camera, you can expose it for the highlights and stretch out the darker tones nicely.
Filmmaker: Describe your approach to lighting.
Berkofsky: When it comes to lighting, especially with this film in particular, everything needs to feel motivated. I don't like magic hair lights. If something looks "lit" my skin sort of crawls. I like to light a space and see what happens- because that's how the world is! I usually create one element I can't really control for the camera to discover. To me, and again especially with this film- if it feels like it's lit by"available light" that's somehow just working, then I'm happy.
Filmmaker: What was the most difficult scene to realize and why? And how did you do it?
Berkofsky: There's a small scene that plays out in a single shot that was difficult to make happen. The shot starts on the black and white static fuzz of a TV and dollies back from outside the house as Abe (David Harewood) comes and knocks on the door and Melva (Edwina Findley) reacts by sitting up on the couch and into frame. Melva lets Abe in, they talk, appearing to be lit by the static fuzz from the TV, Abe leaves and the camera move stops. Getting the timing of where the camera would be when with the blocking was not difficult as it was a simple enough move. But what was really difficult was the fact that we didn't have a dolly that day. It was the very very last shot of a day that had already been really long and we were told we had one take and if it didn't work we had to drop it. We basically connected and reinforced speed rail (aluminum pipe) so it went 20 ft, sloped it down so we wouldn't see the rails, and did it as an upward sloping slider move.
Filmmaker: Finally, describe the finishing of the film. How much of your look was "baked in" versus realized in the DI?
Berkofsky: The film was finished at Park Pictures in New Zealand, where Jake lives. I shot log-c prores 2k on the Alexa so the look was started with how I exposed the camera, but not baked in per se. Most days I colored stills from each location to give to our DIT who transcoded dallies, so the footage the editors would cut with would resemble how I wanted it to look when it was actually colored.
When it came time to do final color at Park Road Post Production, I sent a couple stills from every scene that I had colored from the raw footage. Definitely not the my favorite way of working, but I'm happy with how it came out! Jake was with the colorist in person and we were very much on the same page.
Tech Details
Camera: ALEXA Classic
Lenses: Zeiss Standard Speeds
Lighting: HMI, Tungsten, LED, practicals, available light. everything. Firefly Grip & Electric
Processing: Digital