Back to selection
"Help a Director Out as an Actor by Being a Good Soldier": Jason Batemen on The Family Fang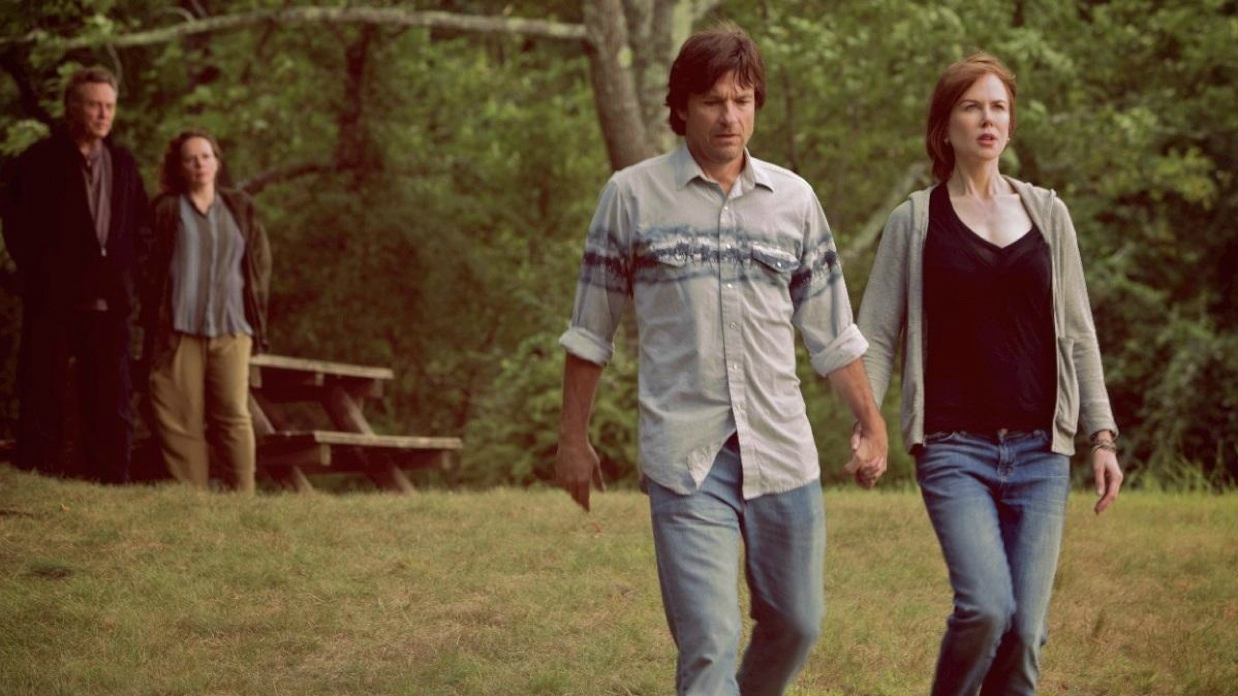 Christopher Walken, Maryann Plunkett, Jason Bateman and Nicole Kidman in The Family Fang
After more than 30 years on screen — from his baby-faced days on Little House on the Prairie to his work on Arrested Development — Jason Bateman directed his first feature in 2013 with Bad Words. He now returns behind the camera with The Family Fang, an adaptation of the 2011 bestselling novel by Kevin Wilson. The Family Fang charts the 40-year saga of a family led by a pair of eccentric performance artists: Caleb (Christopher Walken) and Camille (Maryann Plunkett) Fang. In the '70s, the Fang parents enlisted their children Baxter (Bateman) and Annie (Nicole Kidman) to act in their abrasive art projects. In the present day, the adult children have other ideas.
I recently spoke with Bateman at a Soho hotel during the Tribeca Film Festival. As he sat eating a colorless iceberg salad, Bateman talked shop about shooting on multiple formats and why he loves stories of family dysfunction. He also discussed the film's parallels to his own life as a former child actor. The Family Fang premiered at TIFF 2015 and will open in New York this Friday.
Filmmaker: Many viewers first came to know you through Arrested Development, which is of course another dysfunctional family story. What draws you to these types of stories?
Bateman: I like things that are both comedic and dramatic, and there's a lot of that in family dysfunction. It's usually pretty grounded and complicated and challenging for the characters in that world. They don't think it's a comedy. The determination and the conviction that each one of those family members have is usually at a fairly comedic level, because they're being so dramatic. I kind of like that. It's an odd thing to try to ride. Oftentimes you can make something comedic by the way you frame it or score the music around it. I like that it's not clearly one or the other. It allows you to do both sometimes in the same page, definitely in the same scene and certainly in the same sequence.
Filmmaker: Do you think of this as more personal film for you? Certainly some viewers might find parallels to your life in the film, given that your sister was an actor like Nicole Kidman's character and your dad was a filmmaker who had you star in his films when you were a kid.
Bateman: For sure. I didn't know of the book before. The script was written and delivered to me with Nicole [Kidman] saying that she was interested in me directing it and playing the brother. I guess she had seen and really like Bad Words. That's how it found me, and I loved the script.
Obviously I related to the central theme in the film, which is that there are a couple of adult children here who are trying to figure out the best and most responsible way to perceive their parents now versus the way they may have when they were kids. That's certainly not unique to me and [my sister] Justine, but it's a complicated review process for us given that our parents were our managers when we were kids. These parents in this film are these kinds of circus leaders that put us in their show. There's some similarities there, so I felt like the film was something I might be able to guide and navigate fairly well. I tried not to drag any of my own baggage into it, but it gave me a good sense of confidence in being able to manage the tone of it. There's something pretty absurdly comedic about that question of figuring out what kind of role your parents play in your adult life.
Filmmaker: Has Justine seen the film?
Bateman: Yeah, she liked it a lot.
Filmmaker: Did she see some of those parallels as well?
Bateman: I forget what she said about that, but I do remember there was some recognition. She certainly understood what appealed to me about it.
Filmmaker: I liked the scene between the two critics discussing the Fangs' work. It felt very authentic. Which of the two critics do you side with more — the critic who says their work is subversive art, or the critic who calls their work "hollow pranks"?
Bateman: I tend to be a lot more cynical, so I'd probably go with the [hollow pranks] guy that was screen-right. The taller guy who's screen-left is actually my best friend Steve Witting. We used to be on a television show together. I try to find a good role for him in anything I'm doing, and this was a perfect for him because he's a bit of an intellectual and seems a bit like a film critic.
That's a really important scene because it's the first and really only scene where we get the audience's perspective hopefully on this eccentric family is. Otherwise, we stay inside the family's world all the way through. This is really the only outside, objective view.
Filmmaker: Do you have a favorite art piece or prank of theirs?
Bateman: I like the opening bank sequence for a few reasons. One, I was really proud of the crew that we got that done. That was the first day of shooting, and it was a really ambitious thing to start with. Probably not fantastic planning but we didn't really have a lot of choices. I also like tonally what it does for the audience. It shoots you out of a canon and lets you know that as entertaining as this sequence is, it is equal parts comedic and dramatic and unsettling. It says, "Keep your knees bent because here comes a film that hopefully you won't be able to put your finger on or label as one thing or another."
Filmmaker: What do you think separates the Fangs' pieces from, say, pranks on a hidden camera show like Jackass?
Bateman: I think the goal of Caleb and Camille Fang is to get a reaction from their crowd that is something cerebral and emotional as opposed to something more physical or visceral. They're not looking for the audience to be grossed out or appalled or scared. They're looking for their audience to be pushed into thought or analysis about a particular issue. They're just a little more highbrow about it.
Filmmaker: You've of course played the straight man role in a number of films and shows. Do you think of Baxter as a straight man role, or was there more to the role than that for you?
Bateman: I think he's pretty much a straight-man. I think that he's had, just by being the youngest, the benefit of his older sister forging a path through this craziness before him. The waters are a little bit calmer in her wake. I think that he also lets the water roll off his back a little more than she does. That's a bit of a second-child thing. As a result he is more of a straight man. He's easier with everything. His casualness affords him the opportunity to observe everything as opposed to react to everything.
Filmmaker: Nicole Kidman's character gets on a pretty intense "healthy living" kick in the film as she tries to stop drinking. These scenes registered to me as funny because she's trying so hard. Is this an example of the kind of you humor you mentioned earlier — finding comedy in people being overly dramatic?
Bateman: Not to talk like a comedy scientist, but I think humor really lives just beyond normalcy. It lives just beyond what you or I would do. So anytime you're dealing with a character that's going to go a bit too far, and in this case she's sort of pressing to try to make an abrupt change in her life, it ends up looking and feeling more comedic to most of us sitting in the audience. To her, it's not. It's a real effort and a real tragedy that she has to go this far. That's the kind of humor I really enjoy.
Filmmaker: You mentioned earlier the bank robbery scene in the film. Many of the art pieces that we see are flashbacks to the '70s. From a filmmaking standpoint, how did you and your crew work to create the '70s feel of these images?
Bateman: We shot everything from that time period on Super 16mm. We adjusted the color palette a little in the DI to feel a bit more period as well. Obviously costume, production design and set dec reflected that as well. There was one brief sequence we shot on beta. The modern day was shot on the ALEXA. We tried to play with the visual component to help communicate the 40-year time span of the film. There's also a documentary that threads all the way through the film. I tried to help by putting in the timecode bottom right, which I'm sure is confusing to people until they figure out what it is later. That was by design. I always appreciate films that give you stuff and you don't know what it means until later. There were a bunch of things we tried to pull off. I'm sure some were more successful than others.
Filmmaker: This is your second film as a director. Do you envision directing as something that will take up more of your career in the future?
Bateman: I would like it to for sure. It's really fulfilling, gratifying and challenging for me. The acting is something that I'll always love to do. If I can do both on the same project, that's even better. It's just such a privilege to be the person who's responsible for what the audience sees, hears, feels. It's complicated in the best sense of the word. Actors, not to belittle what they do, are a very small part of what a film is. I certainly have much more of an appreciation for that now having done the directing a couple of times. You really need to help a director out as an actor by being a good soldier. There's a lot of stuff he or she has to do or has already done before you even show up on set. Not to mention all they're going to do after you run to your next project. Post-production can be even longer than prep and principal combined.