Back to selection
Sundance Announces Eight First-Time Directors for its June Directors Lab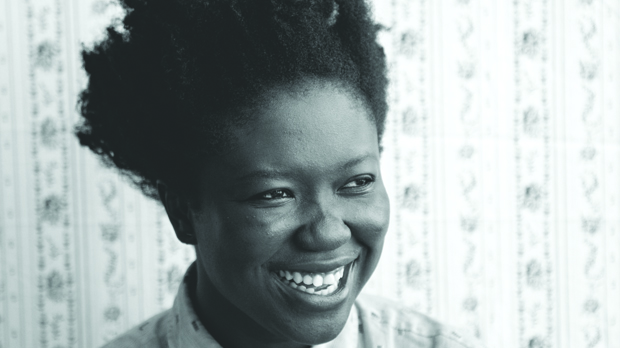 Frances Bodomo
The Sundance Institute announced today the eight first-time feature directors selected to participate in its June Directors Lab. Over nearly a month at the Lab — a program that has mentored directors including Cary Fukunaga, Quentin Tarantino, Dee Rees and Marielle Heller — the directors will receive guidance and mentorship from an impressive list of advisors (director David Gordon Green, DP Bradford Young and editor Dylan Tichenor, to name a few), and will workshop scenes with actors and crew. This year's filmmakers arrive in Utah with a diverse group of projects spanning topics from the Zambian space program, a mysterious death in the hinterlands of India, and a cyber thriller dealing with a leaked video spread on social media.
Half of the eight filmmakers will be familiar to Filmmaker readers as they've appeared on our 25 New Faces list over the years. They are Eva Vives (2003), Annie Silverstein (2014), Frances Bodomo (2014) and Pippa Bianco (2015).
The Sundance Director Lab is led by Sundance Institute Feature Film Program Founding Director Michelle Satter, Labs Director Ilyse McKimmie and is under the artistic direction of Gyula Gazdag. Said Satter in a press release, "Our Directors Lab and other programs play a critical role in discovering diverse artists and launching their careers, and this year's filmmakers are our most diverse group ever in terms of their backgrounds, experiences and perspectives. We are thrilled to work with each of them to further develop the most distinctive, singular and timely stories that might otherwise go untold."
Below, from the press release, are the eight directors along with descriptions of their projects:
Frances Bodomo / Afronauts (Zambia/U.S.A.): Just after Zambian Independence in 1964, an ingenious group of villagers build a homemade rocket in a wild bid to join the Space Race. 17-year-old astronaut Matha Mwambwa must decide if blasting off in the precarious rocket vindicates her past or just makes her a glorified human sacrifice. Inspired by true events.

Ghanian writer/director Frances Bodomo grew up in Ghana, Norway, and Hong Kong, before moving to New York City to study film at Columbia University (BA) and NYU's Tisch School of the Arts (MFA). Her short films Boneshaker and Afronauts both premiered at the Sundance Film Festival, and went on to play various festivals including the Berlinale, Telluride, and New Directors/New Films. She recently directed the short segment Everybody Dies! for the omnibus feature Collective:Unconscious, which premiered at the 2016 SXSW Film Festival. Bodomo is a Sundance Institute | Alfred P. Sloan Fellow.

Annie Silverstein / Bull (U.S.A.): In a near-abandoned subdivision west of Houston, a wayward teen runs headlong into her equally willful and unforgiving neighbor—an aging bullfighter who's seen his best days in the arena. It's a collision that will change them both.

Annie Silverstein is an award-winning filmmaker and youth worker based in Austin, Texas. Her fiction and documentary films have screened at international festivals including Cannes, SXSW, Silverdocs and on PBS Independent Lens. Most recently she wrote and directed Skunk, which won the jury award at the 2014 Cannes Film Festival–Cinéfondation. Silverstein is a recipient of the San Francisco Film Society/Kenneth Rainin Foundation Grant for developing her first fiction feature.

César Cervantes / Hot Clip (U.S.A.): In the aftermath of their best friend's fatal confrontation with a cop, three Southeast Los Angeles skaters spend 24 hours chasing dreams, making trouble and trying to survive in a community on the verge of exploding.  

César Cervantes is a first-generation Chicano filmmaker from Maywood, California. His skateboarding do-it-yourself background and whatever-it-takes approach to filmmaking got him into the Emerging Filmmakers Showcase at the Cannes Film Festival, led him to create an after-school film program for inner-city youth with the help of CAA, and put him on tour with the Grammy-winning band La Santa Cecilia as their lead videographer. A Vassar College graduate, Cervantes will make his feature debut with Hot Clip. Cervantes is the first recipient of the Feature Film Program Latino Fellowship.

Kibwe Tavares / The Kitchen (United Kingdom): Raised in London's first favela housed in an abandoned Council high-rise, known as the Kitchen, Es commits smash-and-grab thefts as a way of redistributing the wealth to the community who took him in. When the inhabitants are threatened with eviction by the police, Es is tasked with a high-stakes heist that pits him against the Kitchen's leader and irrevocably alters his definition of family.

Kibwe Tavares graduated from the Bartlett School of Architecture with a thesis called Robots of Brixton, a short film that won the Special Jury Award for Animation at the 2012 Sundance Film Festival. With the backing of Film4, he directed his second short film, Jonah, which won both the Special Jury prize and Best Short Film at the Commercial Film Producers of Europe and Shots Young Directors Awards. More recently, Tavares has been awarded a TED fellowship, named as one of the top 20 young global directors at the Saatchi & Saatchi New Directors Showcase and has recently finished directing his third short Robot and Scarecrow.

Eva Vives / Nina (U.S.A.): Just as Nina Geld's brilliant and angry stand up kicks her career into high gear, her romantic life gets complicated, forcing her to reckon with what it means to be creative, authentic and a woman in today's culture.

Eva Vives is a graduate of NYU's Tisch School of the Arts. In 2000, she won the Best Short Prize at the Sundance Film Festival and Cannes Film Festival with Five Feet High and Rising, a short she cast, edited and produced. She followed that up with the feature Raising Victor Vargas, which she co-wrote. Vives has been writing numerous projects, including Chrome & Paint, a film she co-wrote with Ice Cube. Vives was one of four writers in the Disney Writers Program from 2010-2012. Most recently, she wrote and directed the short film Join the Club, which premiered at the 2016 Sundance Film Festival. She was also a finalist for the 2016 Atlanta Film Festival's Filmmaker to Watch award.

Sandhya Suri / Santosh (India/United Kingdom): In the corrupt hinterlands of Northern India, a young widow, Santosh, inherits her husband's job as police constable. When a girl's body is found in a well, she is forced to confront the brutality around her and the violence within.

Sandhya Suri is a British-Indian writer/director based in London. A graduate in pure mathematics, she received a scholarship to study documentary at The National Film and Television School. Her feature documentary I for India premiered in the World Competition section of the Sundance Film Festival, screened at over 20 international festivals and garnered several awards before being released theatrically to critical acclaim in the UK and the U.S. Suri also participated in the 2015 Drishyam | Sundance Screenwriters Lab.

Pippa Bianco / Share (U.S.A.): In this cyber thriller, a disturbing video—leaked from a local high school—throws a Long Island community into chaos and the national spotlight as they try to unravel the story behind it.

Pippa Bianco studied at Yale University, where she received the Lamar Film Studies Prize and Pearson American Studies Prize before moving to New York to make films. In 2015, her short film Share screened at the Telluride Film Festival, won a jury prize at SXSW 2015, and won Cinéfondation's First Prize at the Cannes Film Festival. Her recent work also includes a commission for LACMA scored by Nico Jaar, and a writing credit on Bleed for This, a forthcoming boxing biopic starring Miles Teller, produced by Bruce Cohen and executive produced by Martin Scorsese.

Boots Riley / Sorry to Bother You (U.S.A.): A black telemarketer with self-esteem issues discovers a magical key to business success, propelling him to the upper echelons of the hierarchy just as his activist comrades are rising up against unjust labor practices. When he uncovers the macabre secret of his corporate overlords, he must decide whether to stand up or sell out.

Boots Riley studied film at San Francisco State University before ending his studies in favor of a major label recording deal for his band, The Coup. He directed a music video for The Coup's "Me And Jesus The Pimp In A '79 Granada Last Night," upon which the novel Too Beautiful For Words was based. He has never won an award for artistic achievement, but has decided that being the only musical artist whose surveillance was uncovered via Wikileaks is just as good as an Oscar or a GRAMMY.