Back to selection
DP Eve M. Cohen Discusses Virtual Reality and Crowdfunding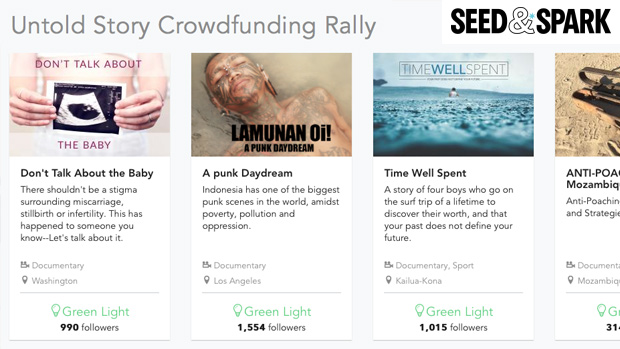 In part I of this interview, cinematographer Eve M. Cohen talked about working on the independent feature Be Somebody. In the second part of the interview, she talks about her experience with shooting for virtual reality projects, as well as Seed and Spark, a crowd funding and community site for filmmakers.
Filmmaker: You've started working in virtual reality. Can you tell us about that?
Cohen: Virtual reality is really exciting and I think that it's important to differentiate virtual reality filmmaking from 2D or linear filmmaking. Virtual reality is a completely new medium and it takes place completely surrounding you, so it's almost like you're inside a dome as opposed to looking at a screen. You can't treat it as a screen in front of you, and it's not traditional filmmaking by any means.
We have to take what we know about storytelling and try to translate that into this space. The filmmaking that I have done for virtual reality has been cinematic virtual reality and live action photographic, capturing 360 degrees with actors in a controlled location.
Filmmaker: What sort of equipment are you using for VR?
Cohen: I've been working with a company called Wevr based in California. They have built their own versions of Go-Pro rigs with modified lenses, and they've taken apart the camera and put it back together to make it work the way we need it to.
There are also smaller rigs that are just a four-camera setup, which is not an uncommon setup to start with.
I recently filmed a little bit of a documentary for an event at the LA Pride parade using Kodak's Pixpro camera. I almost want to say anyone who is starting should go look at one and play around with that. They're pretty inexpensive and give you a sense of just being able to see the space and see what it does and how to film.
We had some issues with it, but for fun I think it's great.
I've also been on set at the higher end with a Red setup but I don't think there's one perfect camera out there yet because you need a really specific balance between the sensor size, focus, depth of field and resolution. So it's tricky.
Filmmaker: What advice would you give to someone starting out in VR?
Cohen: It depends on what kind of VR. If the VR is filmmaking or cinematic VR, which is what I've been doing, my first piece of advice would be to go to immersive theater – go watch a lot of plays that encompass all the space around you. There's one in New York called Sleep No More that's an immersive theater production. Instead of just watching a performance, you're actually part of it, you're a character in that story being told, and virtual reality is about the viewer as a character that can interact or not interact.
With film VR, the viewer has intentional agency, so they can choose where they are looking, but they don't have volumetric agency so they can't move through the space.
I think you have to think about filming from one position with one camera location – that's the first step of virtual reality. Understanding immersive filmmaking and understanding fixed camera positioning, you can sometimes think of them as just giant master shots.
Filmmaker: You are a cofounder of Seed and Spark. Can you tell us about that?
Cohen: Seed and Spark is a crowdfunding and integrated distribution platform, specifically for independent filmmaking. We think of crowdfunding as audience building, but really you need audience gathering. When you make a film, as hard as it is to actually make your movie and get it done and get it out there, it's harder to get people to come and see it when you're finished. So the idea is about gaining and growing that audience while you're in production and even pre-production, so that by the time you finish you have people that want to see it, and you know how to target it. It's really targeted distribution.
Filmmaker: How does this compare to something like Kickstarter?
Cohen: We are similar to Kickstarter in that we are a crowdfunding platform, but we have very specific methods and proven tactics for crowdfunding that make our site very successful. The last time I checked we had an over 75% success rate for all the campaigns that launch on our site.
There's a lot of things that differentiate us from platforms like Kickstarter and Indiegogo but the primary one is that we are only for filmmakers and we are also a very solid community so we really treat all the filmmakers that are on Seed and Spark as part of the community and part of this audience building independent filmmaking revolution.
Filmmaker: Can anyone join this?
Cohen: Yes, it's an open platform. If you are interested in crowdfunding for your film or even just growing an audience around it and raising awareness, you can submit to the site. It's free to submit, the only catch is that — and it isn't really even a catch — we give you direct feedback. We have a crowdfunding team, which is run by Erica Anderson, and she and her team will give direct feedback to every filmmaker who submits a project to our site.
Because we have such a specific system of what has proven successful in the past we really help the filmmaker along. We help them shape their pitch video and plan it out. We have a lot of documents and scheduling forms and things available to anyone who's interested in crowdfunding. Obviously we'd like them to use Seed and Spark, but it's there.
We also run a Crowdfunding To Build Independence tour that goes to almost every city in the United States. It's a free class that's about two to three hours long. We call it Crowdfunding To Build Independence because it is about making sure that the filmmaker who is making the movie is also the one that is profiting and benefiting from that film so that they can make another one. So we are really more of a community than just a platform.