Back to selection
No Sleep Till Brooklyn: the IFP Talks Its New DUMBO-Based IFP Film Week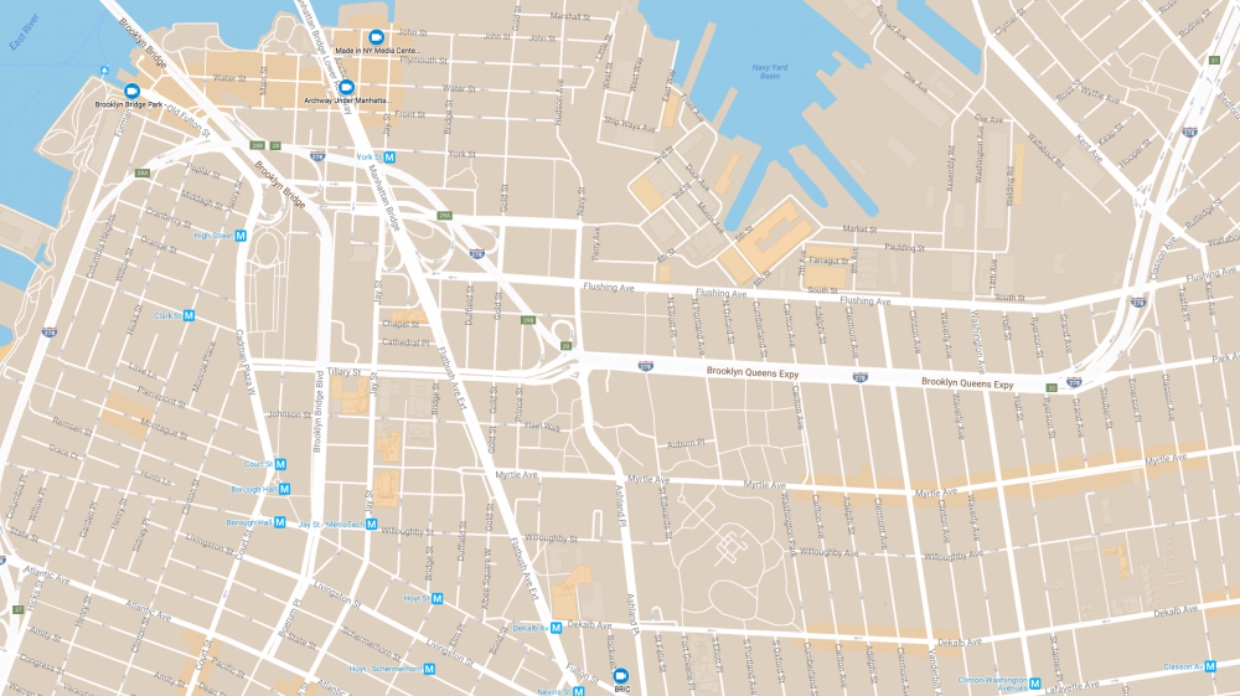 In 1979, in a rented Manhattan screening room, there was the IFFM — the Independent Feature Film Market, five days of film screenings that connected new emerging American feature film markets with a burgeoning array of distributors and overseas buyers. A year later, the IFP — first the Independent Feature Project and now the Independent Filmmaker Project — was officially born, and for much of its early existence it was defined by the IFFM. The Market moved to the Angelika Theater, screenings went from 1979's 20 to the dozens, and the chaos of rabid filmmakers targeting anyone with an industry badge became part of the event's kooky DNA.
The IFFM no longer exists, having officially morphed into IFP Film Week in 2008. Finished films available for acquisition haven't been screened since 2004, a change that came when the plethora of film festivals premiering new American independent films reduced the need — and, for filmmakers, desirability — of an event like the Market. Instead, IFP Film Week evolved into a mix of events — private programs that do the old-school work of helping filmmakers get their projects made and public-facing events open to the public or paid registrants that help filmmakers think about and understand the current hydra-headed film scene.
Today's IFP Film Week encompasses the four-day Screen Forward conference; for filmmakers with new projects, the Project Forum, where projects and buyers are connected; a showcase of work emerging from the IFP Labs; and more than ever public events. Indeed, following homes at the Fashion Institute of Technology and the Film Society of Lincoln Center, IFP Film Week lands with this year's edition in DUMBO, Brooklyn, in and around the organization's permanent home, the IFP's Made in New York Media Center. As IFP and Made In New York Media Center Executive Director Joana Vicente discusses below, the IFP Film Week's DNA is continuing to productively mutate as the two organizations influence each other. Indeed, Independent Film Week is now an event embracing all forms of media storytelling, showing both audiences and filmmakers the possibilities to be found in augmented reality (AR), virtual reality (VR), games, and, particularly, series, both television and web.
Of course, IFP also publishes Filmmaker Magazine, so in the conversation below with Vicente, IFP Deputy Director and Head of Programming Amy Dotson, Senior Director, Programming Milton Tabbot, and Deputy Director, Finance and Operation, Mitch Micich, I'm effectively interviewing my coworkers. With that disclosure out of the way, I was nonetheless interested to hear them speak at length about the reasons the IFP moved IFP Film Week to Brooklyn, the challenges they face, and what's new about this year's edition. It expands from a conversation about the event itself to the factors influencing independent filmmakers today and the ways they can navigate a changing landscape.
IFP Film Week begins in and around DUMBO tomorrow, September 17, and runs through September 22.
Filmmaker: Let's start by talking about moving IFP Film Week from Manhattan to Brooklyn, in and around the IFP's Made in New York Media Center in DUMBO. What were the reasons for that?
Joana Vicente: When I became Executive Director, I hated IFP Film Week's FIT location. We then had the opportunity to go to Lincoln Center, when the Film Society of Lincoln Center was opening the Elinor Bunin Center, and we were collaborating with them on a program called Emerging Visions. So, it made a lot of sense to be there. But I honestly felt like we were guests in someone else's home. The New York Film Festival would start as Film Week was ending, and [the Film Society of Lincoln Center] was so busy with everything that was going on. So, the opportunity for all of us to do programs together in the same place proved to be very difficult these past two years. When the IFP moved into the Media Center, even though it is not big enough to host all the events, we were excited to make it the hub for Film Week.
Filmmaker: What are the biggest challenges you are facing in this inaugural edition in the new location?
Vicente: The question we all asked ourselves was, "Will people come?" The filmmakers will come, of course, and I think the international people will come. Brooklyn is cool, and they are excited about coming here. But will the people who are working in Manhattan come here and spend a day taking meetings? Will the industry come and pay attention?
Filmmaker: And what's your early answer to that question?
Vicente: I think based on feedback that people will. And I think we have the opportunity now to make Film Week a little bit more a destination. It's not like, "Let me take two hours and go to Lincoln Center and do meetings." It's like, "I'm going to spend a day in Brooklyn." So in a way, [participants] will be more immersed with the program and the things that are happening here.
Filmmaker: What about the physical location of DUMBO, including transit issues. Do you see them as a potential problem?
Mitch Micich: I don't think the location is less convenient than in prior years. In some ways, it's more convenient because we have this concept of the little village here of two or three square blocks, where most everything takes place. You can walk from venue to venue within two or three minutes. Is DUMBO a little harder to get to than the Lower East Side of the Angelika area? I guess it depends where you're coming from. If you're close to the F train, no. If you're in Brooklyn, no. If you're a little bit off the 6th Avenue line, yeah, it can be a little bit harder, but it's not that much harder.
Amy Dotson: I think the motto for the week is, "Everybody gets creative." You can walk across the Brooklyn Bridge to get here. It's pretty easy. You can take the ferry across. You can take a Citibike and you're here in a pretty short amount of time. And on the F, A, 2/3 trains, it's not that difficult. They are all within a 10 minutes walk to DUMBO.
Filmmaker: All of this is interesting because the IFP Film Week has early DNA from when IFP's event was the IFP Market, which was quite industry focused. Distribution company offices were in Manhattan, and they would come down to the Angelika to meet filmmakers. Now, as independent film has shifted towards DIY, crowdfunding and more artisanal modes, the Brooklyn location may make more sense. I don't know whether I'm making too much of a metaphor of it here, this moving away from where people's offices largely are to where more filmmakers are.
Dotson: I couldn't agree more. There's an amazing creative energy here we're trying to tap into. There's the tech community. And there's a lot of intersectionality happening. In DUMBO you have somebody making artisanal dresses down the street from a chocolate maker down the street from a documentarian. We moved here because of the uniqueness of the businesses and the people in this community, and now we need to find a way to let that unique ecosystem shine. So we're a lot more focused on the public programming this year — making the public aware of the discoveries and ideas and things going on not just at Film Week, but year round in this space. That's proven an interesting challenge, and I think, hopefully, [like] Field of Dreams, we built it and people will come. But we're working really hard because it's a very different thing than the past years, when it was very insular.
Filmmaker: What are the public-facing elements of Film Week?
Dotson: This year, we're branching out to include new technologies, new ways of telling stories, like VR, AR and tactile projections. We're working with a lot of different people in the community, not just film partners like Rooftop and Amazon, but others in the branded content, gaming and animation spaces. They'll be not only taking meetings, but giving talks, showing work, having meet-ups at their offices so that it feels a little more organic and electric, like there's cross-pollination happening.
Vicente: When we started the Media Center, the city at first wanted us to do it in lower Manhattan. We made the argument to come to Brooklyn. That's where the creative community is, that's where a lot of new technology companies are. So, in a way, we've been integrating IFP and the Media Center. The Media Center learns from IFP, and the IFP learns from the Media Center. IFP has traditionally focused on filmmakers, and it's only normal that the Media Center is expanding that base to include other forms of storytelling.
Filmmaker: Do you think the changes this year will create new future audiences for Film Week? In five years, will Film Week be even called Film Week?
Dotson: I feel like this is the time of a seismic shift for audiences and what they like and how they like to digest it. On the industry side, we certainly have a lot of the same players in the [film] space that we've had for many years, but they're now getting into branded content. They're getting into serialized content. They're trying VR. As companies they are changing, and then you have a lot of indie startups who are coming in. But I feel like the DNA of the event is the same. We want to introduce audiences, both general and industry, to new talent, new ideas, new ways of doing business. But at the same time, it feels like in the layer below the DNA, the people are very different than who we've had before. It's not a year of the usual suspects on any of the fronts.
Filmmaker: Can you give me some examples of traditional companies now working in these new areas?
Dotson: There are companies like [theatrical distributor] A24 who are now doing television while they just wrapped their first production, Moonlight, which was an IFP No Borders project. You have companies like Big Beach or Killer Films who have been around for a very long time, but are trying different iterations. Likely Story, they now have a television division. And then they are [companies] like Interlude, which is now called Eko, which does kind of a "choose your own adventure" for storytelling. There's Vimeo, certainly, with their acquisition of VHX. And all of the different iterations of VICE. There's Conde Nast, which is releasing short films. And Refinery 29 — a number of our female producers are working on series there with them. You know, a lot of the people that used to be employed on the film side in development, acquisitions, sales are now working for some of these companies doing branded and short-form content and other forms of media storytelling. It's been really interesting to see where different people and players have landed.
Vicente: And we have made an effort to [include them and this work]. We decided at the last IFP board meeting retreat that at least 25 percent of everything that we do is going to be about new media. And by new media, I'm saying digital, webseries, TV, VR and whatnot. We started with the Gotham Awards by introducing two awards that are dedicated to celebrating the Breakthrough Series, long form and short form. And now at Film Week we ended up with 45 serialized projects from about 165 total.
Filmmaker: As we're talking, WIRED just published a piece, "Could This Be the Year Film Stopped Mattering?" And Mike Ryan has written pieces for us arguing that film organizations need to support film during this time when so much other media is dominating the cultural conversation. Is the IFP following a trend away from film?
Dotson: I think that there's a fluidity to this. We have a number of artists for whom the days of making a film and then waiting seven years later to make another one are done. And there's the sustainability issue. The bottom line is, filmmakers need to make work to survive. And so it's about opening up your eyes to, "You thought this was a film, but maybe it's a series. You thought this was a web series, but actually, it could be really interesting in VR." Inviting filmmakers into that conversation has not only freed them up creatively to look at work in a different way, but to understand that financially there are a multiplicity of options and opportunities for great storytellers, for great producers, for great cinematographers.
Vicente: This is a good segue over to Milton because, to Amy's point, documentary filmmakers in our Spotlight on Docs program have already been doing this, going over from film to television in a very fluid way. You have films that became series, like Making a Murderer. You have films that are just made for TV, and documentaries that are made for theatrical. So in a way, it is not such a big shift on the documentary side as probably on the narrative side.
Milton Tabbot: Yes, as Amy says, filmmakers need to sustain their careers and are thinking of these different formats. However, I don't think it's making it any psychologically easier for them. Now it's like, "Well what is this thing [I'm making]? I've got what I think is a three-hour film, but maybe it should be a series." It's even more difficult in the embryonic stages, where [a filmmaker thinks], "How do I pitch this? I've shot a lot of material, but I haven't structured it yet." It's not just all rainbows ahead because now there are all these options.
Filmmaker: For each of you, what are one or two new programs or projects that you're particularly excited about this year?
Tabbot: From the old school, you have this year, Julia Reichert and Steve Bognar with two very interesting, historical projects. One is a more historical, traditional piece about the women's movement, and another is a look at labor and outsourcing.
Then there is the XY Chelsea project that Pulse Films is doing on Chelsea Manning. We've seen very little material, but the tonal piece they put together got a lot of people excited at HotDocs and then mystified other people. Those are the kinds of things I get excited about, the people who are trying to do something a little different. The challenge in the documentary section is that a lot of the traditional doc company buyers still have certain ideas about what content is right for them. But I feel our mandate in the documentary section is not just the interests of the social issue docs, or the slam dunk projects, but discovering these people who are trying to do something different and to say, "Pay attention to these people."
Dotson: We have a ton of projects from women this year, and from filmmakers of diverse backgrounds. And because I'm not from New York it's really important for me to discover projects out of urban areas like New York and L.A. And we have a lot of those this year. There's Dayveon, which was all shot in Little Rock, Arkansas, and is part of our Labs. That's going to be a tremendous discovery. There's a project on the series side called Sex Ed from a team of two women, one who is from the Teen Mom series on MTV, and the other who was a producer on Serial. They're coming together to tell the story of a Houston high school that has an abstinence-only policy, and they have an underground sex education program. It's a little bit like The Wire, and it's told through a particular Houston lens.
And then there are projects like Swallow, from Carlos Mirabella-Davis, which is about a young pregnant woman who has Pica, which is where you eat detergent and eat sharp objects. And she can't figure out why it's happening, and it derails her life. And we have a huge comedy strand within the conference this year, with all sorts of female comedians, from Catie Lazarus to the women who do 2 Dope Queens to new voices in the comedy space, like Ingrid Jungermann, who did F to 7th, and now will have that show on Showtime. And we have Krush Groove showing underneath the archway, a great 1985 movie about the birth of hip hop. It was all photographed underneath the actual archway in DUMBO, and so that'll be a great community event that we're doing with the Alamo Drafthouse.
The AR and VR exhibits will be pretty fantastic. We have a VR garden that will screen some of the best VR in North America right now. That's one open to the public, and you can sign up ahead of time. The AR exhibit is a beautiful piece by Shawn Peters, who's one of your 25 New Faces, and our old friend Barry Cole, who's been around for a long time as a music supervisor and is now getting into the AR scene.
Vicente: We're also doing a VR screening in the Media Center, in the theater with Gabo Arora, of the United Nations. And then, he'll talk about the work.
Dotson: And we'll have three nights of projections on the Manhattan Bridge. So that'll be really fun, too. Tom Rotenberg, our colleague who does all the digital gallery projections in the Media Center, has done a really good job.
Vicente: And the rooftop screenings: this year, we're partnering with the Brooklyn Bridge Park, so that's really exciting as well, and again, doing it all in DUMBO. It's going to be at Pier 1 near the Brooklyn Bridge.
Dotson: We have a drag show for the first time, a performance and show from a former employee of the IFP and a Lab filmmaker called Butch and Nellie Take the Rap Game. So there are all sorts of public events. Some of them are educational, some of them are informative, some are just about being a part of this community, being in DUMBO and having a good time.
Vicente: Yes, and bringing people home. This is our home, and a lot of our filmmakers don't even know this exists. They don't know that we have a theater, a family Screen Forward program, that we have classrooms and a cafe and that there are people working here doing interesting things. Collaborations come out of here. I'm really excited that suddenly, people can understand all of this.