Back to selection
What 12 Real Female Filmmakers Wear to Set
Victoria Negri on the set of Gold Star
Do women filmmakers need to wear certain clothes on set to be taken seriously? Is a female filmmaker's wardrobe the real secret to success? When Refinery 29 recently posted a story, "How to Dress for the Job You Want" including "film director," they inadvertently irked a number of actual female directors and producers with their career outfit suggestions.
"You'll likely be on your feet for long days on set, but still don't want to look sloppy, so opt for a thick 'grandma'-style heel that can last you the whole day through, along with some soft trousers and a stylish take on the work shirt," the post read. "A big tote should come in handy for juggling scripts and running around town." There was a quick backlash on social media, as well as the post's comments section, where filmmakers called out the the story — and the particular wardrobe suggestions for its fictitious director — for being sexist. It's hard to imagine a similar story about how men should be sure not to "look sloppy" on set.
One filmmaker reacted to the post on Facebook saying, "If only we ever got paid anything perhaps we could afford such luxuries  — that posting reads like we're in the '50s and directing is a hobby you can pick up between doing the laundry and cocktail hour." Another pointed out that men who want to be directors aren't advised to carry around totes to "juggle scripts" and run around town.
We are fans of Refinery 29 and appreciate their support of female directors with programs such as their ShatterBox Anthology short-film series, which spotlights female filmmakers. But we see this as a good opportunity to talk about what real female filmmakers wear to set, which often boils down to functional advice applicable to male or female directors. We reached out to select female filmmakers and asked them to send photos of themselves on set along with a brief explanation about why they're wearing those particular clothes.
Check out their responses below: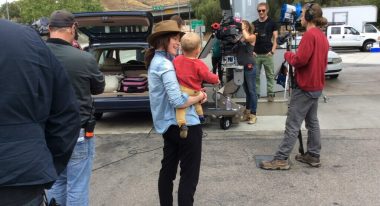 Julia Hart (Miss Stevens) I think the most offensive thing about that post is how ugly the outfit is. I would never wear that blouse or those shoes or those earrings no matter what I was doing. But I digress… When I'm waking up before the sun, before my son, I put on whatever is easy and whatever is comfrotable. If I wore that outfit to set, my crew would laugh at me. Even the non-ugly version of it. Do people not realize that sets are work? That we're on our feet and on the go? Sometimes in very uncomfortable and inclimate places? I believe that one should always be appropriate and professional, but one should also be comfortable, able to move easily. When I was crammed on the floor behind Miss Stevens' car seat, I'm not sure where I would have put those high heels. Above is a picture of me on set of Miss Stevens. I'm wearing a jumpsuit because one piece is easier than two. A layer because throughout the course of a 14-16 hour day sometimes it's cold and sometimes it's hot. A hat 'cause we're shooting outside and there might be sun (although that day there wasn't), sneakers because DUH. And my son because DUH. Like I said, I wear what's easy and comfortable and appropriate. But once I get that "mama director" t-shirt made, I'll probably just wear that every day.
Leah Meyerhoff (I Believe in Unicorns): My first feature I Believe In Unicorns involved a lot of exterior shoots across varied terrain. The one constant was my pair of black motorcycle boots. They protected against ticks and unidentified sharp objects and allowed me to be constantly on my feet. Whether shooting an intimate bedroom scene, an action shot in a moving vehicle or standing in for an actor on a trampoline, I wore them every day of production. And once the finished film was in theaters, they even found their way onto the red carpet!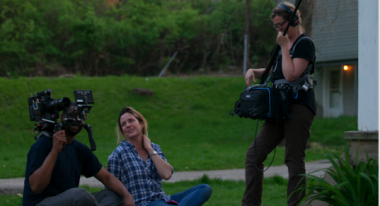 Tracy Droz Tragos:
The dress code: Flannel.  A cozy-T.  Jeans. Sometimes you look sloppy, because the job involves all kinds of activity and you want to be ready for it. Sometimes it involves dressing up a bit to fit in with politicians or school administrators.  But most of the time, it's actually not about the way you look. It's about the way you act and lead your team. It's about the way you connect with those in front of the camera in a meaningful and authentic way and whatever you want to wear to get you in that zone is the way to go. If the people in front of the camera are in a bathing suit, maybe that's what you wear. If everyone is in PJs, go for it!  The job is about empathy, not fashion.
And indeed, as seen above, depending upon what angle you want, or how tall your subjects, you might be sitting on the floor or, gasp, ground. "Soft Trousers" won't work and you will feel over-dressed.
"Grandma" shoes are not necessarily recommended – unless you are making a "grandma" film.  Most days, I like a good running shoe our slip-on tennis shoe!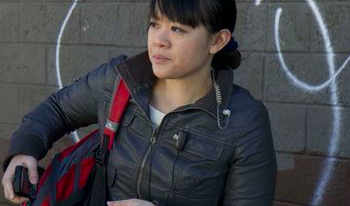 Mynette Louie: This is a photo of me from the set of Patricia Benoit's Stones in the Sun, which we shot in early spring in NYC. Since it was a microbudget film, we producers were very active in physical production, so we dressed the part. I'm wearing a brown pleather jacket with a collar, which is handy for clipping on the earpiece for my walkie talkie. Under the jacket is a pullover cotton sweater because it's still cold in NYC in early spring. My blue jeans are tough, practical, and comfortable, all important traits because you never know when you have to climb over or under or maneuver around something (cables, lights, etc.) to get to somewhere–especially key in NYC where shooting spaces are often very tight. I'm wearing a sturdy leather belt which I use to clip on my walkie as well as my phone for easy access to both. Lots of pockets are handy for call sheets, sides, production reports, etc. My large backpack allows me to carry a mobile office including a laptop, since I move from set to set and between the production office and set. My hair is pulled up into a bun so that it doesn't fly around in my face while shooting outdoors. And you can't see them in the photo, but I'm wearing sneakers, which are comfortable and easy to dash in should an emergency arise.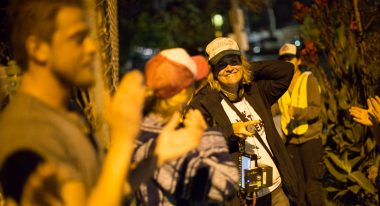 Megan Griffiths: In the above pic from the set of The Night Stalker, I'm wearing a smashing grey jean paired with a very of-the-moment crew t-shirt and fetching nylon shell to guard against the night chill. Across my chest is every filmmaking fashionista's must-have item, my black canvas iPad case, allowing me to look fierce and reference my sides or schedule on the go. And of course, no director's ensemble would be complete without the go-to accessory of the season: the bright and colorful director's monitor, decked out with a very "now" transmitter and battery! And don't miss the eye-catching vest worn by DP Quyen Tran in the background–she's sure to stop traffic in that number!
Lauren Wolkstein: Below is a photo of me on set of The Strange Ones (my feature film currently in post) with our DP, Todd Banhazl, and my co-director Christopher Radcliff. The photo was taken by our stills photographer Seth Lind.
I wore mostly a tee-shirt and jeans to set everyday, along with a hat to keep my hair and the sun out of my face. I also wore a wet bandana around my neck in order to keep cool in the heat. We were shooting in upstate N.Y. in the woods and outdoors for the entire month of August for production on our first feature film, The Strange Ones, which had over 10 different locations. You have to be comfortable when you're directing because of the constant shift in terrain and having to crouch in small spaces at any given moment. Also, you should never wear heels when directing because it's a safety issue, and you can't wear earrings since you need to wear headphones to listen to the performance of your actors. I would also advise against wearing anything that you don't want to get dirty or ruined. The idea of having a "career outfit" on set while working is absolutely absurd – directing is not about fashion but about practicality and functionality in order to do your job well.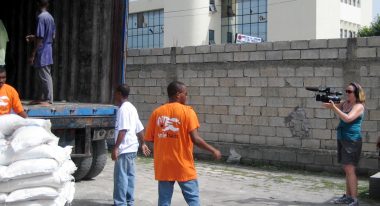 Liz Nord: In this photo, I was shooting a documentary for Wyclef Jean's NGO in Haiti. It was over 100 degrees in blinding sun, so of course I had to keep it light. I wore a tank top, sports bra, running shoes, a bandana to keep sweat out of my eyes and my hair away from the lens, and those cargo shorts that can turn into pants—versatility and lots of pockets are key! By the way, I've also done lots of filming in the Middle East, and I highly recommend throwing a lightweight scarf in your kit; it can be useful for covering up your head or shoulders when modesty is required.
Elisabeth Subrin: May, 2015. First day on location in Silverlake, Los Angeles shooting A Woman, A Part. I'm watching the monitor as our star Maggie Siff descends into a swimming pool filled with a thousand pages from screenplays. Underneath my vintage red shift and thrift-store cardigan, I'm wearing a bikini underneath in case I had to direct the camera from in the pool, where my DP was. I like to wear clothes on set that give a certain vibe to the scene; for this I wanted intensity and some irreverence.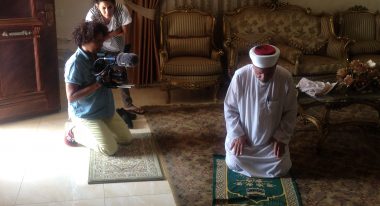 Amber Fares (Speed Sisters): I'm filming a documentary in Palestine about the first woman judge that was appointed to the Shari'a courts in the Middle East. In this photo I'm filming a retired judge as he is praying with director Erika Cohn. We need to make sure that we are dressed modestly, comfortable and can't worry about malfunctioning clothes (shirts that come up or pants that fall down). It's also the Middle East in the middle of the summer, so it is HOT out! I'm wearing a short sleeve jean shirt, yellow chinos and New Balance sneakers.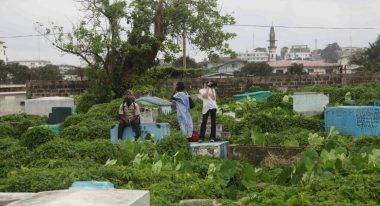 Jessica Vale: I shot my feature doc Small Small Thing in post-war Liberia. The only clothing that made sense was long but light weight pants to protect from Mosquitos and malaria. It's very dusty and hot, so you get dirty fast. Hats for keeping sun off the face, hiking shoes for jungle trekking and filming in old cemeteries. Clothing with lots of pockets is essential for filming docs, you need to prepared in the moment for anything and all lens/gear needs.
Victoria Negri: I directed and starred in my semi-autobiographical feature film Gold Star, in which I played a version of myself, so I was always in wardrobe. The shoot moved rapidly and I'm glad I worked with my wardrobe supervisor to ensure my character wore light dresses to easily move about in and quickly change in and out of. And a tiny, yet important detail, especially because of my wild, curly hair: I always had two elastic hair bands around my wrist to tie my hair up when the many hats I was wearing were metaphorically flying on and off.
Deborah Goodwin: For my second feature, The Pastor, we shot for most of our 15 day schedule in a Bushwick Church. There was no heat, I think it was extra to heat an unused building. So we all had to wear our winter coats pretty much all day and any extra layers we could get our hands on at night!