Back to selection
DOC NYC Announces Full Lineup for 2016 Festival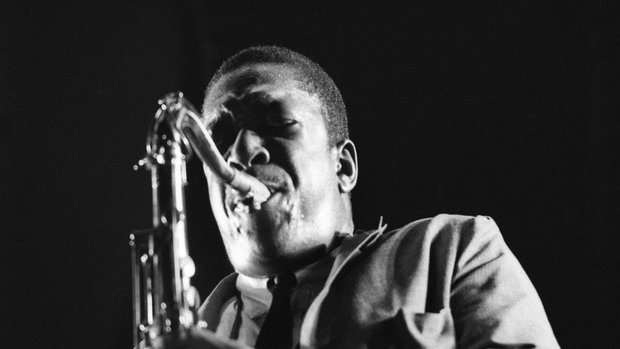 Chasing Trane: The John Coltrane Documentary
DOC NYC has announced the full lineup for its seventh edition, which runs from November 10-17 in Manhattan. The 2016 festival, held at the IFC Center in Greenwich Village and Chelsea's SVA Theatre and Cinepolis Chelsea, includes 110 feature-length documentaries (44% directed/co-directed by women) and over 250 films and events overall.
World premieres at the festival include City of Joy, about a women's leadership community in Eastern Democratic Republic of Congo; the new Netflix series Captive, about stories of hostage-taking; HBO's Every Brilliant Thing, directed by Fenton Bailey and Randy Barbato, capturing the poignant and funny one-man show by Jonny Donahoe; and Rikers, a searing indictment of the New York prison.
The Closing Night film on Nov. 17 will be Chasing Trane: The John Coltrane Documentary, directed by John Scheinfeld (The U.S. vs John Lennon). It joins the previously announced Opening Night film Citizen Jane: Battle for the City, directed by Matt Tyrnauer (Valentino: The Last Emperor).
"Everyone loves a good story, and this year's lineup puts some fantastic true-life storytelling on display, drawing from the worlds of music, sports, art, crime, activism, and more," said Director of Programming Basil Tsiokos. "DOC NYC's filmmakers get to share these stories with New York City's diverse and influential audience—one that's incomparable to any other festival." Tsiokos led the program selection in collaboration with Artistic Director Thom Powers and Executive Director Raphaela Neihausen.
The festival is curated in 19 sections that include two new strands: True Crime (following the success of DOC NYC's 2015 world premiere of Making a Murderer) features HBO's Beware the Slenderman, about an Internet boogeyman (followed by a live conversation moderated by CNN's Brian Stelter); and Sour Grapes, about a swindle in the world of rare wine dealers. Science Nonfiction features the world premieres of Food Evolution, presented by narrator Neil deGrasse Tyson, which looks at the polarizing debate around genetically modified organisms; and Fight for Space on reawakening passion for space exploration.
In the festival's two feature competition sections, nine films appear under the Viewfinders section for distinct directorial visions. They include the world premiere of The Lure, executive produced by Errol Morris, about the hunt for a buried treasure; and the U.S. premieres of Girl Unbound: The War to Be Her, profiling the Pakistani squash player Maria Toorpakai Wazir (appearing in person); and The Beekeeper and His Son, about a generational clash in modern China.
In the Metropolis competition section, nine films are dedicated to stories set in New York City. They include the world premieres of All the Rage (Saved by Sarno), about Dr. John Sarno, who specializes in healing back pain in patients including celebrities Larry David and Howard Stern; Woman on Fire, profiling NYC's first openly transgender firefighter; and the North American premiere of Winter at Westbeth, about an artists housing community in Greenwich Village.
 
Other returning sections include high-profile Galas and Special Events; national and global takes in American Perspectives and International Perspectives; and thematic sections Fight the Power (on activism), Jock Docs (on sports), Sonic Cinema (on music), Modern Family (on unconventional families), Wild Life (on animals), Art & Design (on artists), Behind the Scenes (on filmmaking), Docs Redux (reviving classics), and DOC NYC U (showcasing student work). As the short-form documentary continues to expand, so does the festival's Shorts section, growing to 102 films in 2016 (from 76 in 2015).
These sections join the previously announced slate of Short List titles, highlighting 15 of the year's award contenders, and the eight-day DOC NYC PRO conference, focusing on panels and masterclasses.
All 15 Short List films will be accompanied by conversations with the filmmakers: Rod Blackhurst, Brian McGinn (Amanda Knox); Kirsten Johnson (Cameraperson); Gianfranco Rosi (Fire at Sea); Clay Tweel (Gleason); Raoul Peck (I Am Not Your Negro); Clive Oppenheimer (Into the Inferno); Kief Davidson, Richard Ladkani (The Ivory Game); Brian Oakes (Jim: The James Foley Story); Roger Ross Williams (Life, Animated); Fenton Bailey, Randy Barbato (Mapplethorpe: Look at the Pictures); Barbara Kopple (Miss Sharon Jones!); Ezra Edelman (O.J.: Made in America); Ava DuVernay (via Skype for 13th); Dawn Porter (Trapped); Josh Kriegman, Elyse Steinberg (Weiner). The filmmakers will also take place in the Short List Day of panel conversations on Nov. 11 at DOC NYC PRO.
Notable documentarians will also be honored at the previously announced Visionaries Tribute Awards event on Nov. 10: Jonathan Demme and Stanley Nelson will receive Lifetime Achievement Awards while Dawn Porter will receive the Robert and Anne Drew Award for observational filmmaking. A&E IndieFilms executive Molly Thompson will receive the Leading Light Award for distinguished service to documentary in a role outside filmmaking.
For festival passes, tickets or more information on DOC NYC go to: www.docnyc.net.