Back to selection
Self Protection for Filmmakers: Security Rules to Live by from DOC NYC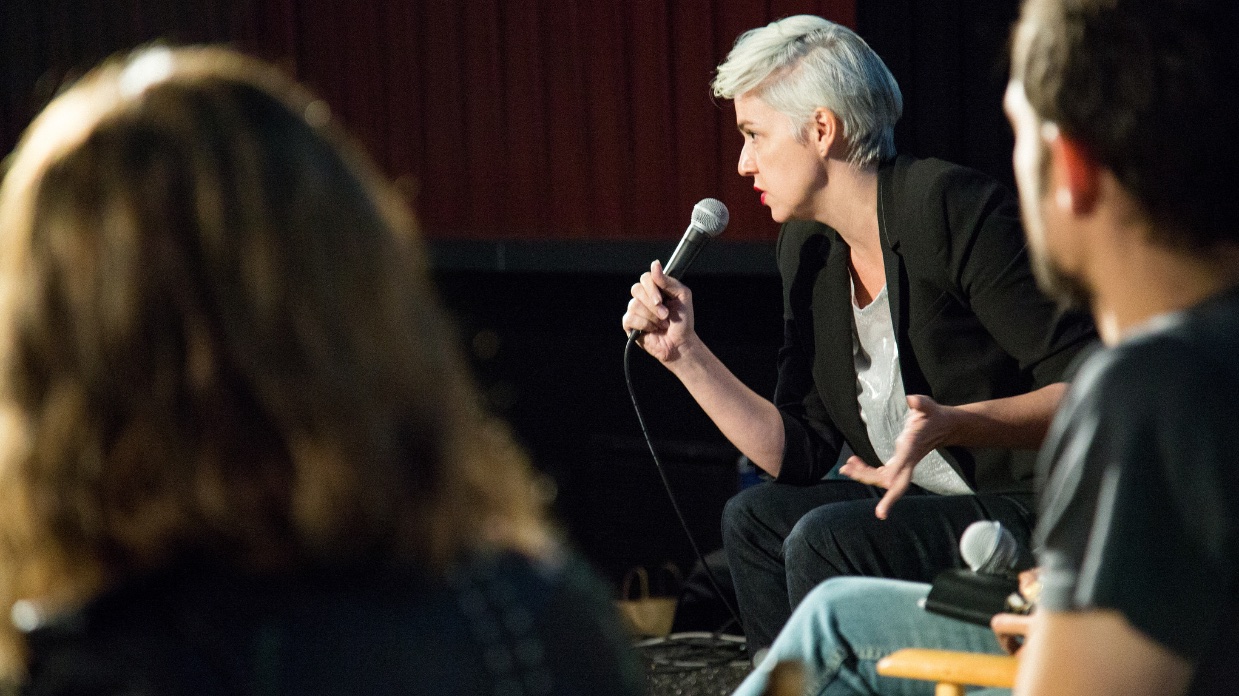 Brenda Coughlin at DOC NYC
Of all the panels I attended at Doc NYC, the one called Protecting Yourself, on November 16, gave me the most hope for the future. The filmmakers were an impressive line-up of first-timers and veteran filmmakers, linked by their willingness to put themselves in dangerous situations in order to shine a light on stories otherwise cloaked in secrecy, denial and misinformation.
The panel was moderated by Caty Borum Chattoo, Co-Director of the Center for Media & Social Impact at American University. At several points, the audience was asked not to tweet or do social media on certain statements. Some details are omitted as a result.
For Lyric Cabral, co-director (with David Felix Sutcliffe) of (T)error, the first film to follow an FBI informant on an active sting operation, one of the primary challenges was in first assessing how they could be prosecuted, and then figuring out how to avoid that while still giving the public important information. There were legal guidelines they had to stick to while documenting an active case; data protection was another major concern. To deal with these requirements, they brought on a First Amendment/civil protection legal team as well as a civil liability legal defense team.
Craig Atkinson, director of Do Not Resist, a look into the militarization of American police departments, also had concerns for his team's physical safety: "It was myself and producer Laura Hartrick. We were together and I would have her record a second channel of audio. In Ferguson, with officers highly equipped, in the fog of war, with tear gas, I was afraid that a shotgun microphone on a boom might look like a weapon." His crew got ballistic vests and helmets and they actually heard some rounds come very close to them, which were picked up by the camera mic.
Brenda Coughlin, veteran producer of films including Dirty Wars, CITIZENFOUR, and Risk, a Laura Poitras-directed profile of WikiLeaks founder Julian Assange, added, "I want to shatter the idea that there are really risky films and then there are other ones… the idea that conflict zones only exist in Syria. They also exist in Ferguson, or in Pittsburgh." She feels that the greatest risk is taken by the people on camera, including the ones who might be considered adversaries. To protect participants, Coughlin said she and her team had to obscure the identity of informants in Dirty Wars.
But there's plenty of risk to go around. Coughlin explains that Poitras has been under government surveillance since 2006, when she was working on a documentary film, My Country, My Country, that told the story of the Iraq War from the perspective of an Iraqi doctor. And that, says Coughlin, was "long before she knew Snowden."
Cabral says she felt the need to become fluent in surveillance technology prior to beginning production on (T)error. "It was important to identify means of communication and communication monitoring before we went. There were Stingray towers in Pittsburgh. [Stingrays are invasive cell phone surveillance devices that mimic cell phone towers and send out signals to trick cell phones in the area into transmitting their locations and identifying information.] We needed to know that our equipment couldn't be detected, because our subject hadn't told the FBI that we were filming. We couldn't use drones. And some cameras, per the metadata, had geographical information that could be picked up." In retrospect, her team felt that they should have consulted with a whistle-blower or communications agent that could have answered some of those technological questions.
Cabral continued, "We had to get cameras without GPS." But there was no camera without GPS that would work for their needs, so they found a technologist who could actually modify the cameras they used to suppress that information.
Atkinson's strategy was to dispersed the risks. "The moment I started to feel uncomfortable, we'd fade back," he said. "We didn't keep going back to the same police departments, we'd move on. We had sleepless nights, thinking they were going to come for us. Halfway through we saw (T)error, and we were like, 'Wait. look up whether Lyric Cabral is still alive – okay, she is, we're okay then!'"
It was a welcome a welcome moment of levity for the audience, but it also served to underscore how intense the making of these films can be.
Nancy Schwartzman, director of Roll Red Roll, a true-crime documentary examining the aftermath of a notorious sexual assault in a small Ohio football town, was working in a small community, where relationships were interwoven and complicated. She reminded everyone that while it's always important to balance rationality with paranoia, the election results changed the ecosystem. "Now is the time to be paranoid. Be careful about what you say out loud, the jokes you make, what you put on social media."
Coughlin continued, "You have to figure out what kind of shit is going to come your way. It's threat modeling, or threat assessment. Just trying to understand: what is the situation you're facing. Who might be threatened by your film? Who might be interested? One thing I hear lot from with tech experts, we all talk about downloading Signal [private text messaging for the iphone] or getting on PGP [Pretty Good Privacy] for your email, but the FBI is not our direct threat." She stopped here and changed her tack. "I'm talking pre- November 8: I think it's acknowledged that we've had a major victory by a sexual predator and white supremacist. We don't want to be alarmist, but it's hard to qualify this without being alarmed — we have to try to be smart filmmakers. The first thing is to not do this alone. Don't do filmmaking alone. We need to do it in community and get advice from people who have done it before. There are many people who are smart about this."
Borum Chattoo asked about the need for greater journalistic and legal protections, and how to get it.
Coughlin is quick to answer. "We need pro bono lawyers. A lot of funders and broadcasters are organizing around this, but it's not moving quickly enough. We have legal needs, E & O [burdens]… even the lawyers are saying that not only are the premiums going higher, broadcasters demand more E&O coverage, but it's harder to get it. So it becomes a form of censorship. So we need to share information, and the doc community isn't that great about that. There actually are things happening: citizen trainings, there was a digital security forum in L.A., but it's way too slow. We have to do this ourselves. For me, sharing information has been the most useful things for filmmakers"
She adds that filmmakers need to organize and convince funders and broadcasters to help producers. She smiled and added, "I'm feeling a little rabble-rousy."
Here's a bit of brass-tacks info from the panel:
Releases:
According to Cabral, there are anonymous releases for subjects. Atkinson notes that he got a release for every speaking part in the film, even people whose homes were raided. Cabral also notes that while location releases can be a pain to get, they are pertinent to criminal liability because it's pertinent to trespassing.
Encryption:
According to Coughlin, Atkinson and and Cabral used TrueCrypt [a discontinued source-available freeware utility used for on-the-fly encryption (OTFE) that can create a virtual encrypted disk within a file or encrypt a partition]. She says we're very behind on this: "We need better solutions for sharing large video files, but even a little Mac encryption is better than nothing."
Physical Media:
Coughlin recommends having backup drives in different locations. Atkinson advises that you keep an encrypted version on the shelf and blur the faces for the dailies and on any media that moves around. And in some areas, you just don't cross borders with footage, as in Israel.
Cabral suggests that the computers you edit on should be offline, all the time. "You have to remember not to check your email. Coughlin also mentions air gap. Air gap is a network security measure employed on one or more computers to ensure that a secure computer network is physically isolated from unsecured networks, such as the public Internet or an unsecured local area network.
Coughlin also suggested that filmmakers need to be aware of what other filmmakers have been through. She cites the fact that Joe Berlinger was subpoenaed by Chevron to turn over the outtakes from his 2009 film Crude and was forced to do so by a federal judge. There are different precedents in different states. "In fact," she adds, "Laura moved to Berlin for that very reason."
So after all this talk about people putting themselves in danger, researching surveillance and security measures, figuring out how to protect their crews and subjects, MacGyvering equipment to evade detection, doing the immense amount of work required to make and protect this media, and learning how to most effectively take on the power structures, you might wonder why this panel gave me more hope than any other.
But if you're a documentary filmmaker, you probably just get it.
The Center for Media and Social Impact issued a free report, Dangerous Documentaries: Reducing Risk when Telling Truth to Power. A free downloadable pdf is available here.
Editor's Note: This piece was edited after publication.