Back to selection
How Do You Market a Madman? On the Trailers of Werner Herzog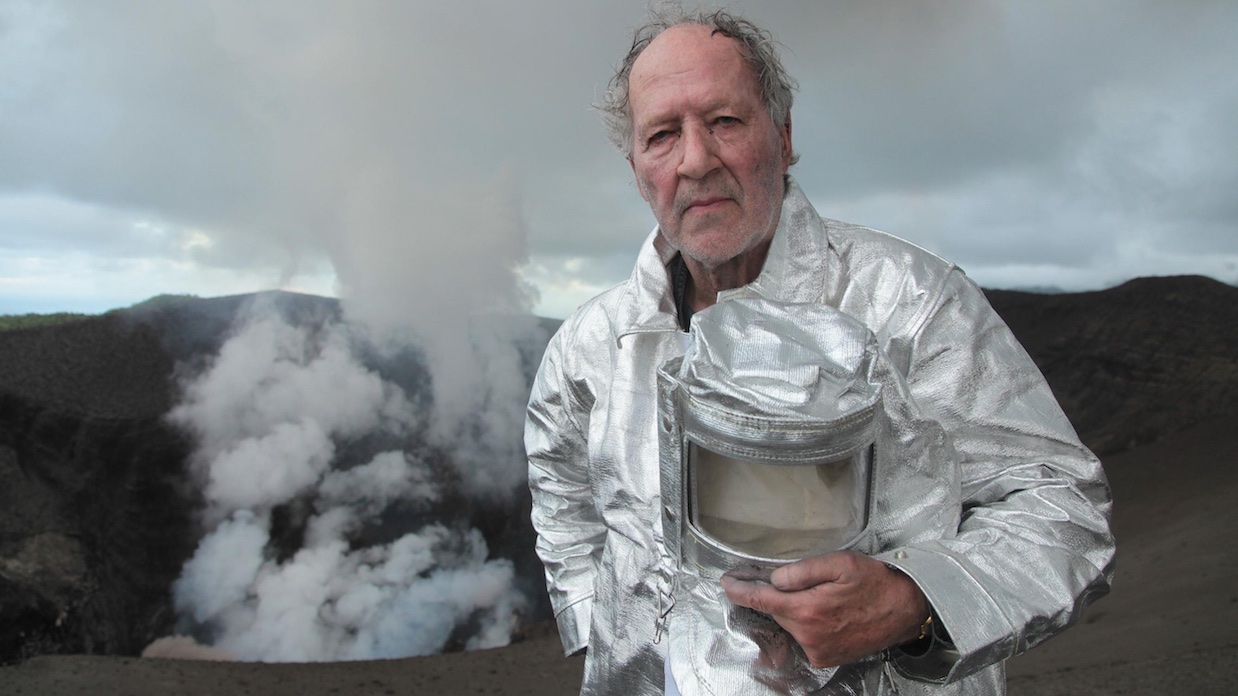 Werner Herzog in Into the Inferno
"The sun dimmeth, the land sinketh, gusheth forth steam and gutting fire," rasps Werner Herzog ominously, quoting Norse poetry from the Poetic Edda as bursts of lava erupt onto the screen in the trailer for his latest release, Into the Volcano (Netflix). The message is clear: the Underworld awaits. And your Teutonic guide is a veritable Stygian ferryman.
So how do you market a madman? Or — more accurately — when?
Herzog, the acclaimed septuagenarian director, first rose to prominence as part of the New German Cinema movement in the 1970s and quickly staked his claim in film's firmament with uncompromising portraits of headstrong characters in hypnotic classics such as Aguirre, the Wrath of God; Woyzeck; Fitzcarraldo; and his remake of F.W. Murnau's vampire landmark Nosferatu.
His dour, heavy-lidded complexion (The New Yorker once described it as a "patina of menace"), baroquely poetic philosophizing and deliciously chewy Bavarian accent are instantly recognizable to cineastes around the world. He's also an existential extremist. Dare him to eat a shoe? No problem — he'll take that bet and follow through to boot Les Blank even filmed it:
The past decade has seen a pop culture renaissance for Herzog, who has made appearances on TV (Parks and Rec, The Simpsons) and film (Jack Reacher). He has voiced the inner monologue of a plastic bag:
And he got shot during an on-camera interview with the BBC:
"Whenever it comes to a character who's dysfunctional and vile and debased, I'm good at that," he said when we had the opportunity to talk at the 2015 Berlinale. "I'm the guy who's frightening. And I deserve the money I was paid." Herzog in person is a smart, charming, intellectually curious man, far from the lunatic people might want to imagine. But he not only owns that reputation — he revels in it. And it's good for business.
So, if you're a distributor releasing one of his movies, is Herzog an asset or a liability?
Having made more than 60 movies during his career, hopscotching between fiction and documentary with aplomb, the helmer has a deep catalogue to explore. But let's focus on his documentary work, since he usually figures prominently as narrator and occasional camera presence. And let's also look at the period in which his fame (or, if you prefer, his notoriety) has gained wider appeal. You would think that Herzog would be a vital part of the ad campaign. But half the time he barely talks.
One of his biggest successes was the 2005 Lionsgate release Grizzly Man. The trailer, though, only mentions him by name with a brief copy card near the beginning, in a very conscious attempt to venture out of the art house echo chamber and reach a broader mainstream audience. Herzog's nihilistic reflections on bear-obsessed naturalist Timothy Treadwell are a major part of the film's structure, not to mention its power. But his sonorous voice is nowhere to be heard in the trailer. No matter: the box office (more than $3.1 million) is hard to refute.
I had the pleasure of making the trailer for his next documentary, 2007's Encounters at the End of the World, for which I dutifully and gleefully put together wall-to-wall Herzog narration. But the distributors, THINKFilm and Image Entertainment, told me to drop Herzog's narration — almost completely. The result? A box office gross of nearly $1 million. Considering that these two movies were Herzog's biggest U.S. hits, maybe there was wisdom in muzzling the filmmaker's crepuscular persona.
That all changed in 2011, though, when IFC Films released Cave of Forgotten Dreams, Herzog's 3-D exploration of the pre-historic paintings of the Chauvet caves in southern France. The film's trailer embraced his distinct voiceover ("It is as if the modern human soul had awakened here") and helped push box office returns all the way up to $6.5 million.
So, thumbs up to Herzog voiceover, right? Wrong. Later in 2011, IFC also released Into the Abyss, a heart-wrenching look at capital punishment and kept his presence to a minimum. My former company Kinetic also worked on that trailer, and the distributor's prevailing wisdom was to downplay Herzog the "eccentric" and position the film as a serious Oscar contender by a brilliant filmmaker tackling an important topic. His voice is heard, but sparingly. And it felt apt — his sustained presence in the trailer would have been distracting and possibly even distortive. In the end, unfortunately, the tepid box office ($224,000) reflected the downside risk of touting such impossibly sad subject matter.
Since then, Herzog has been front and center in trailer campaigns. When Music Box Films released Happy People: A Year in the Taiga in 2013, it reverted to using Herzog's voice — and only his voice — in the trailer.
And this year's trailer for Lo and Behold, Reveries of the Connected World, his skeptical look at the internet, uses healthy dollops of Herzogian insights ("Have the monks stopped meditating? They all seem to be tweeting").
Which brings us to this fall's Into the Inferno. The movie's trailer promotes Herzog's narration, of course, but it also seems to embrace and emphasize the apocalyptic side of his persona, which frankly misrepresents not only him as a filmmaker but also this film specifically. (Then again, we're dealing with volcanoes and not death-row inmates, so the footage is admittedly a lot more fun.) Set aside are more compelling tangents such as North Korean cult-of-personality mythology and a vibrantly enthusiastic anthropologist in Ethiopia. We see glimpses of these stories, but no real trailer time is devoted to touching on these moments. Front and center: violent, bubbling magma. Gloom and doom. If it bleeds, it leads.
"What we were really chasing was the magical side, no matter how strange things might eventually get," Herzog intones. That magic, which Herzog memorably coined the "ecstatic truth," is absent from the trailer. Then again, if it compels audiences to watch the documentary, then they'll find that magic soon enough.