Back to selection
DP Chris Teague on Shooting Landline, Gillian Robespierre's Follow-Up to Obvious Child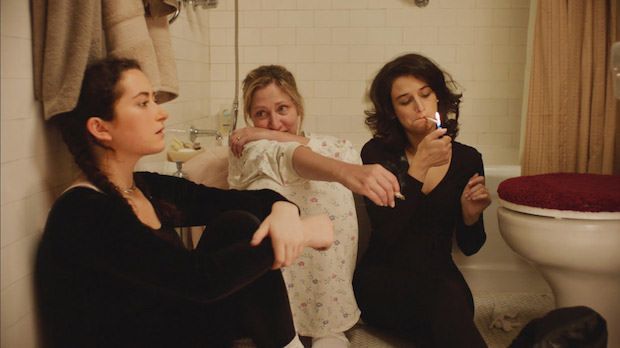 Landline
Three years ago, writer/director Gillian Robespierre premiered Obvious Child at Sundance to much acclaim. The film would go on to earn more than $3 million at the domestic box office, making it one of the bigger titles to emerge from Sundance 2014. Robespierre returns to the festival in 2017 with Landline, which reunites her with lead actor Jenny Slate and DP Chris Teague. Set in 1990s New York, Landline is a seriocomic portrait of a family in flux. Below, Teague discusses shooting in NYC apartments, the influence of '70s American cinema on Landline and recreating the Village Halloween Parade on a small budget.
Filmmaker: How and why did you wind up being the cinematographer of your film? What were the factors and attributes that led to your being hired for this job?
Teague: The director Gillian Robespierre and I first worked together on Obvious Child. I think we share a similar taste in contemporary comedy as well as a love for the aesthetics of '70s and early '80s era Woody Allen films, which provided some visual foundation for that first feature as well as Landline.
Filmmaker: What were your artistic goals on this film, and how did you realize them? How did you want your cinematography to enhance the film's storytelling and treatment of its characters?
Teague: Finding the right look for a '90s period film was challenging. We didn't really care for the bright, colorful, flatly lit look of a lot of '90s romantic comedies we watched, so we opted for something a bit more raw and natural looking, while still making an effort to open up the world and connect the narrative to New York City in the '90s.
Filmmaker: Were there any specific influences on your cinematography, whether they be other films, or visual art, of photography, or something else?
Teague: Two films Gillian gave me to watch were Kramer vs. Kramer and An Unmarried Woman. Both are late '70s New York City movies that spend a lot of time in apartments, and both offer lessons in how to use lighting and composition to create a variety of looks in relatively constrained spaces.
Filmmaker: What were the biggest challenges posed by production to those goals?
Teague: Choosing the right location for the family apartment was very challenging. We did not want to choose a big apartment, one that our characters could not afford to live in, simply because it would be an easier place to shoot. We felt like that would feel insincere and work against a very grounded and honest script. However, some of the places we looked at were right for this family, but the ceilings were so low or rooms were so small that a different kind of insincerity would have been introduced by our inability to have the room for naturalistic lighting, or an inability to frame wide enough to allow our actors to use the space. Our solution was to find an apartment that was larger than what we needed but still had modest details, and our very talented production designer Kelly McGehee was able to wall off and/or hide certain areas of the apartment to make if feel the right size.
Filmmaker: What camera did you shoot on? Why did you choose the camera that you did? What lenses did you use?
Teague: We shot Alexa. The Alexa has great latitude, rolls off highlights nicely, stays clean in the shadows, and has a nice starting point for color. For lenses, we mostly shot on vintage Cooke Panchros and also Canon K35s for night work where we needed more stop. As fans of '70s American films, we like the softness of older lenses, as well as their unique idiosyncrasies when it comes to flaring, chromatic aberration, and distortion. The Panchros are quite warm, which I also like.
Filmmaker: Describe your approach to lighting.
Teague: From a creative standpoint, I think about lighting as an opportunity to add a subtle layer of meaning to a scene. Lighting can help create a mood in a space that brings the audience closer to the scene. But I don't care to overthink or over intellectualize the approach. Often the script is a guide to what the basic lighting feel should be, and then I push that feeling one way or another depending on where we are in narrative progression of the movie, or what a character is going through with regards to their journey.
From a practical standpoint, I examine what already exists in the space, and determine what is working well for our needs, what needs to be taken away, and where light needs to be added to create shape, depth, or to see what is narratively important for us to see. Often lighting is about making what is on screen feel closer to the way our eyes see it – bringing the ambient level in a room up high enough so we can see out the windows, or making a dark room just bright enough to register on camera.
In general, I try to be as minimal and uncomplicated as possible with lighting. Things tend to look better that way.
Filmmaker: What was the most difficult scene to realize and why? And how did you do it?
Teague: The film has a long dialogue scene that takes place at the NYC Halloween parade. We had to weigh multiple concerns – lighting a large night exterior, finding backgrounds that were appropriate for the period, finding a space that maximized our limited number of background actors, and finding a space in the West Village where we wouldn't infuriate the residents with late night shooting. Not to mention we also had to get good audio. We photo-boarded the scene at three separate locations before deciding on one. Extensive pre-planning as well as a simple and direct approach where the ways that we managed to capture a great scene with limited resources.
Filmmaker: Finally, describe the finishing of the film. How much of your look was "baked in" versus realized in the DI?
Teague: It's hard to estimate. Certainly the production elements – lighting, composition, lens and filter choice etc. are the most substantial components of the look. But our work in the DI with Joe Gawler, who is exceptionally talented, really helped to add a unique and defining layer to the movie. It took things one very important step further, and it unified the work into a cohesive whole.
Camera: Alexa
Lenses: Cooke Panchro, Canon K35, Angenieux HR 25-250 zoom

Lighting: Standout Items: Arri Skypanels, Literibbon Litemats, Snapgrid lighting modifiers

Processing: Digital

Color Grading: Colorist – Joe Gawler at Harbor Picture Company. Film grain added using LiveGrain Texture Mapping.