Back to selection
"A Traditionally Vérité Film but with a Contemporary Cinematic Lens": DP Nadia Hallgren on Motherland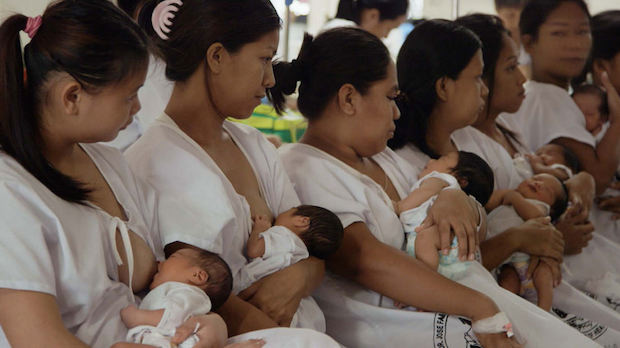 Motherland
Nadia Hallgren's career in documentary film began as a camera operator on Fahrenheit 9/11, still the highest grossing doc in America. In the 13 years since she has served as a camera operator on such films as Searching for Sugarman and as a DP on Citizen Koch and last year's Trapped. Her latest feature as DP, Motherland, is a vérité portrait inside a maternity ward in the Philippines. The film, directed by Ramona Diaz, will premiere at the 2017 Sundance Film Festival. Below, Hallgren talks about the emotional bond she formed with the women in the film, shooting in the summer heat of the Philippines and her history as a vérité documentary DP.
Filmmaker: How and why did you wind up being the cinematographer of your film? What were the factors and attributes that led to your being hired for this job?
Hallgren: The director of Motherland, Ramona Diaz, was originally looking for a woman vérité DP that spoke Tagalog. I don't speak Tagalog but everyone she asked recommended me so that's how I got the job. She knew she wanted to make a purely vérité film and I've focused most my career as a DP learning that specific craft, it's what I love to film more than anything.
Filmmaker: What were your artistic goals on this film, and how did you realize them? How did you want your cinematography to enhance the film's storytelling and treatment of its characters?
Hallgren: Our approach was to make a traditionally vérité film but with a contemporary cinematic lens. I dedicated a lot of time to figuring out what details draw us into this world. It's a great advantage of filming in one location for a long period of time, your eyes get sharp and things begin to reveal themselves. My goal with this film was to visually translate the experience of being at the hospital as much as possible. Framing played a big part in the process of deconstructing that experience. Where characters exist in the space and in relationship to one another was important to the overall story. Women were sometimes three to a twin size bed and in labor at the same time. That image was important to show the intimacy the women experienced at this hospital from being in labor together to spending sometimes weeks alongside each other in recovery. In this very unseen world the images lend to the idea that creating community is essential to the women's survival.
I wanted the cinematography to get the audience connected with the experience of this maternity ward, the perceived chaos that at a closer look was incredibly efficient. The beautiful intimacy and claustrophobia of women who never met before entering the hospital go on to share an extreme experience in their lives together, the small victories of one woman leaving the hospital while others stay behind. We spent early morning, long days and into nights with the women we filmed. Capturing the small moments with them was the payoff to being present constantly.
Filmmaker: Were there any specific influences on your cinematography, whether they be other films, or visual art, of photography, or something else?
Hallgren: For this film we really wanted to stay true to classic vérité cinematography while keeping a modern cinematic feel. My early influences were in black and white photography, Gordon Parks and Eugene Richards were huge inspirations for me. Cinematographer/director Kirsten Johnson taught me a lot of what I know about filming vérité and how to use my emotional connection to people to create images that represent them as best as possible.
Filmmaker: What were the biggest challenges posed by production to those goals?
Hallgren: The biggest challenges while making this film were heat, exhaustion, and clarity. We filmed in the Phillipines in the middle of summer for incredibly long hours each day in one location. There were countless beautiful moments I experienced while making this film but also many dark ones. Pushing through that and the physical challenge while still thinking about light, composition and story was not easy.
Filmmaker: What camera did you shoot on? Why did you choose the camera that you did? What lenses did you use?
Hallgren: I shot on the Canon C300 with only two lenses, a Canon 24-105mm and 70-200mm. I love the C300, it's great for handheld shooting, I can get into small spaces with it, it becomes a part of my body. I love the color palette and it's a workhorse. Not too delicate.
Filmmaker: Describe your approach to lighting.
Hallgren: Everything we filmed was natural light. There were times of day when the light coming through the windows was especially beautiful and I tried to capture that as much as possible.
Filmmaker: What was the most difficult scene to realize and why? And how did you do it?
Hallgren: The most difficult scene in the film to realize was the one where a young mother loses her baby. The women in this hospital put premature babies in a makeshift incubator so they can get them growing faster, and the babies are ID'd only by a paper wristband or something that can easily fall off. A baby is discovered in this incubator with no ID and no one seems to know who the baby belongs to. There's a frantic search to find the baby and the action moves between many different characters. This was difficult to film mostly because the aisles between the hospital beds were very narrow and it was hard to move around the women huddled together trying to resolve this problem. I also didn't understand the language so there were no audio cues for me to follow, I had to rely on solely on body language an experience drawn from thousands of hours of watching people. It took a lot of quick brainpower to figure out how to move around this scene and keep up with and cover the story.
Filmmaker: Finally, describe the finishing of the film. How much of your look was "baked in" versus realized in the DI?
Hallgren: We went for a very natural look, none of it was "baked in."
Camera: Canon C300
Lenses: Canon 24-105mm, Canon 70-200mm
Lighting: Available light
Processing: Digital