Back to selection
"I Became Like Furniture": Director/DP Jonathan Olshefski on Quest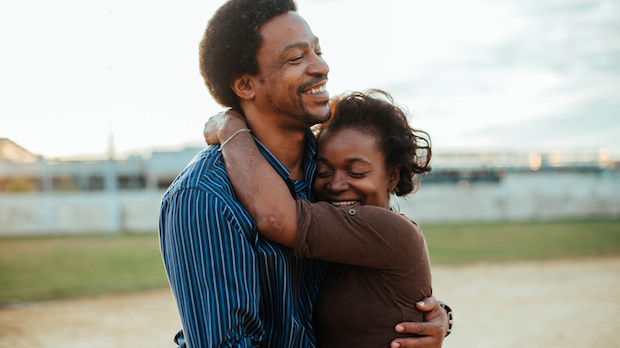 Jonathan Olshefski spent a decade filming the Rainey family. He'd visit the family's home often without a camera, simply to spend time with Quest, his wife and their children. As he notes in his interview with Filmmaker, this longterm commitment allowed him to "fade into the background and record natural scenes where the camera was not intrusive." His documentary feature debut, Quest offers an intimate, vérité-like portrait of a black family in Philadelphia. Below, Olshefski speaks about the genesis of the project, his documentary influences and serving as his own DP. Quest made its world premiere at the 2017 Sundance Film Festival.
Filmmaker: How and why did you wind up being the cinematographer of your film?
Olshefski: I am also the director, so I hired myself to work long hours for free. I was the only cinematographer that I could afford.
Filmmaker: What were the factors and attributes that led to your being hired for this job?
Olshefski: When I decided to make this film I had worked alone with the Rainey family for about a year and a half on a photo project. We had already built up a really good connection and I wanted to learn how to shoot a documentary film. It was a learning process and it didn't make sense to bring someone new into the mix.
Filmmaker: What were your artistic goals on this film, and how did you realize them?
Olshefski: The number one goal of this film was to gather material that would allow the viewer to connect to the Rainey family. The number two goal was to tell the story artfully and capture images that would convey the beauty of the family and the neighborhood. I spent a lot of time over the years just hanging out, watching movies, playing cards. The result of this longterm commitment was that I was able to fade into the background and record natural scenes where the camera was not intrusive.
We developed an interesting filmmaker/subject symbiosis while shooting. I was there with a camera and they knew I was there, but I became like furniture. With the tracking shots where I would be walking three feet in from of them while they walked down the streets there couldn't help but be a subtle awareness. Quest Rainey recently told me that he was nervous when I would walk backwards because I was so engrossed in getting the shot that I had no awareness of where I was walking – I had close calls with cars and a couple of telephone poles. So he would navigate the sidewalk, moving left or right purposely to redirect my position to prevent me from slamming into things. He did this for years and I had no idea, I just thought I had a sixth sense for avoiding danger while walking backwards. This is just one of the many ways I was taken care of by the family during the course of making this film.
Filmmaker: How did you want your cinematography to enhance the film's storytelling and treatment of its characters?
Olshefski: Respect the story by doing my best to compose artfully while not allowing the aesthetic to become a distraction from the subjects. Also, I wanted things to keep as low a profile as possible, so I shot 95% of the film alone handheld with a monopod and no other stabilization devices.
Filmmaker: Were there any specific influences on your cinematography, whether they be other films, or visual art, of photography, or something else?
Olshefski: The project started off as a photo essay. For that, I was inspired by photojournalists like James Nachtwey and Brenda Ann Kenneally.
Classic direct cinema/cinema vérité camera people – fly on the wall style, fully embedded with subjects following the action – Pennebaker, Maysles, Leacock, and Rouch.
I was inspired by Dark Days and Marc Singer. I was inspired by his process, how he made a connection to a community long before he decided to make a film. The spectrum of human experience that he captured was a product of a collaboration with his subjects, long term engagement, and it was also aesthetically compelling.
I was also intrigued Danfung Dennis' amazing work on Hell and Back Again, which inspired me to switch to the Canon 5D Mark2. Though I decided to forgo any stabilization.
Filmmaker: What were the biggest challenges posed by production to those goals?
Olshefski: Time. I spent an enormous amount of time on this film but I enjoyed being with the Raineys so much that it never felt like a job. This film is completely a product of spending time with my subjects. The intimacy and lack of camera awareness is completely due to the fact that I spent over 10 years with them through happy times and sad times. Ninety-five percent of the time it was just me on location, so I was connecting to my subjects by myself. I didn't have a crew that created a separate filmmaker clique during shoot. It was mostly just me and the Rainey family. I slept in the studio, I slept on a couch in their bedroom.
Another big challenge was the financing. I didn't have funding to compensate me for my time. It was purely a passion project. As a result I didn't spend as much time as I would have liked because I had to make money doing other things. That said, I also didn't have any external pressure to finish before the film was ready due to financial considerations or funder schedules. The long time frame is exactly what this film needed. If we had finished even one year earlier it would not be the same film.
Filmmaker: What camera did you shoot on? Why did you choose the camera that you did? What lenses did you use?
Olshefski: Panasonic DVX100 early on. Then a few shoots with a Sony EX1. Then I moved on to the Canon 5D Mark2 and Canon 5D Mark 3. Ninety-five percent of the film was shot on Canon DSLRs. The 5D was great. It was cheap. Great in low light. I really loved the aesthetic. Since I had to manually focus I think it helped me to really engage with process of making images.
Filmmaker: Describe your approach to lighting.
Olshefski: Natural light pretty much all the way. There was some playing with practical lights here and there – turning on or off, redirecting.
I did occasionally bring in some lighting here and there for interviews, though in the edit we ended up using the audio as voiceover and eliminated most of these shots.
Filmmaker: What was the most difficult scene to realize and why? And how did you do it?
Olshefski: We wanted to get a wide shot of North Philly in context with the Center City skyline to put the neighborhood in context, but the geography of the area made getting this image a bit tricky. I spent a lot of time cruising around seeking high vantage points and then waiting for the right light. I even climbed a wall to get into an abandoned warehouse, waited for a few hours for the sun to set to get the magic hour light, then got completely lost trying to find my way out in total darkness. We ultimately ended up not using any of those shots!
Filmmaker: Finally, describe the finishing of the film. How much of your look was "baked in" versus realized in the DI?
Olshefski: Most of the look is pretty baked in, though we did some noise reduction at Final Frame on some of the really low light shots that were shot at a high ISO. There was also a lot of work done with the DVX100 SD material to get bring it up to HD.
Camera: Canon 5D Mark2/Mark3
Lenses: Canon lenses – zooms: 24-70 2.8, 70-200 2.8 | primes: 28, 50, 85
Lighting: Available light mostly
Processing: Digital
Color Grading: Final Frame