Back to selection
"Both Playful and Unique": Editor Dominic LaPerriere on Dayveon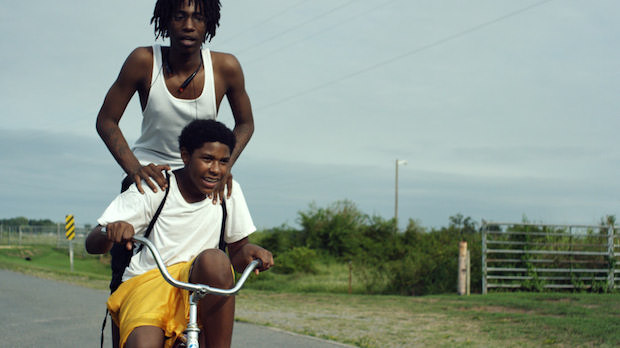 Dayveon
Dominic LaPerriere has edited three feature films that premiered at the Sundance Film Festival: Fishing without Nets (2014), The Free World (2016) and, this year, Dayveon. From first-time director Amman Abbasi, Dayveon tells the story of a 13-year-old boy's coming-of-age after the violent death of his big brother. LaPerriere co-edited the film with Michael Carter. Below, he speaks with Filmmaker about how he got into editing and finding the right balance between moving a plot forward and letting an audience savor the moment. Dayveon premiered at Sundance last week in the NEXT lineup.
Filmmaker: How and why did you wind up being the editor of your film? What were the factors and attributes that led to your being hired for this job?
LaPerriere: I was recommended by Lisa Muskat, one of the executive producers on Dayveon. I had worked with Lisa on other projects before and she thought that I would be a good fit for this film. I met with Amman, the writer/director of Dayveon, and we had similar creative ideas for the edit and we got along well, so we decided to work together.
Filmmaker: In terms of advancing your film from its earliest assembly to your final cut, what were your goals as an editor? What elements of the film did you want to enhance, or preserve, or tease out or totally reshape?
LaPerriere: My favorite aspect of Dayveon is that it gives a view into a world and people's lives that I'd never seen before. The goal of the edit was to keep that worldview authentic while fitting the material into a narrative structure of a feature film. It was important to keep the cinema vérité quality of the film, while helping to tell the story in an engaging way. We worked to balance between letting the audience live in the world of the characters and keeping the story moving forward.
Filmmaker: How did you achieve these goals? What types of editing techniques, or processes, or feedback screenings allowed this work to occur?
LaPerriere: We had some test screenings early on, and they were very helpful in identifying a few story and pace issues. To address audience questions, we created a new opening sequence of the main character riding his bike home while telling the story of his brother's murder. This grounded the rest of the story and the characters' struggles.
Filmmaker: As an editor, how did you come up in the business, and what influences have affected your work?
LaPerriere: I received my BA in film studies from UC Berkeley, but my career in post production started at an editorial in New York called Lost Planet. I worked my way up as an assistant editor and had a chance to work with some amazing editors like Saar Klein and Hank Corwin. Working there was like going to film school again. I worked on everything from international commercial campaigns to short films and music videos. Since then, I've had the chance to edit feature films, three of which have premiered at Sundance.
Filmmaker: What editing system did you use, and why?
LaPerriere: We cut Dayveon on Adobe Premiere. The project was set up in Premiere before I joined, so it was easiest to continue to use it.
Filmmaker: What was the most difficult scene to cut and why? And how did you do it?
LaPerriere: One difficult scene to cut was the montage of the boys skipping rocks by a lake. The footage was beautiful, but the scene didn't move the narrative forward as much as we wanted. So Amman wrote new lines for Dayveon about his mom waking up from nightmares after his brother was shot. Once we had that idea, the scene clicked for me and we were able to cut a version that worked for the film as a whole.
Filmmaker: What role did VFX work, or compositing, or other post-production techniques play in terms of the final edit?
LaPerriere: There was one scene that we reinvented using an unconventional method. We reworked the footage for a montage sequence of the kids riding their bikes in the woods. I lined up the best moments from the dailies and then scrolled through the footage while Amman filmed the monitor. This created new footage with a stop motion effect that was both playful and unique. Because we filmed the monitor, it also gave an analog feel to the footage.
Filmmaker: Finally, now that the process is over, what new meanings has the film taken on for you? What did you discover in the footage that you might not have seen initially, and how does your final understanding of the film differ from the understanding that you began with?
LaPerriere: When I first saw the footage, I thought that we could make a beautiful and poetic coming of age story. But in editing, I came to see the film not just as Dayveon's story, but the story of struggle and hard choices that all the characters are faced with.
That's why I think the vignettes of each characters at the end work well. It's powerful to see them all and wonder what choices they'll make and how their lives will end up.