Back to selection
"Television Has Been Good in That It's Paid the Bills": Ernest Dickerson on Double Play, The Wire and Spike Lee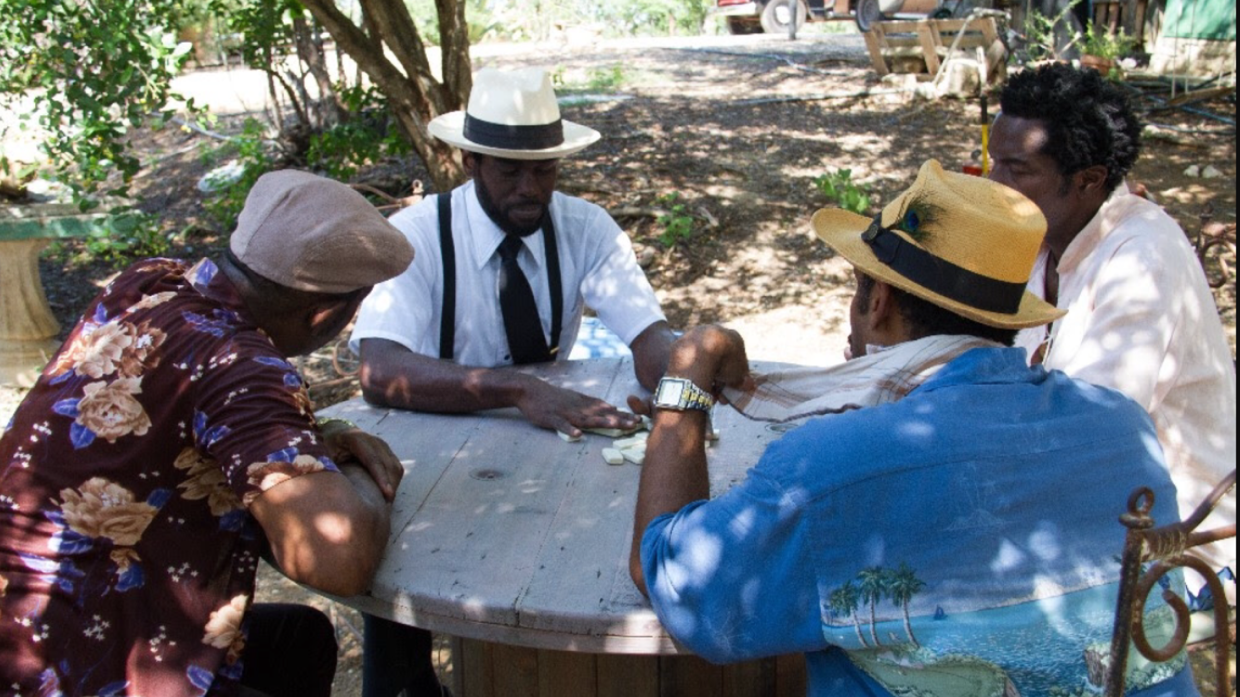 Double Play
Ernest Dickerson's new film Double Play, an adaptation of the acclaimed Dutch-language Caribbean textbook standard by Curacaoan author Frank Martinus Arion, received its world premiere at the Rotterdam Film Festival. The novel uses a game of dominoes as a framework to look at the unrest on the Caribbean island during the tumultuous transition from Dutch colonial rule to independence. The film adaptation stars Lennie James, Colin Salmon and Louis Gossett Jr. as men with different personalities but an all too similar interest in women.
Director Dickerson rose to fame for his glorious cinematography. He will forever be associated with Spike Lee, with whom he began working at film school in New York. Dickerson was the director of photography on six Spike Lee films including She's Gotta Have It (1986), Do The Right Thing (1989) and Malcolm X (1991). Other credits include John Sayles's The Brother From Another Planet and Krush Groove.
Dickerson's move into the director's chair started with the Tupac Shakur-starring urban drama Juice (1992). Films such as Surviving the Game (1994) and the underrated Snoop Dogg ghost drama Bones (2001) also feature on a CV glittered with award-winning work on acclaimed television shows such as The Wire, ER, Dexter, The Walking Dead and Treme.
Filmmaker: What's your relationship to Curaçao and why did you want to make a film there?
Dickerson: I love the island. I consider it my home in the Caribbean. I fell in love with it when I shot Almacita, Soul of Desolato for Felix de Rooy in 1985 and went back intermittently. I love the people. I love the landscape, you can't beat the weather. So when I got a chance to do a film there, I couldn't turn it down.
Filmmaker: Interestingly, the start of the film is almost like a tourism video where the voiceover is describing the island. Is that to let outsiders know more about the island?
Dickerson: Exactly. That was on purpose and the great thing about adding a modern day story to wrap about the tale. The book is all set in 1973, but the screenwriters put a modern day story to resolve some things left unresolved in the book. I asked my composer to give me something lighter in the beginning when he shows up at the airport, so it's more like a commercial for the island before we flash back to 1973 and get into the film proper.
Filmmaker: How do you see the island?
Dickerson: It is a place of contrasts. It's a beautiful place but it does have a colonial history. Actually our modern day is post-colonial, but in 1973 it was still colonial as it was still part of the Dutch Kingdom.
Filmmaker: There is a deliberate pacing to the story. Things creep up on the audience and it has a much slower rhythm to what we are used to, especially when compared to Hollywood films.
Dickerson: I was glad that I could do a film where I didn't have to worry about Hollywood conventions. We knew our film was going to be international, that it wasn't going to be a quote- unquote "American film." I love the fact that I was making a "foreign film." I'm trying to capture the rhythm of the island, which isn't fast. We will hopefully lull them in by the fact that it's a good-looking movie and let them slowly get into our story because this is a very complex story. The book is very dense, the book is thick. It tells so many different stories that come to a head at that fateful game of dominoes.
Filmmaker: One of the interiors had a very red wall and it made me think of Do The Right Thing. You seemed to have veered off that colorful course with your TV work, but here it seems that I can feel that eye again of those early movies you shot for Spike Lee?
Dickerson: With the TV episodes I don't have as much control over the total look. I believe strongly in using color as a way of helping to tell the story. With The Walking Dead, that palette has already been set up by the previous episodes, so I cannot really do anything with that. The Wire, that palette was already set up. The only time as a television director that you can work on that is when you do a pilot. I did a pilot for a show called Low Winter Sun and designed the palette with Patrick Murguia, who is the same cinematographer that worked on Double Play. The palette of Detroit is the palette of a city that is a broken beauty, so we worked on that. But that's the thing: I like to use color in my cinematography, I always use it expressively. I try to use it in my directing, in the films that I can do it in, so I think you'll see more of that in my films, but maybe not so much in the television work that I do as an episodic director.
Filmmaker: You have a very international cast on Double Play. How did you go about casting?
Dickerson: We were going to do this film in English. The island itself has a talent pool but not one that can carry a film, so we knew that we were going to be getting our actors from wherever we could find them. We looked in the US, in the UK, all over the place. It was a daunting task because I had to find actors that I thought I could work with to convincingly play people from Curaçao. There's that old adage that says 85 to 90 percent of directing is casting and it's true. If you get the right people that are going to live those roles, it makes my job easier. I can sit back and become the movie's first audience and be amazed by some of the surprises that the cast brings to their characterization.
Filmmaker: Dominoes is a key part of the film. Is that a game you play? What were your thoughts about shooting the game?
Dickerson: Not since I was a kid. Reading the script and getting involved in the film reignited an interest in learning some of the history of the game. They say that a lot of nations have been bought and sold on domino games. To make it visually interesting, I started thinking of the domino game as a duel. To me, the best duels ever were photographed and directed by Sergio Leone, one of my favorite filmmakers. So I did take lot of inspiration from Sergio's films. He always put those standoffs in a circular arena. Dominoes are traditionally played on a square table, but I wanted my table to be round, because to me it more represented the circle of life. My production designer said, "The tables are square." I said, 'Yeah, but I want this one round. Because I'm not making a documentary, I'm using symbols like that to help drive the drama.
Filmmaker: This film made me think of African filmmakers like Sissako and Sembene. Are they people you were looking to pay homage to?
Dickerson: Always. Africa is heavily evident in the culture of Curaçao, in the rhythm of how the people speak, in the use of color with houses and clothes. It allowed us to take the expressionistic use of color just a little bit further. It is a tropical environment and parts of it are desert. The plant life on Curaçao is rough — a lot of thorns, a lot of thick rough leaves — and I guess that also kind of defines Africa.
Filmmaker: How hard is it now for a director to actually make their own films rather than just go for TV shows, which are consistent money?
Dickerson: Making a film is tough. Television has been good in that it's paid the bills. I have children that I'm putting through college and my mother has Alzheimer's, so I have to take care of her. But all the time I'm doing that I'm trying to get a film project off the ground. It's tougher to make films nowadays. I was fortunate that I had a really good executive producer who was in love with this material and had the means to put the funds into making it. It's a totally independent film, the ideal situation for any filmmaker. I want to do more filming on the on island, I think we set up a temporary infrastructure there to allow us to shoot this film, but there's still a lot of people there who got a lot of experience from working on this film. There is the real possibility of setting up a filmmaking community on Curaçao.
Filmmaker: Curaçao and Aruba recently tried to use film festivals as a gate way to making films on the island.
Dickerson: I think the Curaçao Film festival is now going into its sixth season this year and they're pretty big. They're an off-shoot of the Rotterdam Film Festival. The first time I went the producer of this film was the gentleman that was producing the festival. It was packed. I was amazed at the number of works that were done throughout the Caribbean, the Dominican Republic, Venezuela. It really made me think, "God, there can be a lot of films coming out of the Caribbean because Caribbean literature itself is so rich." I would love to see that happen. and even to be part of that.
Filmmaker: On The Wire, you made some of the most famous episodes including "Hamsterdam" in Season 3. It's a show that seemed to take off in the public consciousness in season three.
Dickerson: Actually in the States, even by season three a lot of people still had not discovered the show. A lot of people didn't discover The Wire until after the fifth season, after it finished production. It was a great structure to work with. It was great working in Baltimore. The cast and the crew was just exceptional. I miss the show but David Simon only had a five-year plan. He had no assurances that he was going to go to the full five years. He went for it anyway. I told my agent, "Please try to get me two episodes a year." I did a couple of the season finales, which are big episodes because everything comes together. They wanted the filmmaker's perspective. Some TV shows have rules where how you film something has to be done a certain way: "We want our eye lines to be like this." If you do have coverage, you have to have an angle for every single eye-line, which gets tedious. That's why a lot of network television has gotten so boring visually. But cable shows like The Wire and then later Treme, they shoot them like mini-movies.
Filmmaker: But shows are becoming more cinematic?
Dickerson: One of the problems that HBO had with The Wire in the beginning was that every year we didn't know if we were going to have another season. The actors were always going crazy because they wanted to do auditions for other shows but David Simon said "Don't, I think we're going to get another season." HBO would not OK another season til almost the last minute and it was panic time for the actors. But that serial way of telling stories was new to television at that time, or American television, as it had been done on British TV. HBO had a problem with that, because they were concerned that you couldn't turn on The Wire at any point and know what was going on — that you had to commit to the serial, almost like a book. That has revolutionized TV.
Filmmaker: You will always be associated with your work with Spike Lee as cinematographer on his early films. What are your memories?
Dickerson: I'm working with him now. Right before the Christmas holidays I supervised the 4K restoration of She's Gotta Have It.
Filmmaker: Yes, which will be released to coincide with the new television show based on the movie. Did you want to make some of those episodes?
Dickerson: I wasn't asked. I'm curious to see what the show's going to be. I haven't read anything I haven't read any scripts, I've only seen one photograph of Nola Darling on the show. If he asked me to direct an episode, I probably would do so. We have worked together again since those early films. He asked me to shoot second unit on Miracle at St. Anna and that was eight weeks in Italy. Who is going to turn that down? We had a great time on that. My son, Ernest Jr., has been working as a camera operator for Spike on some of his documentaries. The Michael Jackson documentary, first Spike hired him as a PA. One day he comes in and says "OK, you're on camera." I was shooting another show and got this text from my son. Later on I texted Spike and said "How is my boy doing?" He said, "He is his father's son," which was nice. So yes, if he asked me I probably would, because I'm curious to see what he's going to do with the show.
Filmamker: Did you discuss possibilities for the show when doing the 4K restauration?
Dickerson: I really don't know anything about the show. I don't even know if he's doing it in black and white. When I started supervising the 4K restoration, I was texting him because new material was showing up, scenes cut that I had not seen since 1986. I was like "Wow, did you know about this stuff?" and he just said "OK, alright. I think he was so busy trying to get the show off the ground that the restoration was a second thought. He wasn't really that concerned with it. So I'll probably seem him in a couple of weeks, as I am going back to New York to look at the print.