Back to selection
VR.edu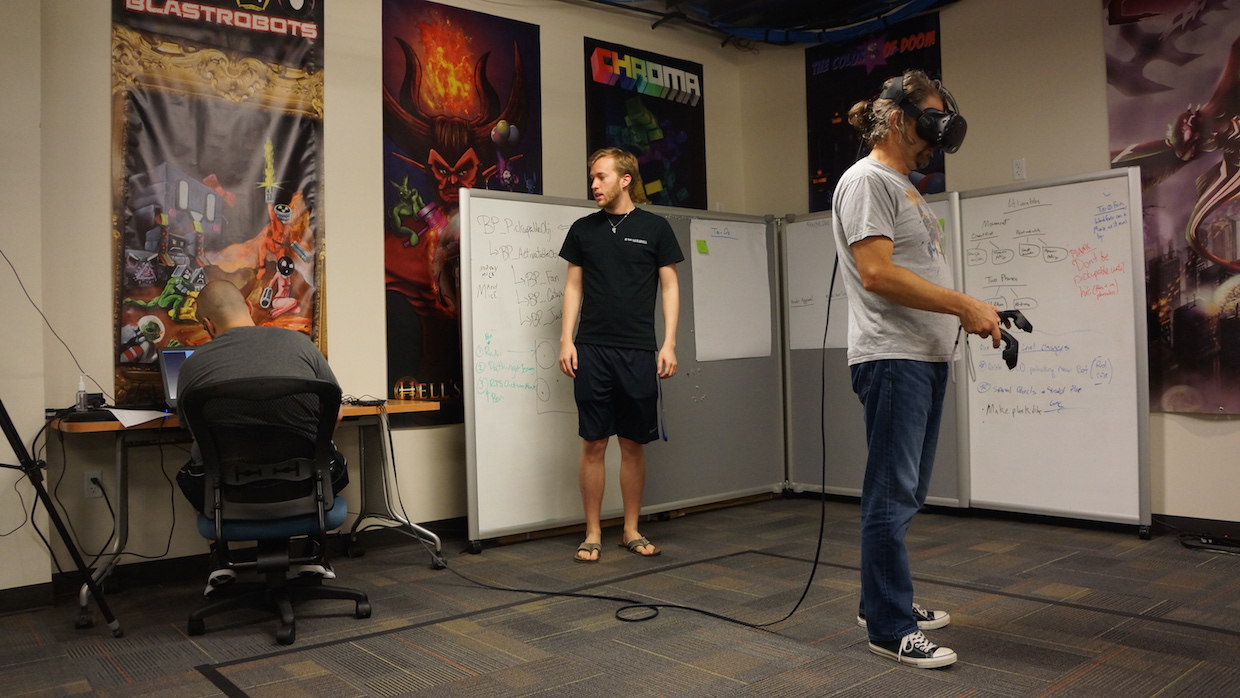 SMU Guildhall students experimenting with VR (Photo courtesy of SMU Guildhall)
When I studied at the London Film School just over a decade ago, students originated all of our projects on 35 and 16mm film and cut them on Steenbecks and Avid Media Composer. What a difference a dozen years make: Now schools have moved beyond the digital video revolution and computer animation to whole new media and formats. Virtual, augmented and mixed reality are forming increasingly large components of university curricula, giving a shot of innovation to narrative filmmaking in the academy and bringing university computer science programs into the realm of traditional film schools.
You might expect VR courses to primarily affect the fields of computer science, film and animation, which is already experiencing disruption as many students are reaching beyond traditional CGI work, such as character animation, and into projection mapping and other new techniques. But many schools have been using VR for years in a broad range of disciplines that go well beyond storytelling. The University of Houston Virtual Reality Clinical Research Laboratory uses VR to study mental health disorders and substance abuse; at the University of Minnesota Virtual Reality Design Lab architecture students create life-sized walk-through experiences; and Southern Methodist University uses it for both sociological research through its Family Research Center and to aid with design projects in its School of Engineering.
Still, the primary way schools teach VR is for storytelling through films and games, and these programs, while having roots dating back to the technology's infancy, are rapidly expanding right now. SMU, for instance, has had a relationship with a local Samsung research and development center in Dallas for years. Gary Brubaker, a gaming industry veteran who in 2012 was named director of Guildhall, the university's game design graduate school, has been watching the growth of VR since the early '90s. Thanks to nurturing long relationships with Samsung, Oculus, Valve and HTC, Guildhall has long been able to experiment with prototypes of equipment like Vive and recently made the move into large-scale VR teaching when they saw that devices like Oculus were finally ready to make the technology accessible to a wide public. Similarly, the University of Southern California has long been involved with VR, founding the Institute for Creative Technologies in 1999 and moving into occasional VR production years ago. "'Immersive' is part of our mission statement," as the ICT's director of advanced prototype development Todd Richmond told me, but only since 2009 has the ICT made VR a major focus of instruction in its Mixed Reality Lab. Nearby at the University of California, San Diego, the Qualcomm Institute was formed over 15 years ago, providing the impetus for a small Virtual Reality Laboratory that has now been functioning for roughly six years (along with an active student Virtual Reality Club), and this has gradually led to enough student and faculty interest that on May 2 the university opened an expanded lab that can host vastly increased VR and AR instruction and student work.
The expansion at the School of Visual Arts in New York is even more recent: Again, virtual reality has been occasionally used in its 30-year-old MFA computer art department, but only this past January when Terrence Masson became department chair did the program expand to make VR a continual focus. "One of the first things that I made a decision about was to ramp up VR & AR," he says. An initial workshop course this winter was a success, paving the way for upcoming courses in storytelling in VR and augmented reality, Masson's professional specialty.
One reason that such programs are now becoming possible is the relative cost of virtual reality labs, which, as Masson points out, are slight compared with something like a motion capture facility with rigs and tracking systems. SVA is essentially tripling capacity from one lab to three, complete with three HTC Vives, three Oculus Rifts, Daydream, 360-degree VR cameras and Unity-based computers, all neatly fit into two floors of the MFA computer art department's existing building. "For a few tens of thousands of dollars you can get a good space," he says. Industry donations can also go a long way; Intel gave SMU its computers for VR processing, which, with five or six HTC Vives, makes for a fully functioning studio.
If it's relatively easy to physically create a VR space, then the more difficult question for university administrators might be which department to have sponsor it. VR spans the divisions between traditionally siloed departments like film, animation and computer science, but by and large schools seem to be placing VR in computer science schools and adding a healthy dose of interdepartmental collaboration. Guildhall at SMU has a natural advantage because it already has a fully interdisciplinary faculty of artists, designers and programmers all under one roof. "They can lean out of their offices and yell at each other," Brubaker says. "When they're separate they can meet occasionally and coordinate, but they're not physically together every day. Here we're fiercely interdisciplinary. We live or die together. Most of the interesting problems that remain to be solved require multiple people from disparate disciplines." Students are similarly diverse, with undergraduate degrees in a variety of fields. Integrating them into well-functioning teams is a major component of Guildhall's program. "When we talk to game companies' hiring managers, having the skills gets you the interview," Brubaker says. "But you get the job because you can work in their culture. Working well in teams is what gets you the job, the career."
USC's Richmond agrees. "In order to work in AR/VR/MxR, you need interdisciplinary teams, in part because the tools and pipelines are not beginner-friendly. So we typically will have both computer science/engineering students partnered with School of Cinematic Arts students, and also representation from across the campus. We've had teams that also include MBA students, communications students and natural scientists." Tyler Hopf, who recently taught the virtual reality design class for SVA, had students "from several departments including photography, design, 2-D animation and interior design. The range of backgrounds all contributing and experimenting with virtual reality has been incredible because VR is a combination of all of those areas and more. My own background is architecture. No one has a background in VR yet, and there are no VR departments, so it becomes even more important to get students with a mix of interests experimenting with the technology." Speaking of this course, Masson says, "It's basically attacking the storytelling aspects of virtual reality, utilizing it as a new medium — how to modify existing storytelling techniques. Very few people are doing it well. It's the best people who are doing the best work, so we're cherry-picking the best people. I hope to get traditional filmmakers and DPs and production designers to collaborate in this new medium. I want to pull in all this expertise from the past 120 years of filmmaking."
So what type of work are the students doing? In all cases it includes fundamentals of storytelling principles. Richmond describes it as "pushing the boundaries of how we define narrative and exploring the new language of immersive," while Hopf describes his SVA course as "a mix of history, theory and studio work. So we read about the history of immersive technology and the philosophical and societal implications of cyberspace, while at the same time each student worked on their own projects." This leads to an individual project on Google Cardboard followed by a group project creating a more immersive experience on the HTC Vive.
Kamari Carter, an undergraduate who recently took a course entitled SoundGameSpaceVR at California Institute of the Arts, describes how that class discussed the history and societal implications of immersive technologies before students created their own socially conscious projects. "I'd been researching a lot about death and what it was like before we as a society fully understood it, so I was very captivated by being able to do nothing but die [in a project]," he says. "I made a very large greyscale world where there were no objectives and the only thing you could do was jump off the side. When I pitched my project idea, three other classmates liked it so we made a conjoined game where dying in their world brought you to mine and the 'dying' in mine brought you to one of theirs randomly. It was very different from my original concept because I didn't intend to work as a group, but it turned out very well."
At SMU, with its emphasis on gaming, students work on a variety of individual and group projects in both VR and other game engine platforms. These aren't all finished games; much work consists of research to address issues such as nausea during VR gameplay. One student recently created a simple game that could be navigated with a dozen different control schemes and measured the nausea level with each method. Research like this will help game developers create more user-friendly experiences — and give students a remarkable portfolio piece as well.
Perhaps most intriguing about all of these programs is the prominence of augmented reality — think of holding up your iPad to see digital snow juxtaposed on top of what your camera actually sees — alongside virtual reality. AR has never been taught at SVA before, but Masson, whose company Building Conversation makes AR experiences for architects and designers to display their designs in real spaces, is pushing to make it available. He sees it as a more personal technology that allows for social interaction and interaction with real spaces and the types of devices — smartphones — that people already have in their pockets; in comparison, VR is like having a bucket on your head. "I have strong feelings that AR is a much broader, more ubiquitous and ultimately easier technology than VR. There are no heavy helmets with trackers, you don't have to be plugged in, it doesn't get sweaty or heavy. Nobody has a problem holding up an iPad." One student just completed an abstract room-scale VR piece that Masson proposed would actually work brilliantly in AR, indicating the type of AR work SVA students may undertake over the next year with emerging technologies like the Microsoft HoloLens. "I think in five years AR will be the steam locomotive, becoming completely ubiquitous in devices like the Google Tango and iPhone 8," using improved image processing and robotic mapping algorithms like SLAM. At USC, meanwhile, students are already using HoloLens to create AR experiences, taking projects all the way from a pitch to a working idea and competing in Microsoft Design competitions. SMU Guildhall students and faculty are creating AR/MxR experiences like a board game where real pieces interact with onscreen pieces or a tool to teach first-graders chemistry without the risk of burns or explosions. "It's clear that AR is superior to VR in many ways," Brubaker says, particularly in drawing in the world "from the other side of the glass" into an augmented experience. But research and development is still underway, and the current state of the art — such as seeing Yelp reviews when you walk past a restaurant — doesn't take advantage of all that AR has to offer. "Google Search is not the interface we want for AR; there are more compelling experiences than that." Likening today's AR to the early days of smartphones, when every app mimicked computer software with joysticks and keyboards, Brubaker, like Masson, sees bright prospects for AR in the near future.
Perhaps the hardest thing about teaching VR and AR is gauging where the industry will be in as little as three years, let alone 10. When I asked Masson about the future of VR at SVA, he laughed and said, "I've learned not to forecast." SVA's focus, then, won't necessarily be to keep up with all the latest technology, but to teach students sound fundamental principles applicable to various VR and AR platforms. And the job market is ripe, including not just film and game studios but advertising, museum curation, law firms that animate crime scenes, and on and on. "There's really no area of society and markets that will remain untouched by some form of computer art, and it's only going to grow," says Masson. Most SMU Guildhall graduates go into game design, but a recent group of graduates was hired by Halliburton to create virtual reality safety training for oil rigs so users could learn through muscle memory what to do in crisis situations. (The shock for many of the graduates was how well Halliburton pays.)
On the one hand, schools are poignantly aware that the tools of virtual and augmented reality are new and that it is their students who will be forging new paths in it. As Hopf, who plans to teach more VR and AR courses at SVA and perhaps elsewhere, says, "The technology and theory behind VR may be decades old, but the interactions and visual languages are still unknown — and it will be the students' job to invent them." Richmond adds, "The students are pushing the boundaries of how we define narrative, and exploring the new language of immersive. They are curious and want to create the next generation of content." But at the same time, every person I spoke with also recognized that their programs have to feature a commitment to good storytelling techniques regardless of the platform. "We're technology agnostic," Brubaker says. "Content is king. In any medium, people who are good authors or filmmakers will rise to the top." This, of course, was the driving philosophy at the London Film School: Shooting and cutting on film made us thoughtful in a way that video didn't, and we became better storytellers for it. Today's tools, of course, are vastly different, and schools are doing their best to keep up, but the discipline to create high-quality storytelling will be the key for new students to carry virtual and augmented reality into the future.