Back to selection
Alexandre Rockwell on Restoring and Preserving the Unique Black and White of In the Soup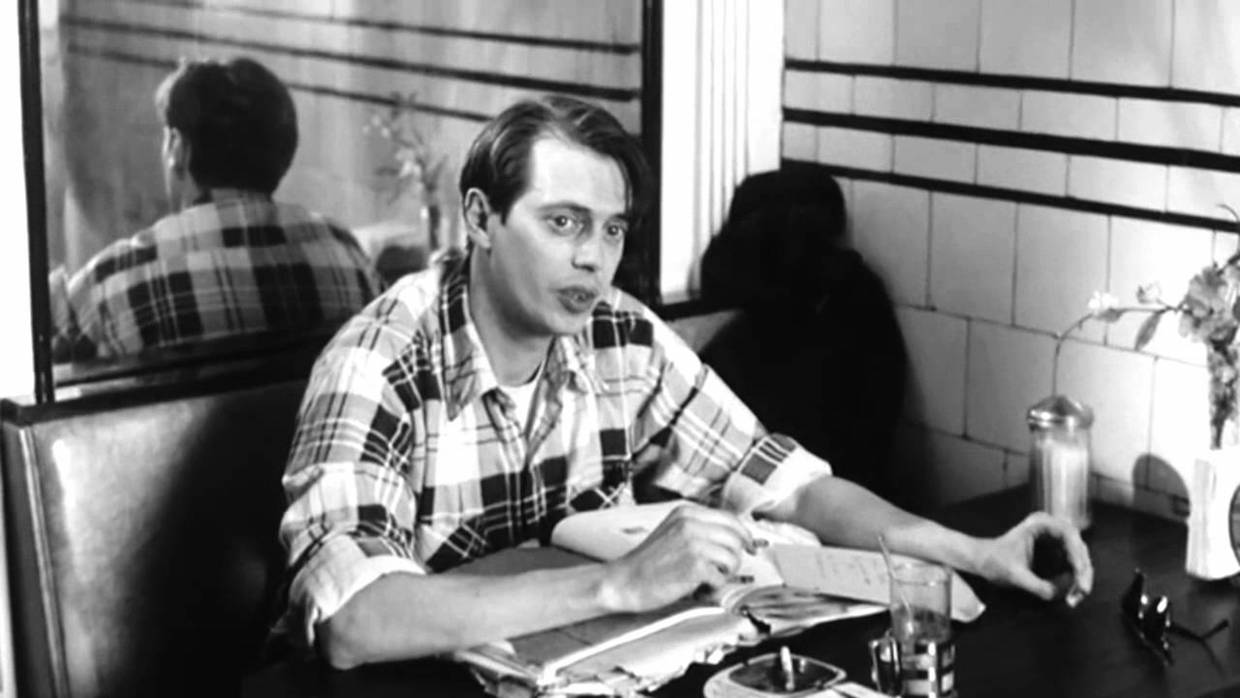 Steve Buscemi in In the Soup
This year marks the 25th anniversary of Alexandre Rockwell's landmark indie In The Soup, which is currently crowdraising funds for a badly needed restoration and re-release. We're happy to share this interview with Rockwell, conducted by Factory 25's Matt Grady. Click here to learn more and check out the Kickstarter campaign, and here for a video interview for more from Rockwell. 
What's so unique about how you made In the Soup? One of the most defining things about In the Soup is its look. The stellar cinematography of Phil Parmet comes across in a rich, high-contrast look, deeply saturated blacks and brilliant whites.
The only way we could achieve that was by shooting on a fine grain color stock and then printing on black and white stock, the now extinct Kodak 5369, that was primarily used for making silhouette mattes and travelings mattes. This particular stock had a high silver content.
It's a very critical process but back in those days you had old school masters, like Don Donigi at DuArt Film Labs, who were craftsmen. And you also had Irwin Young, who owned the lab and was one of the godfathers of independent film. We used to call him Uncle Irwin because he would keep the lab open for us on the weekends and he was completely dedicated to finding the look that worked best for the film.
As we hoped, the result was spectacular. Even back then, it was quite an expensive process especially for an independent film; we did it anyway — but only for two prints. After seeing it, the Coen brothers duplicated the effect for The Man Who Wasn't There.
It's a relatively young film – 25 years old this year. How did we get to this place where it already needs to be restored? We had made only one print on B&W stock for projection in theaters. (The other was saved for use as an archival master positive.) Unfortunately, the projection print was damaged while being shown in a cinema screening in Los Angeles a year ago. The first and fifth reel were pretty much shredded during projection. We were all mortified and began to look for ways to repair it. That is when I realized how fragile the print was and — because Kodak no longer makes the 5369 stock — how hard it would be to duplicate and save In the Soup for future generations.
What's the plan for restoration and preservation? At the end of the day, pending the success of the Kickstarter or funding from elsewhere, we will have state-of-the-art digital masters for theater projection and online delivery, the repaired 35mm B&W print, and a 35mm print struck on color stock.
What's it like to go through this life-or-death restoration process for what you've said is "your most personal film"? Well, it's a complex process, a lot of research went into nailing it down, and it'll require a lot of resources to carry out, hence Factory 25's Kickstarter campaign. Without a success there, we could be not quite back at square one, but nowhere near saving the film. So, knowing there's a chance it might not happen and we really might lose this film forever has been really disconcerting.
But beyond that, In the Soup is unusual in that it was shot in color and went through a complicated process to render it the gorgeous black and white format I wanted, and while it would have been simpler if the process I'd chosen for making it originally were simpler, that process is part of what makes it so special. I wouldn't go back and change that.
And the preservation work so far has been an interesting experience — it's almost like we are on an archaeological dig trying to save something from the past that has relevance today. Honestly, it's pretty exciting and I'm really looking forward to more people knowing about it. And, it's given me a chance to work with great organizations like IndieCollect who are doing a lot of work on the front lines of this battle.
Making sure films — especially micro-budget independent films — are preserved for future generations is a constant battle. There is no point in making films if they're going to be lost. So I really feel we have to band together to make sure that preserving American independent cinema is a priority for funders and archives who care about alternative voices and points of view — whether political, cultural, aesthetic or all of the above.
Visit inthesoupfilm.com to learn more.