Back to selection
FOREVER CONTRABAND: WENDELL B. HARRIS JR.'S "CHAMELEON STREET"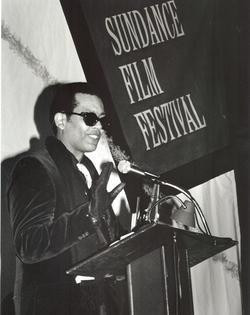 Perhaps it goes without saying that the world of independent film missed the boat on Wendell B. Harris Jr. No one, especially this author with the same surname as the now fifty-six year old Michigan native, wants to play the woulda, shoulda, coulda game. Yet whenever I think about the career I would have liked to have seen Mr. Harris have, it's hard not to turn a bit melancholy. I guess being in the right place in the right time with the right people and a large enough sum of money counts for something, but if being at the podium in Park City with the Narrative Grand Jury Prize in your hands isn't that place, than what is? No studio executive in 1990 thought to offer Mr. Harris the chance to direct Hugh Jackman and Robert Deniro in a sizably budgeted, sure to be faux uplifting account of the events in Selma; I'm not sure he would have accepted if they had.
After all, he made a film in Chameleon Street, his diabolically funny debut which screens as part of Contreband Cinema tonight at BAM, that reveals a black consciousness as messy, hysterical, and laden with the unspoken burdens of otherness as those that belong to most of the black folks I know. Which is also to say that he gave us, in the form of William Douglas Street, the con man who impersonated a Time Magazine reporter, Ivy League student, appellate lawyer and gynecological surgeon, one of the most unforgettable characters to grace American movie screens in the past quarter century. Charming and unrepentant, Street gets lost in his various masks, but even when he's caught, he never fully lets on to the low simmer resentment than swims just underneath the surface of this formally audacious, wholeheartedly entertaining yarn. He's just too debonair to be a victim, too singular to be an archetype, too righteous to be Flint, Michigan's black answer to Tom Ripley. Leaving the Angry Black Man and Tragic Mulatto in the cellar where the rest of the cliches are stored, in Mr. Harris' world there is just no way to simultaneously get ahead and Do The Right Thing, even if he plays as many roles for as many different people as the President does today, without the motorcade and fancy D.C. zip code. Of course, by the end of the film, you still don't quite know him; you never can.
Like Billy Woodberry and Leslie Harris and Larry Clark (the darker one), Mr. Harris has so far left us, despite making a debut more widely acclaimed and known than any of theirs, without an encore, as hard as he surely tried. Good for him; despite his meetings with the Spielbergs and the Fondas, he didn't see fit to remake Chameleon Street with Will Smith or Arsenio Hall or Sinbad, as was reportedly suggested during his stint in development hell. Integrity still counts for something. He'll be on hand tonight with firebrand critic Armond White to discuss his picture after the 9:30 show.