Back to selection
"To Dominate out of Fear is Our Worst Characteristic as Humans": Heidi Ewing and Rachel Grady on Their Oscar-Shortlisted One of Us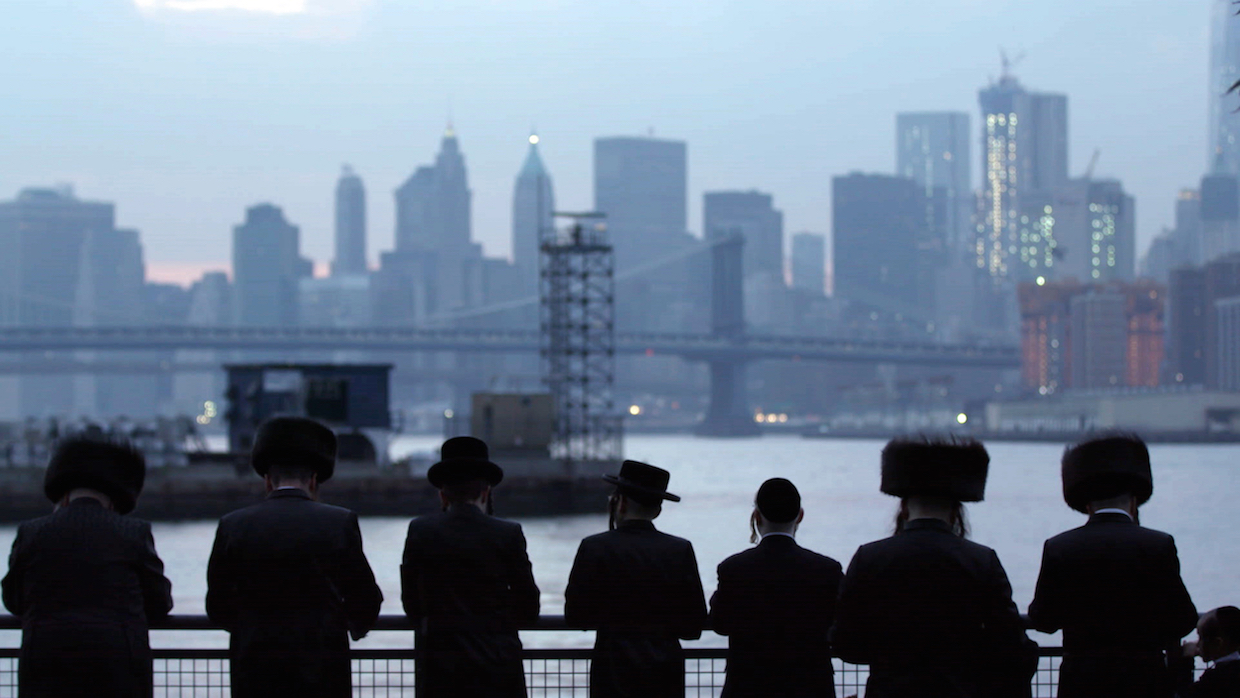 One of Us
Directing partners Heidi Ewing and Rachel Grady — selected for Filmmaker's 25 New Faces in 2005 — first came on to the filmmaking scene with heartfelt documentaries The Boys of Baraka and Oscar-nominated Jesus Camp. In their latest documentary One of Us, currently available on Netflix and just shortlisted for the Best Documentary Academy Award, their signature cinema verite style of filmmaking unveiled a level of suspense and drama they were not expecting. Centered around three people who are attempting to leave the tight reigns of their New York-based Hasidic Jewish communities, the film goes deep inside an overly controlling, at times frightening, society that supports arranged marriage, gender divide, and a closed-off view from the outside world.
The two directors spoke to Filmmaker in Toronto about "one of the hardest films they have made," working with Netflix and the moral sense of responsibility they felt to their subjects.
Filmmaker: Why do you both consider this film as being one of the hardest you have worked on?
Grady: This was uniquely hard for a few reasons: it's three people — Etty, who was forced into marriage at age 19, and birthed seven children by age 29; Luzer, who broke ties with his family and moved to L.A.; and Ari, who was suffering from the trauma of sexual abuse, and who wanted to learn about the modern world that was just outside his door. Their desire to leave their community meant they had something in common, yet their stories are very different, and you have to give each of their complicated stories context. There were also legal issues involved, and we had to explain those back stories.
Ewing: We felt a great responsibility for these people, like we did with The Boys of Baraka. They trusted us with their story. We knew the whole world is going to see it because of its release by Netflix. So we had to own the responsibility, and not fuck it up. You just got to do right by them every single day and make sure you're making clear exactly what they are saying.
Filmmaker: Tell me more about the kind of responsibility you felt towards these vulnerable subjects.
Ewing: A lot of people that try to leave [Hasidic Jewish communities] commit suicide. Even when we were filming there were suicides. One of Etty's friends killed herself by jumping off a rooftop in a bar in Midtown. And then three months later, her sister killed herself. They feel they can't leave; or if they do, they are shunned [from the community], and that is painful. You're made to feel you have no value if you leave. We let them come to our office any time. Sometimes we were the only safe space for them to go. We couldn't shake this; the moral obligation to help these people stays with you.
Grady: When you first start working on these documentaries, you don't know how to process your feelings. There are no boundaries — you learn to do that as you mature. In this case, I fell back to that, especially with Etty, because we were filming someone that was in danger. [Her husband was stalking her]. I kept thinking, "Is she going to get hurt on our watch, while we are filming her?" Luckily, we lived near them, so we could easily meet with them. That made a big difference. For me, it felt personal. This was not Documentary 101. We had ethical and moral obligations.
Filmmaker: What do you think this film will say to other people who are afraid to leave?
Grady: To dominate out of fear is our worst characteristic as humans. I think it's at the heart of human problems, which is what the film is about — the polarity of the comfort and protection of the group versus the intrinsic desire to be an individual. The fine line of being held or crushed. But through Etty, Luzer, and Ari's courageous steps, I think this film shows there is a glimmer of hope to finding your own true identity.
Filmmaker: What was the timeline in making this film?
Ewing: Including casting, it was three years. The production and edit was around two years. We were filming as we were editing, and we had nine full months working with two editors. It was a lot of editing. We also had an assistant for the whole two years which is unusual. It was all hands on deck. Usually we have something else in the hopper, but we didn't for this. It felt like it needed all the brains that we have in the company, it was that hard to pull off.
Filmmaker: What was your relationship with Netflix, and were they the predominant funder?
Grady: Initially, we received a grant from Regina Scully. She is an incredibly supportive person. Her money was a gift, and allowed us to do things people generally don't want to pay for like casting, meeting people, and understanding the community.
Ewing: No one ever wants to be first in offering money. They want less risk. But Netflix did take a big risk. We were in the early development stage, and we told them we are not going to rush this movie as we didn't know exactly what it was going to be. And they said, "Fine, we want to work with you as directors, just do your thing." And literally that was it. They left us alone until rough cut. It was very filmmaker friendly.
Filmmaker: The film was beautifully shot, with a strong use of colors and close-ups. How did you achieve that look, which can be difficult for a cinema verite-style documentary?
Grady: We used the C300, with all natural light and a lot of long lenses, because [the Hasidic community] is a community that is allergic to cameras and doesn't like to be filmed. The tricky thing when shooting in a more thoughtful way like this is it's slower, and for cinema verite style filmmaking, you are screwed if the subject walks away. But everyone from the DPs (Alex Takats and Jenni Morello), to the colorist and sound designer (Richard Arthur Fleming) did a great job. Our whole crew was at the top of their game.
Filmmaker: What are you developing right now?
Grady: We are developing so many things, because the go-rate is like 10%. But we don't want to say anything, in case we jinx it. I will say we would love to do a more intellectual television series. People seem to have an appetite for it, and people are paying for it. Right now, we are looking for stories that we can develop — meaty stories that will give us the right amount of access.
For more on One of Us, read Erik Luers's interview here at Filmmaker and Lauretta Prevost's coverage of the film's DPs at DOC NYC.