Back to selection
"We Tried to Avoid Making an Emotional and Psychologically Engaging Film": DP Nadim Carlsen on Holiday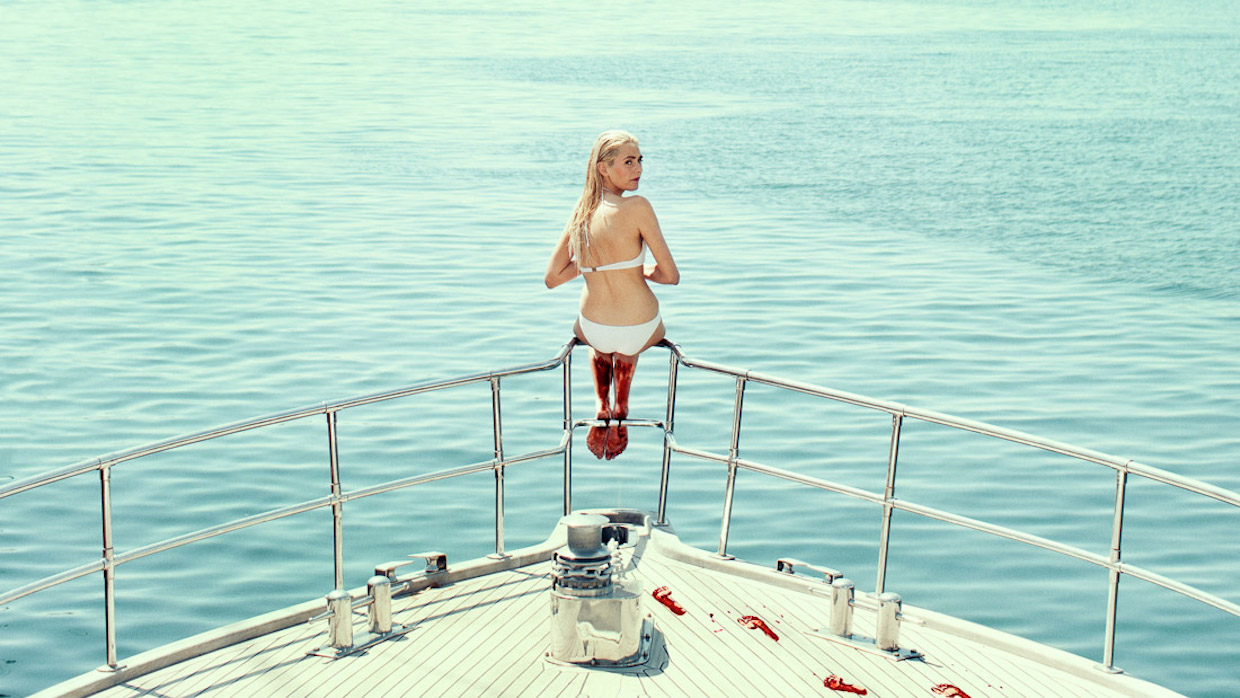 Holiday
Danish cinematographer Nadim Carlsen has shot more than 20 music videos, commercials, shorts and features since 2009. In recent years he served as DP on the horror film Shelley, which screened at Berlin and CPH:PIX, and What Will People Say, which played at TIFF and IFFR. Carlsen went to film school with Isabella Eklöf, the director and cowriter of the provocative Holiday. Ahead of the film's five screenings at Sundance, Carlsen spoke with Filmmaker about his use of static long takes and why he and Eklöf sought to create glossy images that "contradict the dark and dramatic content" of the film.
Filmmaker: How and why did you wind up being the cinematographer of your film? What were the factors and attributes that led to your being hired for this job?
Carlsen: Isabella and I went to film school together. I was cinematographer on her graduation film so it felt like an obvious continuation of our previous collaborations to embark on Isabella's debut feature. Aside from being friends, we appreciate a lot of the same directors and artists, which usually proves to be a good foundation to start exchanging ideas on. I think that Isabella trusts me in understanding her artistic vision and how to translate her script into moving images. I like being involved early in the process and it was helpful to explore and research this project with Isabella on location in Turkey some years ago.
Filmmaker: What were your artistic goals on this film, and how did you realize them? How did you want your cinematography to enhance the film's storytelling and treatment of its characters?
Carlsen: Isabella is an interesting director in the way that she approaches visual concepts from an unusually intellectual, anthropological and humanistic point of view. This made for some elaborate discussions on framing, angles, lighting, color and camera movements during pre-production, and it demanded a high degree of consideration and analysis on my part when making choices as a cinematographer. We chose to shoot Holiday in cinemascope since we wanted to make a film about a dysfunctional group of people and the wide format seemed right to capture this sociological aspect of the film. We mostly shot on wide angled lenses as we liked the distortion and grotesqueness that it added to the scenes. We tried to avoid making an emotional and psychologically engaging film; body language often felt as important as the actors' facial expressions. In fact only a handful of close ups made it into the film.
Holiday primarily consists of long static takes that allow the audience to experience the scenes as if they were unfolding in real time. Once in a while the camera tracks the movement of a character, but often we would move the camera to draw attention to a specific detail or to create mood. We liked the idea of the camera being detached from the characters and undramatically delayed in its reaction to a particular change within the frame.
Filmmaker: Were there any specific influences on your cinematography, whether they be other films, or visual art, of photography, or something else?
Carlsen: A primary visual influence was Austrian director Ulrich Seidl whose exquisite wide shots are composed with painterly and imaginative perfection. Another source of inspiration was Mexican director Carlos Reygadas whose poetic and unpredictable camera movements seem to suggest metaphysical undercurrents flowing through his narrative. American director Todd Solondz may also have influenced us as well. Many of his films have a certain glossy commercial-like quality to them that we wanted to pursue in Holiday. We like the way he mixes dark content with high key lighting and saturated colors.
Filmmaker: What were the biggest challenges posed by production to those goals?
Carlsen: Aside from our tight budget, one of our biggest challenges was simply getting all the scenes in the can within a relatively short time frame. A lot of the scenes have multiple active characters in them; sometimes more than 10 actors at a time. It takes time to get the blocking and the timing right in wide shots with that many actors and semi-improvised dialogue.
Filmmaker: What camera did you shoot on? Why did you choose the camera that you did? What lenses did you use?
Carlsen: We shot on Arri Alexa Mini with Cooke Anamorphic lenses. We shot on digital as we wanted to achieve a rather glossy and clean look. Shooting on film would not have been possible with this kind of budget as we would often do very long takes without cutting the camera.
Filmmaker: Describe your approach to lighting.
Carlsen: We wanted the overall look and feel of the film to contradict the dark and dramatic content. So we aimed for a low contrast bright and well lit film with lots of soft light on the actors' faces. The finished film should have a slightly distant and observational quality to it, and we did not want to dramatize too much with our lighting, so I tried to eliminate hard shadows and crushed blacks; even at night time it does not really become dark or moody. Personally, I am attracted to naturally motivated light sources and on Holiday I tried to make the most of the available daylight and existing light sources on location. Our main villa had plenty of large windows, even in the ceilings; often I would just diffuse or block the sunlight to achieve my goal. Obviously, shooting at night proved challenging in a different way and I would have to employ more elaborate lighting setups in collaboration with my Turkish gaffer.
Filmmaker: What was the most difficult scene to realize and why? And how did you do it?
Carlsen: Probably the lunch scene at the indoor/outdoor fish restaurant, which did not seem too complicated on paper. But it was a daylight-based scene that we had to shoot in the afternoon with the daylight falling rapidly. With all our actors in it and dolly tracks laid out, the scene took a long time to get in the can. In addition to this, the high contrast nature of the restaurant made me add HMI and LED lights to reduce the difference in exposure between interior and exterior.
Filmmaker: Finally, describe the finishing of the film. How much of your look was "baked in" versus realized in the DI?
Carlsen: The film was recorded in low contrast LogC. On set we used the standard Rec709 LUT which is quite vivid in terms of contrast and color. The saturated color scheme seemed right for the project from start to finish, but the relatively high contrast proved to be something we did not pursue fully in color correction. We simply ended up leaning towards a slightly softer look with plenty of details in shadows and highlights.
TECH BOX:
Camera: Arri Alexa Mini
Lenses: Cooke Anamorphics
Processing: Digital
Color Grading: DaVinci Resolve