Back to selection
Garrett Scott: A Legacy of Generosity at Full Frame Documentary Festival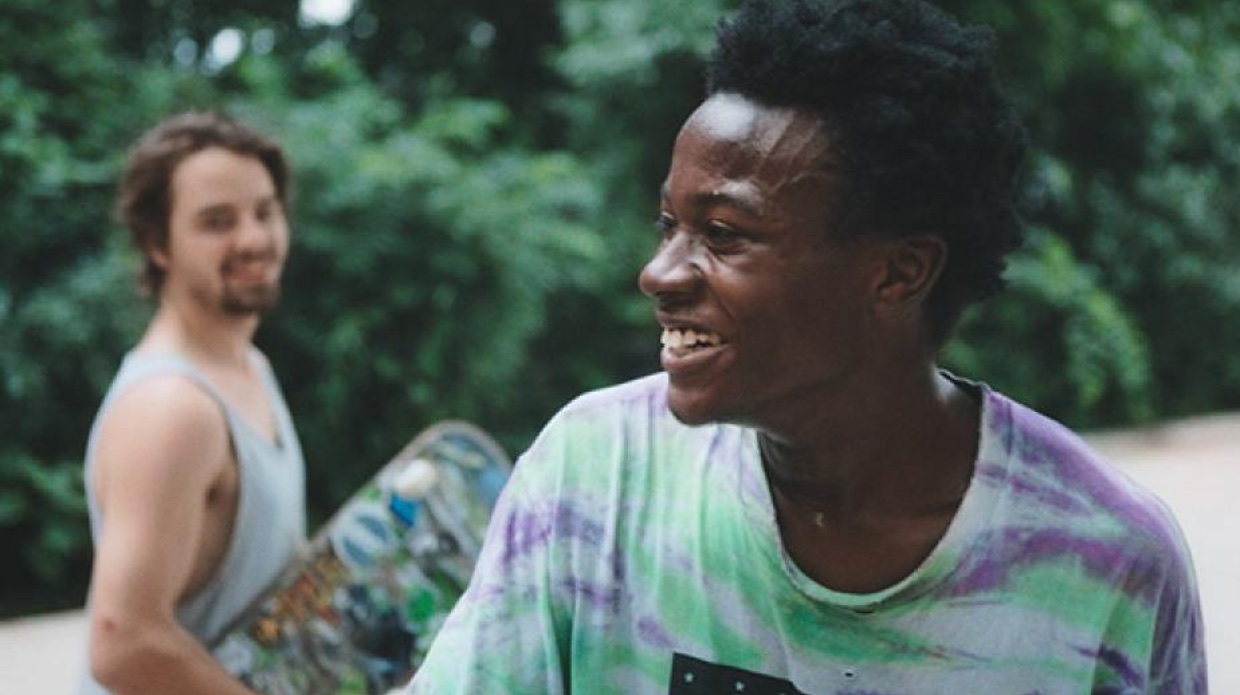 Minding the Gap
In 2006, documentary filmmaker Garrett Scott died unexpectedly, shocking the film community. His film, Occupation: Dreamland, co-directed with Ian Olds, won the Independent Spirit Truer than Fiction Award two days after his death. In the aftermath of this tragedy, his friends and collaborators founded the Garrett Scott Documentary Development Grant.
The idea of the grant is to support first-time feature documentary makers by emulating a formative experience Garrett and Ian had when making Occupation: Dreamland. He visited Full Frame Documentary Film Festival in Durham, North Carolina, where he met with many people from the doc community. Full Frame is a special place for this kind of interaction, A filmmaker's film festival, where makers, industry, and audiences have the space to meet and talk without the pressure that often accompanies larger and more industry-oriented festivals. Not many deals are made at Full Frame, but relationships are formed and nurtured.
Full Frame just celebrated its 21st annual festival and the Garrett Scott grant was given for the 12th time. (Full disclosure: I received the award in 2012 for my film Let the Fire Burn.) It seems like a good moment to reflect on what it means.
Documentary filmmakers like to talk about community: the documentary community, the communities we cover and how that works (or doesn't). However, if we are to be honest, it is fraught. All of this community talk is not inaccurate, but there are frictions both within this community, and certainly when outsiders come into a community in hopes of capturing a story. Perhaps the grant and Garrett's legacy can help understand these dynamics better in terms of the generosity it represents.
Generosity was at the heart of Garrett's experience at Full Frame: a community and individuals opening up to him, embracing him, and offering real help to achieve his creative goals. This kind of help can never replace the need for sustainable funding models for documentary filmmakers, but it can help a surprising amount. I bet almost everyone who has received the award would tell you the same thing.
On one level, generosity is the time freely given by professionals to mentor first-time directors. On another, it is Full Frame and Joan Gillings stepping in to meet the funding needs of the grant after the initial funds (culled from the proceeds of the Truer than Fiction Award) ran out. More fundamentally, generosity is found in the filmmaking community opening its arms to new filmmakers and welcoming them into the fold. As much as we talk about community, sometimes a film festival can feel cold when you don't know anyone. The Garrett Scott grant effective bridges that gap.
This year, two previous Garrett Scott winning films premiered at Sundance, and they are two of the most extraordinary films of the year: RaMell Ross's Hale County This Morning, This Evening and Bing Liu's Minding the Gap. There are many remarkable things about both of these films, but each also represents generosity in its own way.
Hale County, This Morning, This Evening lands at a significant moment in our national discussion — the discussion of cinema and representation, but more broadly the discussion of race and violence, especially as it pertains to the Black male body. Reminiscent of last year's Strong Island, it shows what is possible when a Black filmmaker has the opportunity and space to fully express a vision. Where Strong Island is a much-needed indictment, unflinching and uncompromising, of the violence of white supremacy, Hale County is something different. Though it positions itself as a critique of the dominant racist history of image-making, it does this not with rhetoric but through offering a revelatory alternate vision. In doing so, it is generous not only to its subjects but also to the audience. It is a serious film about serious things made by a serious artist. Yet, it leaves us refreshed and inspired.
There is a moment in Minding the Gap, where filmmaker Bing Liu asks one of the main subjects how he feels about talking about deep personal issues on film. The reply is: it's like free therapy. Documentary filmmaking, when done well, can be an extraordinary service to the subjects of the film. In his Q&A after the film, Bing said that for one of the other subjects, the process of making and seeing the film helped him reconcile that part of his life and progress to the next. This process of reflection and growth on the part of the subjects is one of the best effects that our work can achieve.
Both Minding the Gap and Hale County screened this year at Full Frame to great acclaim, winning the Audience Award and the Reva and David Logan Grand Jury Award respectively. Both filmmakers made note of the Garrett Scott grant when talking publically about their films. Perhaps Bing Liu put it most succinctly: it was like a big hug.
In the shadow of a tragedy, the people close to Garrett Scott chose to invest their time and funds to honor his name. The grant has grown beyond their expectations, affecting dozens of filmmakers and by extension countless people who have been touched by these films. Perhaps we can all be inspired by the Garrett Scott grant, and by these films and filmmakers, to be more generous in our work and in our lives. I never knew Garrett, but I think he would have liked that.
Winners of the Garrett Scott Documentary Development Grant:
Minding the Gap – Bing Liu
Stalin, Lenin, and Other Tales from South India (working title) – Kavita Pillay 
Quest: The Fury and the Sound – Jonathan Olshefski
Whirlybird – Matt Yoka
Sweetheart Deal – Elisa Haradon and Gabriel Miller
The Trial of Mumia Abu-Jamal – Ted Passon
Hale County This Morning, This Evening – RaMell Ross
The Peacemaker – James Demo 
(T)error – Lyric R. Cabral and David Felix Sutcliff
In Country – Mike Attie and Meghan O'Hara
Barge – Ben Powell
Let the Fire Burn – Jason Osder
Call Me Kuchu – Katherine Fairfax Wright and Malika Zouhali-Worrall
12 O'Clock Boys – Lotfy Nathan
1971 – Johanna Hamilton
25 To Life – Mike Brown
Jessica Gonzales vs. The United States of America – April Hayes and Katia Maguire
Anatomy of Poverty – Elinyisia Mosha
The Canal Street Madam – Cameron Yates
War Don Don – Rebecca Richman Cohen
Garbage Dreams – Mai Iskander
The Unreturned – Nathan Fisher
My Perestroika – Robin Hessman
The Last Buffalo Hunt – Lee Lynch