Back to selection
From NYU to Cannes: Egyptian Filmmakers A.B. Shawky and Dina Emam on Their Debut Feature, the Competition Title Yomeddine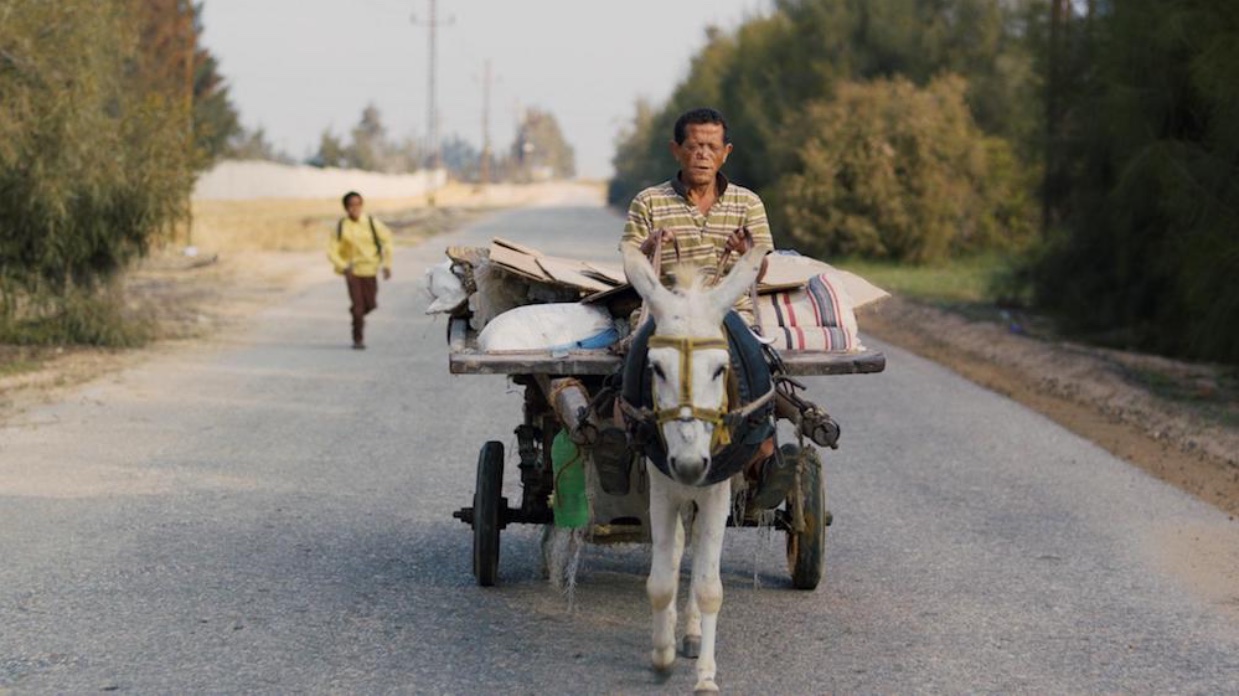 Yomeddine
Egyptian writer/director Abu Bakr (A.B.) Shawky and his filmmaking and real-life partner Egyptian producer Dina Emam made an impact weeks before their first feature, Yomeddine, even screened in Cannes. Theirs is the rare first-time feature to screen in what is most certainly the most prestigious launchpad for any movie: the festival's Main Competition. Meaning "Day of Judgment" in Arabic, the film centers around a man with leprosy (Rady Gamal, "Beshay") who goes in search of his family across Egypt with all of his possessions loaded on a donkey. Together with a young orphaned boy (Ahmed Abdelhafiz, "Obama"), the two fend off expected and unexpected travails along the way, while also meeting accepting individuals who judge them for their character and not for their appearance. Indeed, Yomeddine focuses less on some of the traditional road movie tropes in favor of natural, tender exchanges between the talented two lead actors — character work that emphasizes the film's main theme, suggested by the title and underscored when one character says to Beshay, "One day we will all be equal."
Made for under $500,000, both Shawky and Emam are grateful for their ties to the New York independent film community. Shawky is a recent masters graduate of NYU Tisch School of the Arts and Emam a graduate of Columbia's Master's Program in Film and Media Studies. The film was initially supported by NYU's Richard Vague Production Fund, followed by postproduction support from the Tribeca Film Institute and, again, NYU. The crew was also split between Egyptian and New York-based members, including friends and NYU alumni DP Federico Cesca (Patti Cake$) and production designer Laura Moss, who was also one of Filmmaker's 25 New Faces last year.
Initially inspired by Shawky's undergrad short doc, the narrative feature has taken a gruelling ten years to make, with a series of setbacks pertaining to funding and on-the-ground production in Egypt. Further challenges included the two leads, both of whom have never acted before, and their inability to read and write which mandated a lengthier, more flexible schedule. But the film has steadily gained momentum even before its Cannes debut. Cairo-based Film Clinic came on board as distributor for Africa and the Middle East, and, as Shawky explains below, a DVD of the film made its way to Wild Bunch, who came on for international sales and got the film to the Cannes selection committee. And Le Pacte agreed to release the feature in France.
Filmmaker met with the still very overwhelmed couple in Cannes, where they talked about their difficult journey to the Croisette.
Filmmaker: What inspired you to make a film about a man with leprosy who goes in search of his family in Egypt?
Shawky: Ten years ago, during my undergrad in Cairo, I made a short doc about the leper colony outside of Cairo. I had heard stories about people [with leprosy] being dropped off [by their families] and never hearing from their families again. I thought it would be an amazing fictional story. So I moved to New York, and went to grad school. NYU encourages you to do features for your thesis project, and this was my thesis project. They give you two years but because of all the issues that came with making this, we had an additional year.
Filmmaker: So what was your timeline for researching and writing the script and then completing production?
Shawky: I went back to Egypt and wrote the first draft of the script in three weeks. But before that, it took me a year to research. I went all throughout Egypt to talk to people and search for locations. It took a long time. Once I found the two leads — Rady Gamal who plays Beshay, the character with leprosy, and Ahmed Abdelhafiz who plays the younger boy Obama — I prepared and workshopped with them for four months. Then we filmed for 32 shooting days over a period of four months.
Filmmaker: What were some of the difficulties in making the film?
Shawky: Getting funding was a nightmare. We were first-time filmmakers, it was a story about leprosy, we didn't have name actors, and it was in a foreign language — all the elements that don't make people throw money at you.
Filmmaker: Do they prepare you for these financial challenges at NYU?
Shawky: Absolutely. It's weird anyone comes out of producing class and doesn't quit! The numbers never add up — you do [an investment] waterfall and they always tell you how much you put in is how much you will make. But it's always minus numbers, which is not easy for students already in debt. They tell you only by your third film are you going to see some profit. If after all this, you still want to do it, then I guess you really want to do it.
This story was tough because we had to get private funding — from my family and Dina and myself, and we did a Kickstarter. We were also grateful NYU gave us support through the Richard Vague Production Fund — it's an annual fund they give to filmmakers who are making their first feature. It helped us get into production, but it still didn't give us enough to finish the film.
Emam: We had many issues sorting things like shooting permits. We would have to wait a long time – one permit was approved three months after we finished shooting!
Filmmaker: I have heard there is a lot of bureaucracy when shooting in Egypt. Did it help that the two of you are originally from Egypt?
Shawky: Up until the moment before this film was ready for Cannes, filmmakers in Egypt were saying, "Who are these people?" The film community is a small circle.
Emam: We were so focused on the film, we didn't go outside the circle of the film. And if you don't have star actors, you are considered a nobody there.
Shawky: Everyone that went to my undergrad film school kept asking me, "Why are you so hung up on this leper thing? It's been five years, get over it." They were all working in film and were established, and I was still tinkering around with my leper project. It was tough.
Filmmaker: What funding did you eventually receive to complete the film?
Emam: When we applied and received production support from The Richard Vague Fund, I thought securing financing [for the rest of the production] was going to be easy. I was very wrong — we were rejected from every production fund after that. And we wanted funds, not grants. I didn't want to have stipulations too early. We then decided to do a Kickstarter campaign, and we also received funding through Nextpix/Firstpix. To this day, we have never met them, but they said they believed in this project.
Shawky: We also had help from family and family friends. One person was my brother's partner at work. He wanted to invest in film. And people like Gill Holland, who is a producer — he took over all the composing charges for the score.
Emam: For post, we were very appreciative that Tribeca Film Institute gave us money, and then NYU gave us another grant. And then Mohamed Hefzy at the Cairo-based Film Clinic became a co-producer, and he helped us with post production in Egypt and who said he wanted to help us distribute the film in the Middle East and Africa.
Shawky: And let's not forget we had to work for a year to make money. We both worked on the Hulu mini-series The Looming Tower. I was a writer's assistant, and Dina was a researcher. She annotated the scripts.
Emam: Ha, that's right. I was reading lots of FBI and CIA documents! But yes, the financing did start coming together. Abu had a friend at Wild Bunch, who sent the film to their co-founder Vincent Maraval, who then sent it to French distributor Le Pacte. So before we came to Cannes, we had a sales agent [Wild Bunch] and a French distributor [Le Pacte]. This was unchartered territory for both of us. If there is advice I can give to young filmmakers — ask for advice. I couldn't make a decision, I didn't have the experience to make these deals, and I needed to go to people that did. We still contact our professors at NYU and Columbia, and they helped a lot. I never had to think of deals in this way. But I bit the bullet and learned.
Filmmaker: Tell me about working with your DP, Federico Cesca.
Shawky: Federico and I studied at NYU and shot a couple of things together. We decided to shoot on the ARRI Alexa XT predominantly handheld since the two leads were non-actors, and they couldn't read or write. That made it tricky when trying to block scenes. They could never hit their marks and get timings right, so we decided for a more rugged style of shooting. We had to work around them and not [ask] them to work around us.
Filmmaker: How did you find these non-actors, and what was the rehearsal process like? Was it more challenging because they had not previously acted?
Shawky: I met Rady in the Abu Zaabal Leper Colony, north of Cairo. He suffered an initially unexplained condition in his teens and was brought back to life by nuns. He is very tough, and if people stare at him, he will ask them what they are looking at. For Ahmed, someone had told me about this young boy that would hang around on a shoot, where his father was the doorman. I met him, and I knew instantly. His quick wit and positive attitude set him apart from many children his age.
So for four months, we lived together in an apartment to try and prepare them for their first time that a camera would be pointed at them. It's one of those things you don't know how it's going to work until the day of — no matter how much you prepare for it, or how confident you are. Until two days before, I was rehearsing with them, and I was thinking this could either be the most amazing thing ever or a disaster. Luckily on the first day, I knew it was going to be fine.
Emam: [A.B. would] let the actors breathe during a take. It wasn't "action" and "cut" — he would just wait and see what would happen. And he also edits in his mind while we are shooting. He would say, "I know how I am going to cut this, I know what this will look like in the edit."
Shawky: We knew who the camera was going to be following. The approach was, "What do we want to see in this scene?" I was clear of stylistic choices that I wanted and the angles we wanted. Very often, they couldn't say three lines in a row correctly, so there was a lot of cutting around that. We were lucky to have so much prep time — that helped me work out exactly what I wanted from each scene because blocking was impossible. They would change what they did each take, so often we did a lot of 20-minute takes, and I would have them repeat their lines in various different ways. Otherwise, they would get nervous and think, "Am I not doing a good job?"
Emam: I remember Ahmed [Obama, the young boy] couldn't remember his lines but he would sing songs all the time. So we recorded lines and put them on his MP3 player, and he would just listen to them on a loop. That was the fastest way he would remember the lines.
Filmmaker: What would the two of you like to work on next?
Emam: We are based between New York and Cairo. We will make another film wherever the story is — it doesn't matter where, as long as the story is powerful, we can reach a lot of people, and we can share this together. We have a few ideas, it's just a matter of choosing one.
Shawky: I grew up in Egypt watching films by the Coen Brothers. They come from a different world, socially and economically, and still they could touch people on the other side of the globe. That's what I want to do — touch people disconnected from the world.
Filmmaker: Do you hope this film will have a positive impact and awareness on the leper community?
Emam: I didn't know these communities existed. The leper colony in Cairo has around 1,500 people, and the one in Alexander has around 30. And there are different stages of [the disease] — sometimes you don't know people have leprosy. But the main focus is that people are accepted, whatever the color of your skin, or your gender, or your sexual orientation — anything that makes you feel like people are looking at you, or that you are not accepted. It's a shift in your mind — we are all human beings just trying to get by.
Shawky: The main impetus was to show people judging others on their character, not on their looks. And I hope with this film people get different ideas of leprosy, and all kinds of deformities, and that people don't have issues shaking someone's hands or sitting away from them. I want people to be able to look at someone and to see inside their hearts.
Filmmaker: Given these themes, were you worried that the film could be oversentimental?
Shawky: Some people have said we went the sweet, happy route with this. But these communities have people that lead uplifting lives. There is no point moping around — they face life's difficulties with joy. It's an Egyptian quality. It would not be accurate if we portrayed them in a negative light.