Back to selection
"We See Documentary Film As An Inherently Collaborative Process": Laura Green and Anna Moot-Levin On Their DOC NYC-Premiering The Providers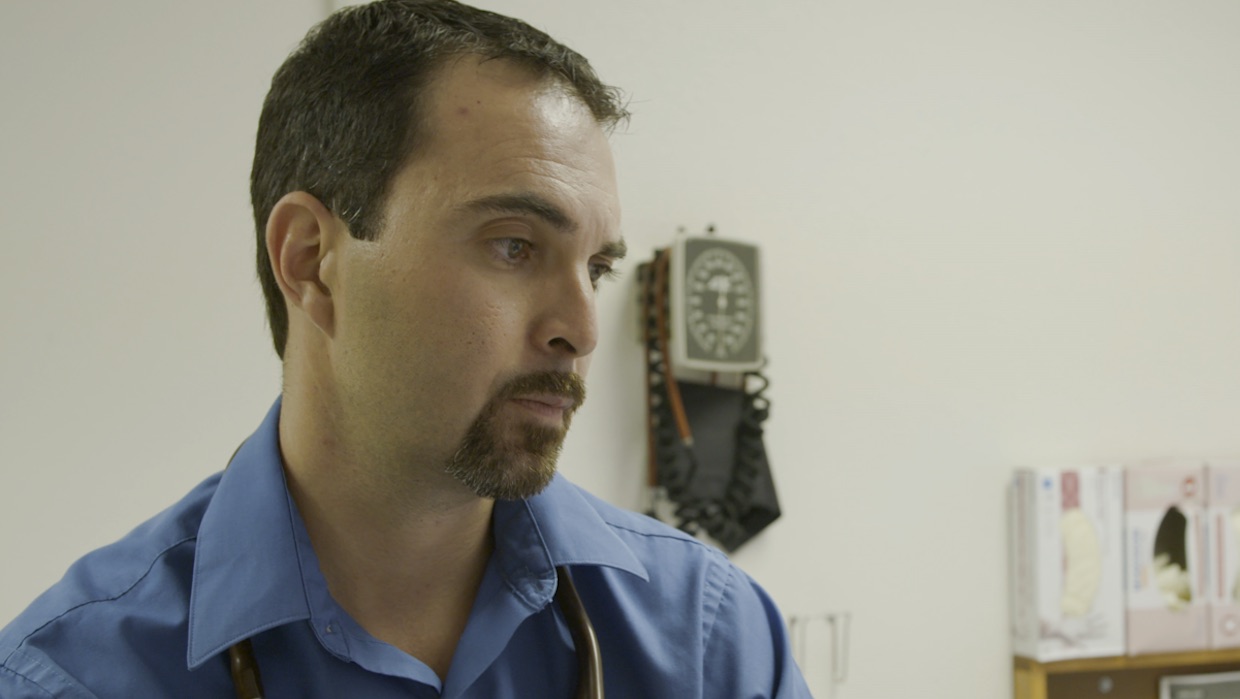 The Providers
Laura Green and Anna Moot-Levin's IFP-supported The Providers is a film I regrettably left off my must-see list at Full Frame, most likely because a doc that follows a doctor, a nurse practitioner and a physician assistant serving rural communities abandoned by our traditional (and traditionally broken) healthcare system sounded like something that might put this liberal urbanite to sleep. But in one of those lucky film fest coincidences, I ended up chatting with the doc's co-director Laura Green on the ride back to the Raleigh-Durham airport, and mentioned I was returning to Santa Fe. Which is both a drive away and worlds apart from the rural areas of northern New Mexico where The Providers takes place.
Fortunately, the film's DOC NYC premiere (November 9th at Cinépolis Chelsea and November 12th at IFC Center) has now provided a second chance to sing the film's praises. Filmmaker spoke with co-directors Green and Moot-Levin about their beautifully-composed doc, which immerses us in the lives of three unsung heroes quietly making a difference on the margins, even as urban bubble dwellers like me ignore our neighbors outside the city line.
Filmmaker: What brought you to this story in the first place, and what made you think the topic of rural healthcare would make for compelling non-fiction material?
Green and Moot-Levin: We are both the children of healthcare providers ourselves, and have a long-standing fascination with medicine. We grew up with lunches stored in a fridge with a "biohazard" sticker and dinner table discussions about the unequal and often unreasonable American healthcare system.
Back in 2014, we heard a radio story about how even after the ACA [passed] many Americans struggle to access care in rural communities where doctors are often few and far between. As we dug deeper into this subject matter, we saw the ways the healthcare problems in these small towns are entwined with the broader challenges facing rural American communities, and witnessed firsthand the insidious connections between poverty, hopelessness, illness and addiction. From our very first phone call with Matt Probst, physician assistant and medical director of El Centro Family Health, we saw him as a visionary not just for the future of rural medicine, but for rural America. As a practitioner from the rural area in which he serves, he is powerfully positioned to transform his community from within. Yet he must also grapple with the reality that many of his patients' ills hit very close to home, and his own story begins to blur the line between "patient" and "provider."
Filmmaker: As far as I know neither of you have a connection to New Mexico. So as urban outsiders, how did you go about gaining the trust of the rural people and communities you profiled?
Green and Moot-Levin: We have often joked, a bit self-consciously, that it's hard to find more "city" people than us, coming as we do from San Francisco and New York. However, we formed an immediate connection with the providers in the film. In a sense, we are all healthcare nerds — although we don't know if the providers would appreciate the moniker! — who love to think and talk about how to improve healthcare for underserved communities, and we share a deep-rooted belief that all people deserve high-quality healthcare regardless of geography.
We see documentary film as an inherently collaborative process in which we are building on the work and expertise of those who are depicted within the documentary, and our connection to the three providers gave us an anchor in the community. While we have sometimes heard the stereotype that small towns are distrustful of outsiders, our experience couldn't have been further from that. The people we met were incredibly open and very willing to give us a chance in spite of the fact that we didn't have roots in their community. Building and deepening trust is a huge part of any documentary process, and as we spent more and more time with the patients and providers in the film we got to know each other quite well. They came to trust the ethos and intention of our filmmaking, which helped people feel comfortable sharing deeper and more personal parts of their stories.
Filmmaker: Healthcare is a sensitive subject for many folks, hence the need for doctor-patient confidentiality. How did you navigate this? Did you feel at all limited in what you could film?
Green and Moot-Levin: We spent about 120 days, over two and a half years, filming on location in New Mexico, building trusting relationships with both the patients and the healthcare providers in the communities we were shooting in. There were certainly patients who did not want to participate, which we completely understood and respected. However, over the course of filming we developed relationships with a core group of patients, who were open to sharing their stories.
We visited them regularly, both in the context of healthcare appointments and also filming their lives beyond their healthcare interactions. We let them know that we would stop filming at any time if they felt uncomfortable, which happened very rarely, and we would check in with patients about their comfort level with things we thought might be sensitive. We feel their willingness to share incredibly vulnerable moments with us is, in a way, a testament to the strength of the relationships between the patients and their providers. The patients, more than anyone, understand their community's many unmet healthcare needs, and so they wanted to be a part of a film that would highlight these issues.
Similarly, they valued the relationships they had with their healthcare providers, and the ways they felt recognized and respected in those relationships. Like the providers, they had an interest in showing the world what empathetic, high-quality healthcare looked like from their perspective. In the case of the pregnant patient who was struggling with opioid use disorder, we kept her identity anonymous because of the particularly high stigma she faced. Yet she, similar to other patients in the film, recognized the impact that her story could have and wanted to share it.
Filmmaker: Interestingly, for me, one of the most memorable scenes in the film is when a character notes that Los Alamos has the highest concentration of PhDs in the nation. As someone who lives in New Mexico — and has a sister who works in the public school system, recently ranked as the nation's worst — I'm well aware of the state's embarrassing inequality, not to mention racial segregation. But I also know there's strong grassroots pushback, evidenced by the fact that just this summer a court ruled that the state had violated the constitutional rights of public school students to a decent education. That makes me wonder if the providers you followed are involved politically, perhaps banding together with organizations like NM Together for Healthcare. Watching the doc it's easy to forget that this dire lack of access is actually occurring in a state that opted in to Medicaid expansion!
Green and Moot-Levin: We see the way in which the film's providers interact with their patients as a political act in and of itself, and we are in constant awe of the tremendous dedication they have to providing care to underserved communities. At the same time, Matt Probst, physician assistant and medical director of El Centro Family Health, is a tireless force in his community outside the clinic. We can never get over his seemingly endless amount of energy! Matt pioneered the Semillas de Salud program to mentor students in local schools interested in pursuing health care careers. Between the Semillas program, coaching youth soccer, and involvement in his church, Matt's activism centers around the youth of the community.
Matt also serves on the New Mexico Health Care Workforce Committee, and sits on the New Mexico Academy of Physician Assistants' board of directors. Family physician Leslie Hayes has been a strong advocate for other practitioners to incorporate opioid use disorder treatment into primary care, and speaks publicly about it regularly. Both Chris Ruge and Leslie Hayes have been involved with Project ECHO at the University of New Mexico. In 2016 Leslie was nationally recognized as a Champion of Change, and gave several resounding remarks at the White House with regard to opioid use disorder treatment.
Filmmaker: I know you've been developing an outreach campaign to go along with the film. Can you discuss that a bit? What does it look like and what audiences are you targeting?
Green and Moot-Levin: We are very excited about the outreach campaign we have in the works, although not all the details are finalized. The provider shortage in rural areas is a longstanding driver of health inequality, and we are gearing up for a series of screenings during the spring of 2019 targeting medical schools, nurse practitioner programs and physician assistant programs. In telling the stories of the spectrum of primary care providers, we aim to encourage students from all three professional tracks to consider work in rural primary care.
We think the film can help inspire young providers to not only choose but also stay committed to rural healthcare by showing them the personal and long-term impact their work can have in rural communities. We are also very excited to partner with rural high schools, providing materials to science classes, health career clubs and career training programs that encourage rural high schoolers to consider becoming medical providers in their home communities. Research indicates that the most effective way to increase the number of doctors serving in rural areas in the long-term is to increase the number of young people from rural areas going into healthcare, and we think The Providers can help plant those seeds. We also want to leverage the film to increase support for public policy that ameliorates the financial and infrastructural challenges in rural healthcare by setting up a congressional screening of the film in Washington D.C., as well as screenings for select state legislatures.