Back to selection
How Halloween Production Designer Richard Wright Shot the Film's Opening Credits with a Few Hundred Dollars, an Old Bolex and a Fridge Full of Rotting Pumpkins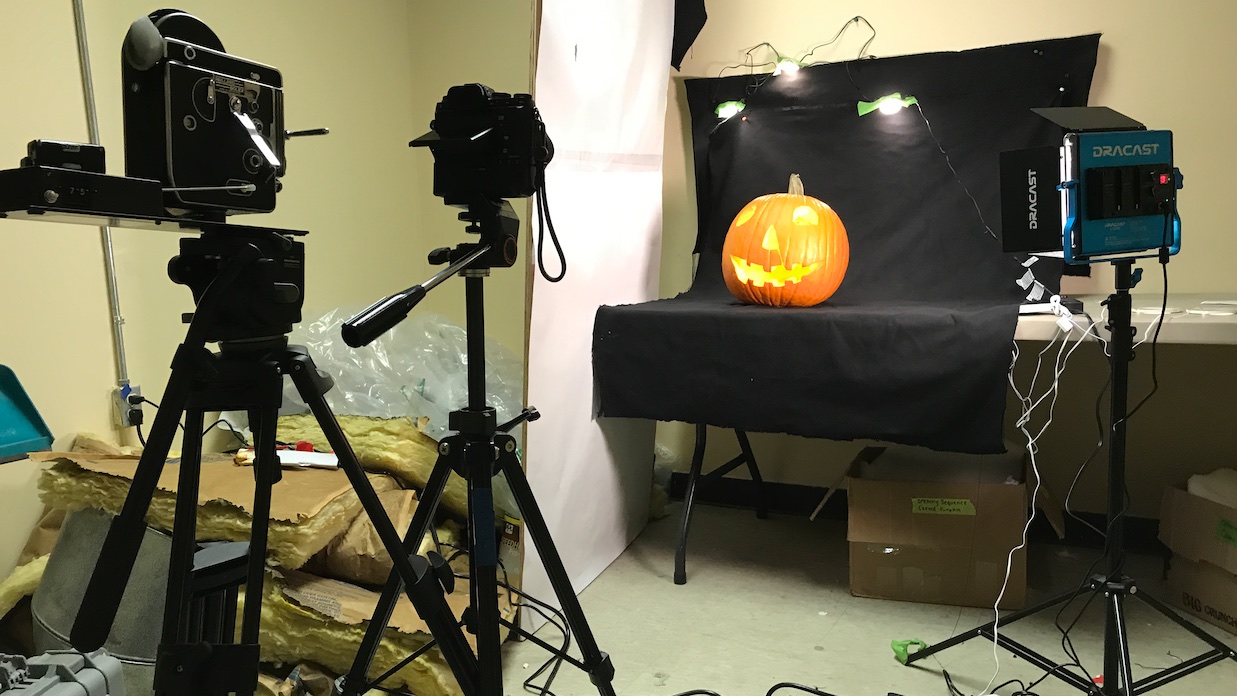 Halloween title shoot setup
While the new Halloween ignores the plots of the many sequels that followed John Carpenter's 1978 original, it doesn't spurn the movies themselves. The film is crammed with loving homages to the franchise — even the Michael Myers-less Halloween III: Season of the Witch gets a brief shout-out.
The latest Halloween installment establishes its fondness for its predecessors in the opening credits, which pay tribute to Carpenter's progenitor with a slow push-in to a rotting pumpkin that magically restores itself to health as the camera creeps closer. Though the sequel's production budget was a reported $10 million, only a few hundred dollars were needed for production designer Richard Wright to create that pumpkin resurrection.
Wright attended the University of North Carolina School of the Arts in the late 1990s alongside Halloween screenwriters and executive producers Danny McBride and David Gordon Green. He studied cinematography there, but ended up working as the production designer on Green's 2000 feature directorial debut George Washington. The job stuck and Wright has designed much of Green's subsequent work in addition to films like Jeff Nichols's Mud.
During Halloween's five weeks of principal photography, the idea emerged to create a time-lapse version of the original film's credits shot of a glowing jack o'lantern. Wright volunteered to shoot the sequence. "When the idea came up I was immediately like, 'Let me do it,'" recalls Wright. "I think it's the coolest thing I've ever gotten to film. I abandoned my hopes of being a director of photography a while ago and just decided to focus on [being a production designer], but it's kind of awesome that I got to shoot a tiny little part of the number one movie in the country."
To create the sequence, Wright first had to acquire a few pumpkins, which aren't found in abundance in South Carolina in March. Luckily the art department had a refrigerator full of them saved for potential set dressing.
"We had purchased them in November from a farmers' market that had a couple pallets full left over from Halloween 2017," says Wright. "My art department arranged to have them stored in a walk-in fridge for a few months and I think they had to soak them in a vinegar bath to keep them from discoloring. When the idea to shoot the time lapse developed, we put aside all of the good enough looking pumpkins that were left over to use for that purpose."
Wright first began toying with time-lapse photography in college for his thesis project, which he shot on a Bolex he'd purchased and a homemade intervolemeter he'd crafted from Radio Shack parts and a windshield wiper motor. For Halloween, Wright dusted off that very same Bolex H-16 Rex 1, which he last remembers using in 2007. He paired the 16mm camera with a Kern Paillard Switar 25mm lens, 100-foot daylight spools of Vision3 200T 7213 Kodak film stock, and a TimeFlow TIV-300 intervolemeter he originally purchased in 2001 for a David Gordon Green-directed music video.
With roughly three weeks left in principal photography, Wright and Halloween art director Sean White took over a storage closet at the office park where the film had its production headquarters. The closet was located in a common hallway so they hung a "do not disturb" sign on the door and sealed it with tape when they weren't working — to both keep out nosy office neighbors and keep in the less-than-pleasant aroma of rotting pumpkins. Inside the space they placed the pumpkins on a scrap of black Duvetyn draped onto a folding table. A digital still camera shot alongside the Bolex just in case the film camera's long dormancy rendered it unusable.
"Sean and I lit the pumpkins mostly with Home Depot lights like the kind you'd put under your kitchen cabinets. It was super low-tech," says Wright. "It was literally done for a couple hundred dollars."
The pumpkins took five to seven days to rot enough to complete a pass of the time lapse, with the Bolex snapping one frame every 60 seconds.
The first attempt failed because the top of the pumpkin — which had been removed in order to hollow out the inside — collapsed and covered up the lights hidden in the fruit.
"After that we used toothpicks to hold the top of the pumpkin in place," says Wright. "I also learned from doing it a few times that when we'd go in to check the [Bolex's] crank, we'd have to carefully reach in and move the rotting flesh of the pumpkin off the light so it didn't get covered up with goo."
The Bolex's crank caused its own issues. Each turn of the camera's spring-loaded crank provided roughly 25 seconds of run time for the camera, but required a careful touch.
"Every eight hours one of us would have to go in there and very carefully crank the camera while trying not to move it or shake it too much," says Wright.
Postproduction magic was used to add the effect of a flickering candle and to create the slow push-in. However, the first version of the credits sequence that Wright saw had temporarily smoothed out a few too many of the edges.
"It had kind of fixed all the [imperfections]," Wright says. "I wanted to see it back to being jittery and grainy. I wanted to see the fly that buzzed into the shot, which you can see now, especially in the IMAX version."
One last bit of post inspiration was still to come.
"It wasn't originally conceived to run in reverse, but I think it works nicely," says Wright. "It gives this sense of the rebirth [of the franchise], 40 years after the original."
Matt Mulcahey works as a DIT in the Midwest. He also writes about film on his blog Deep Fried Movies.