Back to selection
Costume Designer Sandy Powell on Dressing Yorgos Lanthimos' The Favourite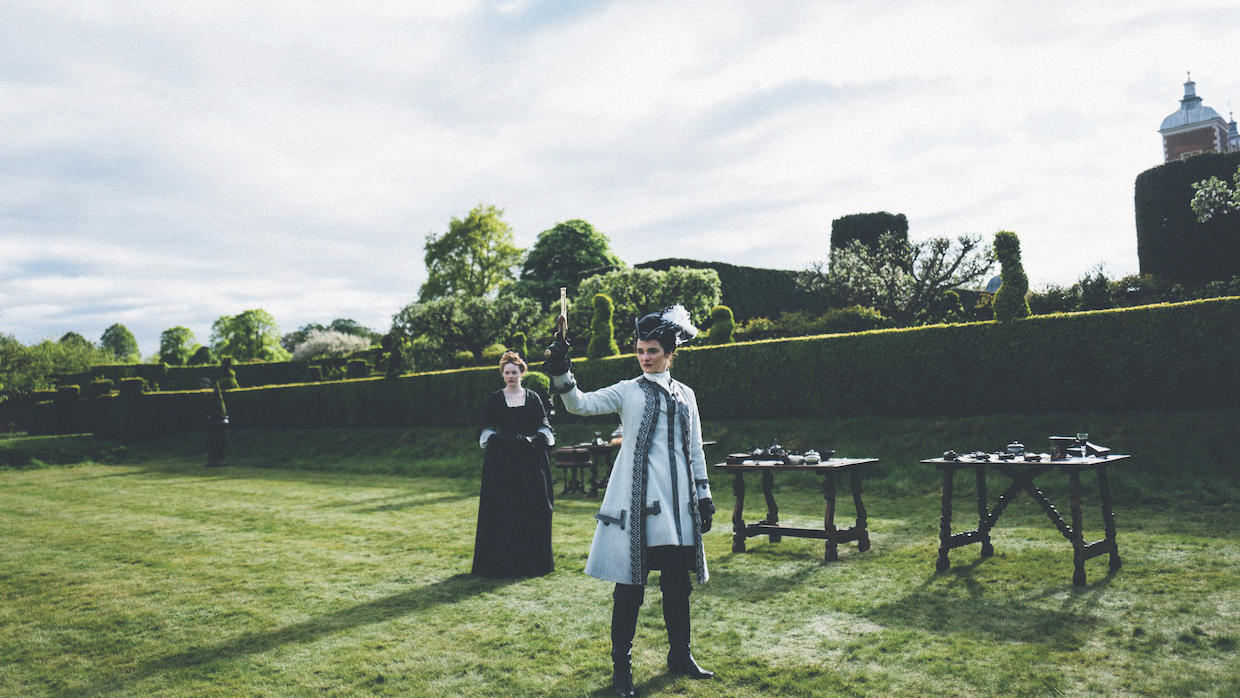 The Favourite
The career of costume designer Sandy Powell spans more than 30 years and three Oscars (for Shakespeare in Love, The Aviator and The Young Victoria) and shows a remarkable range, from period films like the beloved Carol to the mad modern world of The Wolf of Wall Street. Her costumes for this year's The Favourite, a fiendish vision of Stuart England directed by Greek iconoclast Yorgos Lanthimos (Dogtooth, The Lobster), represent some of the most creative work that Powell has ever done. "I knew that Yorgos would not be doing a conventional costume drama," she says, "which was what made me so excited to work on it."
Take, for example, one of the primary costumes for Queen Anne (Olivia Colman). The film is set late in Anne's reign in the early 1700s and shows how the queen is dominated by her childhood confidante and "favourite," the ruthless Sarah Churchill, Duchess of Marlborough (played with merciless hauteur by Rachel Weisz). Powell decided she wanted the gout-ridden and morose Anne to frequently be in a nightgown and robe. "She's ill, she depressed, she can't be bothered to get dressed," Powell explains. "It's like pulling on your most comfortable, cozy safety blanket." And how did Powell achieve that? She bought two bedspreads on eBay and sewed them together: "It's exactly what my grandmother had on her bed." She lined the result in black velvet.
Powell also clothed the rest of this film's nest of vipers primarily in a striking monochromatic style, at times suggesting a set of backstabbing chess pieces. There were a number of reasons for this choice. One of the first things Lanthimos mentioned "was that he wanted to see at least one scene where all the women were in white," Powell says. "One of his references was Ingmar Bergman's Cries and Whispers." (This eventually resulted in the costumes for a memorable ball scene, where Sarah first angers the queen.) The film was shot at Hatfield House, Hertfordshire, an ornate stately home where Powell had worked before. They decided "to restrict the color palette and have it quite monochromatic and graphic, against the opulence of the background."
"The cut and the silhouette of the costumes is pretty much period accurate," Powell says. "But the use of the fabric is totally contemporary." There was an additional advantage: "It worked incredibly well financially. Because we didn't have the budget. I couldn't have made it out of silks and damasks if I'd wanted to." In addition, while 18th-century fabrics were extraordinarily fine, modern attempts to recreate them often result in heavy and cumbersome costumes. Freedom of movement in this movie, which renders court intrigue as much physical as it is verbal, was essential.
Take Weisz's Sarah. It is Sarah who is queen in all but name, even dictating how Anne will conduct the bloody War of the Spanish Succession. But Sarah is overconfident, taking much too long to see poor relation Abigail Hill (Emma Stone) as the existential threat she is. A few scenes find Sarah and Abigail out taking target practice, with muskets and live pigeons. Weisz's shooting costume — a man's jacket and breeches, forming a sort of Stuart power suit — wasn't stipulated in the script. "I suppose they are male clothing," says Powell, "but I think they look very feminine." She explains that hunting jackets for a woman at the time probably would have been made in a similar shape to those for men but would have been worn with skirts and not breeches. "I wanted to give her that edge," says Powell. Sarah "is, of all of them, the most in control…. I wanted her to have that very confident, dominant air."
In fact, both Sarah and Abigail are noticeably unfussy in their dress, at least at first, with nearly bare faces and simple hair. The men, on the other hand, are heavily powdered and rouged, such as Robert Harley (Nicholas Hoult). Powell also emphasized this difference through subtle means, like making the dandified Harley's jacket fuller.
Perhaps the widest variety of costumes belongs to Emma Stone as Abigail, an 18th-century Eve Harrington, ready to rise from charity case and scullery maid to Anne's kinder and gentler "favourite" — at least on the surface. Abigail begins dressed like all the servants, in a slightly shiny indigo fabric that turns out to be repurposed jeans, sourced by Powell largely from thrift stores. Abigail rapidly rises to lady-in-waiting and to Powell's simplest black court dresses; you can then trace the character's ascent by the amount of white gradually added to her dress. At the end, she is nearly as elaborate as the queen, in what Powell calls "that kind of nouveau-riche, upwardly mobile way… slightly vulgar, with too much pattern going on." Masses of lace were a signature of the period, but lace is difficult to work with and also expensive. So, much of that pattern was created by laser-cut black vinyl fabric, laid over white; and its reverse, white cotton that Powell had laser cut to mimic the black.
She sums up the final effect in a way that applies to the whole of The Favourite: "When you first look at it, it looks period. And you look again, and oh no, it's not."