Back to selection
Production Designer Hannah Beachler on Building Black Panther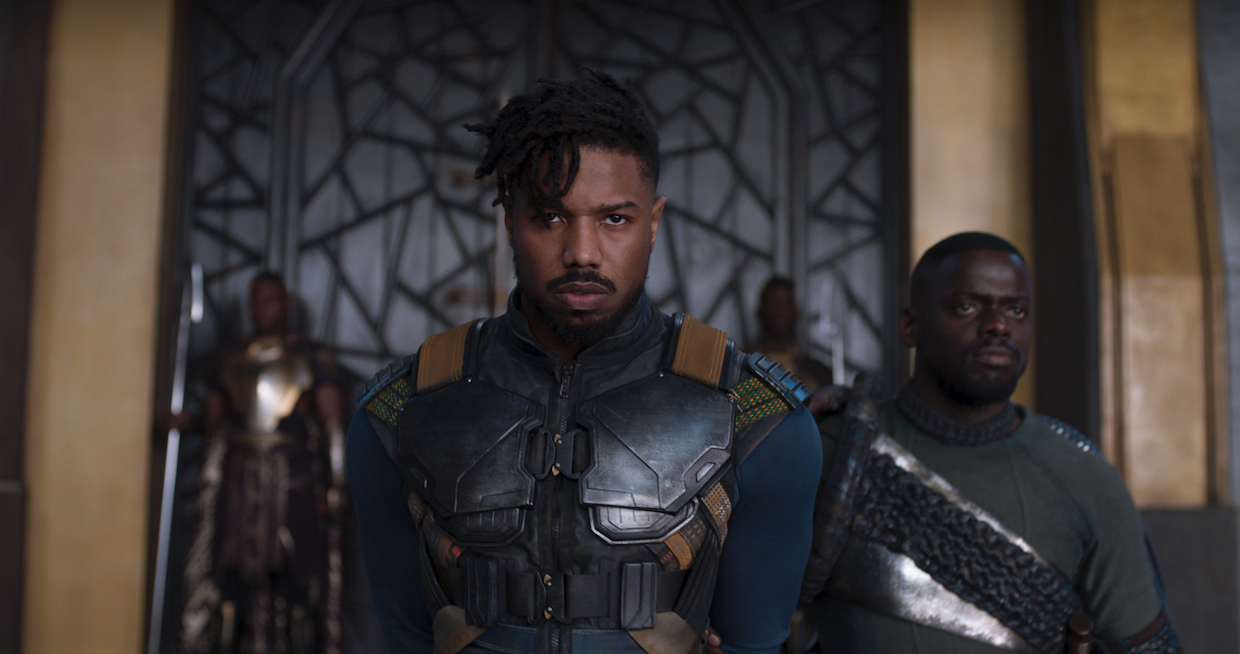 Black Panther
Hidden in the midst of a dense African forest, Wakanda's opulent capital of Golden City is the centerpiece of production designer Hannah Beachler's world building in Marvel's Black Panther. However, Beachler's work on the film extends well beyond that vibrant Afrofuturist utopia, stretching from an Oakland apartment complex to a tony London art museum to a lavish subterranean South Korean casino.
Before landing the job — which reunited her with Fruitvale Station and Creed director Ryan Coogler — Beachler wasn't particularly familiar with the titular Marvel superhero or his isolationist homeland of Wakanda. Luckily, she knew someone who was.
"I'd never been into comic books, but I loved the Marvel movies and I'd watched them with my son, who is a huge comic book person," said Beachler. "He had this big Marvel dictionary that he gave me. He walked me through all the different canons and how Black Panther started out with the Fantastic Four, and he told me certain comics to look at."
The comics proved invaluable as source material for Beachler, as did a three-and-a-half week research trip to South Africa. Many of Wakanda's locations were inspired by Beachler's visit. Oribi Gorge and its cliffside rock formations influenced the look of Warrior Falls, where King T'Challa (a.k.a. Black Panther) must face all challengers to the throne in hand-to-hand combat on the precipice of a waterfall. Snowy Sentinel Peak inspired Beachler to shift the domain of Wakanda's Luddite Jabari tribe from the rainforest to a wintry mountaintop. The work of Iraqi–British architect Zaha Hadid pushed Beachler to make Wakanda a mixture of sleek ultra modern exteriors and intimate, welcoming interiors.
Those references ultimately made their way into a 500-page Wakanda "bible" compiled by Beachler. From the choice of birch logs for the throne room of Jabari King M'Baku to the thatched roofs of Golden City's high rises to the exact location of Wakanda (it's next to the Democratic Republic of Congo, Rwanda and Uganda), no detail in that bible — or the film — is accidental or arbitrary.
The Hall of Kings, Tribal Council, and design lab of T'Challa's sister Shuri were all constructed on Atlanta sound stages. The Warrior Falls set, built on a backlot in north Atlanta, included 30-foot cliff faces and required 25,000 cubic feet of foam to complete. For the James Bond–esque action set piece that unfolds in an illegal underground casino, Beachler recreated 800 feet of Busan, South Korea's bustling Jagalchi Market, where the gambling den's entrance is hidden.
"We had extras on that set who were from South Korea, and one of them came up to me and said, 'I literally feel like I'm walking through the fish market at home,'" recalled Beachler. "That's the best compliment you can possibly get."
Unlike reconstructing the reality-based worlds of Miami, Philadelphia or Oakland, California, as Beachler had done in previous films, with Black Panther she had infinite possibilities in shaping the fictional land of Wakanda and hypothesizing how an African nation's culture may have developed without the violent intrusion of western colonization.
"It felt like there were no limits except what our imaginations could come up with. And to imagine something like Wakanda in your head and then watch it come to life was incredible," Beachler said.
From pre-production through post, Beachler spent more than 13 months working on the movie. With a reported budget of $200 million, Black Panther provided her with undreamt-of resources, but it also presented new challenges, such as collaborating extensively with VFX artists.
"Working with the VFX team on this level was new for me, but it wasn't really any different from building anything else," explained Beachler. "You just have more tools to work with. You have a lot bigger crew and a lot more space to work in. So, it's just a bigger scale, but you're doing the same thing. You're building a place."
For Beachler, the biggest perk of working with that Marvel-sized budget was the extravagance of extra time. "To have the time to do the research that I needed was a huge luxury and so was having the type of resources where I could talk to a specialist in nanotechnology or metallurgy if I needed to," she said with a laugh. "You can get used to it, that's for sure."