Back to selection
Ungentrified: Production Designer Scott Dougan and Visual Effects Supervisor Jim Rider on The Deuce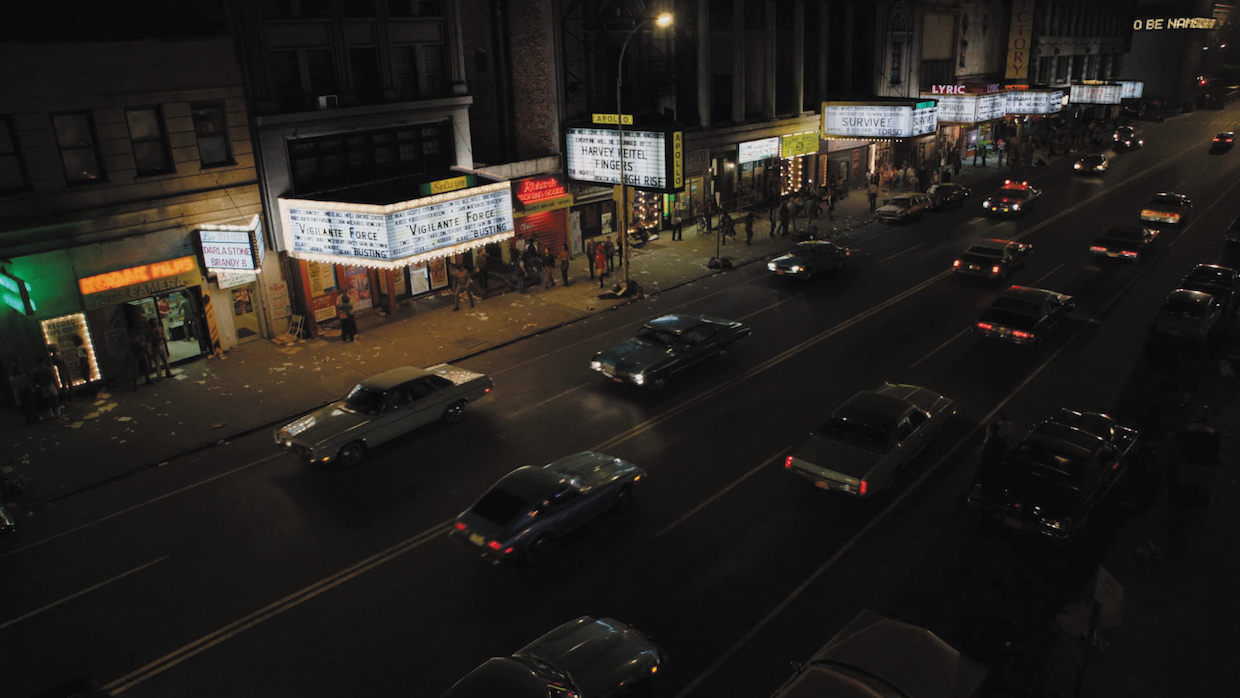 Illustration for The Deuce (David Swayze/HBO)
David Simon's latest HBO series, The Deuce (co-created with George Pelecanos), represents another entry in a career-spanning investigation of institutional corruption and decay, this time focusing on the sex and pornography industry in New York City during the 1970s. Primarily viewed through the eyes of bartender and club owner Vincent Martino (James Franco) and sex worker-turned-pornographer Eileen "Candy" Merrell (Maggie Gyllenhaal), The Deuce uses the sex trade as a microcosm for various developments in late-stage capitalism, including gentrification and urban renewal. 
As the series shifts periods over the course of its three-season run—1971–1972 in the first season, 1978 in the second and 1985 in the third, currently being filmed—we see how the Times Square area becomes an intersection for a variety of capitalistic interests. There are the street workers and parlor brothels that make their living off human desire and vice, but also the real estate–inclined mafia bosses constantly buying up property, the NYPD struggling to curb crime without interfering in corrupt administrative practices, and the city government itching to redevelop the area into a tourist-friendly neighborhood. Simon's top-down systemic survey has a literal dimension in The Deuce, as he connects the operations of pimps and sex workers to the machinations of high-up government officials. As the reformist official in Mayor Koch's administration Gene Goldman (Luke Kirby) tells police detective Chris Alston, "Do you know what are the two greatest crime fighters we have in this city? Sheetrock and cranes."
Simon, co-creator/showrunner Pelecanos and their stable of writers (including Richard Price, Lisa Lutz and Megan Abbott) craft their meticulously researched vision for The Deuce, but production designer Scott Dougan and visual effects supervisor Jim Rider are responsible for recreating the long-ago Times Square it's set within. 
Dougan worked as an art director on the show's first season before being bumped up to design for the second. He attributes his comfort with the position to his time spent in the art department on larger period features. "I worked on Bridge of Spies and Selma," he says, "so I had a lot of experience [with how to make] a world that no longer exists, whether that's 1960s Alabama or '70s New York City."
Dougan characterizes his collaboration with Rider—an effects industry veteran of more than 25 years who has previously worked in motion control, compositing and motion graphics—as a copartnership. They got to know each other when the series was first building the main Times Square location before the pilot. Now, whenever Dougan receives a script or after he gets an idea for an exterior shoot, Rider is his first call.
"In any design process, first you design what you imagine the world to be," Dougan describes. "Then, you go through with the writers and directors and ask, 'Is this what we want to do?' When it comes to visual effects, you ask, 'Are these our shots?' It becomes even more specific."
"When the scripts come out, Scott and I discuss what might be the visual effects needs," Rider elaborates. "Certainly, by the time it has shot, we both have a very good understanding of, 'At this location, visual effects need to help out with this thing that cannot be practically dressed.' Then, sometimes, things come up while we're in postproduction that we don't know about. For instance, we see a sign or a building in the background, and I'll ping Scott with a text: 'Is this sign OK? Is this building OK?' Often that's four or five weeks after we shot the episode."
The Deuce features many exterior locations over the course of any given episode, but none more prominent than its version of the eponymous stretch of 42nd Street between 7th and 8th Avenues. First season production designer Beth Mickle settled upon Washington Heights, specifically Amsterdam Avenue between West 163rd and 165th Street, for Times Square.
"The first time we went up to Washington Heights for the pilot was October 2015," Dougan describes. "For that, we spent about two weeks because we dress practically up to 10 or 12 feet—basically, the top of a storefront. We have to build signage, cover roll gates, paint walls and make all sorts of graphics that go everywhere. All the lighting you see on there is very much done practically, the neon and stuff like that. It's a conversation that happens with the DP and the gaffer to make that world as naturalistic as possible."
Now that they're three seasons in, Dougan says that they have it down to where they can start five or six days before any given shoot. "Truthfully, it's one of the craziest things about our show. When we did Bridge of Spies and shot down in DUMBO, you'd dress an entire street. It will take you time, and it might only be for 10 seconds of the movie, but you're there once. You shoot, then you take it down. Maybe you do a reshoot, but most of the time you don't. On The Deuce, we shoot episodically, and everything is geared toward the writers. So, we go up and down. We will put it up for six days, and then we'll shoot it for a day or a day-and-a-half, and then we'll take it down. Then, the next episode, we'll put it back up."
To be as period accurate as possible, Dougan and Rider consult vast troves of archival materials to maintain a verisimilitudinous set. Everything from theater marquees or building facades has specific reference points. Dougan says they often rely on city planning maps used for the long-term redevelopment project of Times Square spearheaded by Mayor Ed Koch. "We'll take something like that, which has no texture to it—just architectural drawings or maps—go through and be like, 'Let's find a picture of that building that we can date from the period.' You can go back and mine those details."
Beyond that, they also use everything from the photography of Nan Goldin and Jane Dickson to photos found on Flickr. Dougan specifically cites a book called New York Anarchy by Nobi Shigemoto as a tonal reference. "He came over to the United States in the late 1970s and took a bunch of very dark color photographs of the city. I found that in a bookstore on Bond Street in Manhattan, and it's been a reference ever since."
The period specificity of The Deuce extends not just to building accuracy but also the signage, which is especially important given that the series constantly highlights theater marquees. "We tried to be detailed about what week in the show are we saying this is, exactly what day," says Rider. "OK, it's supposed to be Friday, May 30. What movie was playing at the Selwyn that day? We made sure all of those were period correct just for the trainspotters out there."
Certain episodes necessitate more creative solutions than others. The sixth episode of season two, "We're All Beasts," follows Candy's guerrilla shoot of her film Red Hot, a "Little Red Riding Hood"–themed porn film. She and her makeshift crew traipse around Manhattan filming scenes on location. It's not difficult to read the episode as a commentary on any given shoot for The Deuce. "You have a world within a world," says Dougan. "You have to believe the world of Candy's Red Hot is large and expansive, but then you have to believe the world she's shooting in is so large and expansive that we can imagine this happening all within it."
In the episode, Candy and her team steal a scene on a subway car, which required Dougan and Rider to work together closely to get around various location constraints. "We shot in a real subway station with a real subway car," Rider notes. "Although you can get permission from the MTA to film in that location, and you can put up signs to make it look like it's really the 42nd street station when it's really another station, they won't let you portray any use of dirt or graffiti."
"If we want to film at a subway station," Dougan continues, "they won't let us put anything on the walls, even if it was a sticker. It's also exorbitantly expensive to paint in a subway station because there are city contracts, which make the time constraints very different than what we normally deal with on a film shoot."
Dougan points to the subway scene as a good example of his partnership with Rider, as it neatly represents the intersection of practical dressing and VFX work. This especially comes through with the train graffiti, which Dougan went to great lengths to ensure was visually appropriate.
"I felt like you might see other period shows set in the '70s where you'd see a subway station and everywhere will be covered in graffiti. That's not exactly what the visual reference shows. We built a digital model and did a bunch of renderings of what the platform looks like vs. what the walls of the tunnel look like vs. what the trains look like because the big, large graffiti that everybody thinks of as mid-to-late '70s New York City graffiti was mostly done on trains. The trains [were] parked out in Coney Island or at some rail yard in the Bronx—that's where the large murals would be done. We did a rendering and had scenic artists, some of whom are graffiti artists themselves, create graffiti, then photographed that and handed it to Jim."
"We did a full, accurate 3D model of the entire subway platform and the subway car by bringing in a device that allows you to do an accurate scan of an object, scene or environment," Rider continues. "Every shot you see in the final show—all of that graffiti, and also the dirt and grime and chewing gum and dripping bits of rust—are all mapped on in postproduction in CG and then rendered on top of the original footage. Hopefully convincingly."
For the episode, they also had to turn their Washington Heights location into 42nd Street and 8th Avenue, which required two different setups. "In both circumstances," says Dougan, "we had to have enough space for them to run two blocks. We dressed the street for 8th Avenue, then we put a bunch of new stuff up and came back two days later and it was 42nd Street with the marquees. It's a very, very complicated and challenging thing to do, a little bit of an art form now."
Rider notes that when they're playing Amsterdam as 8th Avenue, "95 percent of what you're seeing there is Scott's practical work—all those storefronts, all that lighting." But the VFX team comes in to address the granular details. "We take care of all the little 2019 bits, like the fact that all the street signs say Amsterdam Avenue and 163rd Street. We have to get rid of those. The walk/don't walk signals all need to be made to look like 1978. This seems minor, but it's tricky: There're road lines painted all over the road on a two-way avenue in Manhattan when it's supposed to be 8th Avenue. We make the traffic go all one direction, so we have to get rid of the big yellow line in the middle of the street."
"I think it's a testament to the work that an audience member would never know that they're looking at the same stretch of street. When it plays as 42nd Street, all the first-floor dressing is completely different, and in visual effects we are extending and replacing all the architecture above the first floor to make it look like the buildings that were there in the era. Even beyond that, the block on 42nd Street between 7th and 8th is a long block, much longer than the stretch of road that we actually have to film on, so we also have to make it appear that the street doesn't have a break in it at 164th Street. We actually fill that in with additional buildings to make it look like we're filming on a much longer block than we actually are."
Other workarounds include a scene from episode 205, "All You'll Be Eating Is Cannibals" in which Paul (Chris Coy), a gay bar owner struggling to open up a new nightclub, heads to an underground sex club near the piers after a fight with his boyfriend. "It was incredibly important to me to get that sort of world as true as possible," Dougan insists, "and, of course, the West Side piers no longer exist. It's a park. So, we shot in a part of Red Hook where we could have the pier ground and one exterior building, and we can add in from reference to extend it. We would say to the director, 'Here's what we're going to put in the background of this location, so you can understand how you're going to frame your shots.'" Rider even brought in a reference photo of a dilapidated late-1970s pier roughly composited into a still of the real location to show the director and the showrunners.
Rider's personal favorite example is from "The Feminism Part," the seventh episode of season two, when Detective Alston fishes the body of Anita Solano (Andrea Sofia Pimentel) out of the Hudson River. "We shot it on the waterfront in the Bronx, and the view looking across the water is supposed to be New Jersey across the way. Looking the other direction, we should be seeing midtown Manhattan and the Empire State Building and various other skyscrapers. Knowing we're going to do this in advance, we were able to make that part of the design. Scott took care of the design of the pier where our actors were and those immediate surroundings. Then, in visual effects, we were able to add these additional piers and then the skyscrapers. I think it totally sells as the west side of Manhattan."
As the series moves into 1985 during its third and final season, Dougan discusses how The Deuce's master visual plan conveys the series' changing cultural tides through production design. "It's almost like a rollercoaster ride, seeing what the world is like in 1971 and 1972, and how exposed and decrepit it was. You have prostitutes on the street, and everything becomes sick and dirty. We always saw 1978 in season two as the mountaintop, the high point. We move inside a lot more. The colors become a lot more primary. Part of it is the period aspect of it. But the tones and the colors and the textures become a lot more saturated, especially as you move inside."
"There are two separate interiors in a way," Dougan continues. "There are the public ones, which are incredibly saturated, incredibly dense spaces. The homes are much lighter and greener and bluer. As we move along on the show, I think you'll see things start to get stripped down in different ways. We've done some sets this year that are the most bare and, I would say, clearest representations of power. Power doesn't just mean money, although that's a huge part of it. We get into aspects of the city in the cultural/political life that supersede everything that anybody expected."
A major part of Dougan's job is to illustrate the relationship between interiors and exteriors, and how the city adapts and conforms to various cultural shifts. "If you're not able to show the relationship between the inside and the outside, you could never tell the full story of how the city changes. The exteriors are a huge part of it but also how people seek refuge in their homes. It really is all one story, starting from 1971 all the way to 1985. It's about the way the city changes and the way that work and the systems we live within use people up."