Back to selection
Memory Play: Producer Designer Barbara Ling on Conjuring Quentin Tarantino's Period LA in Once Upon a Time… in Hollywood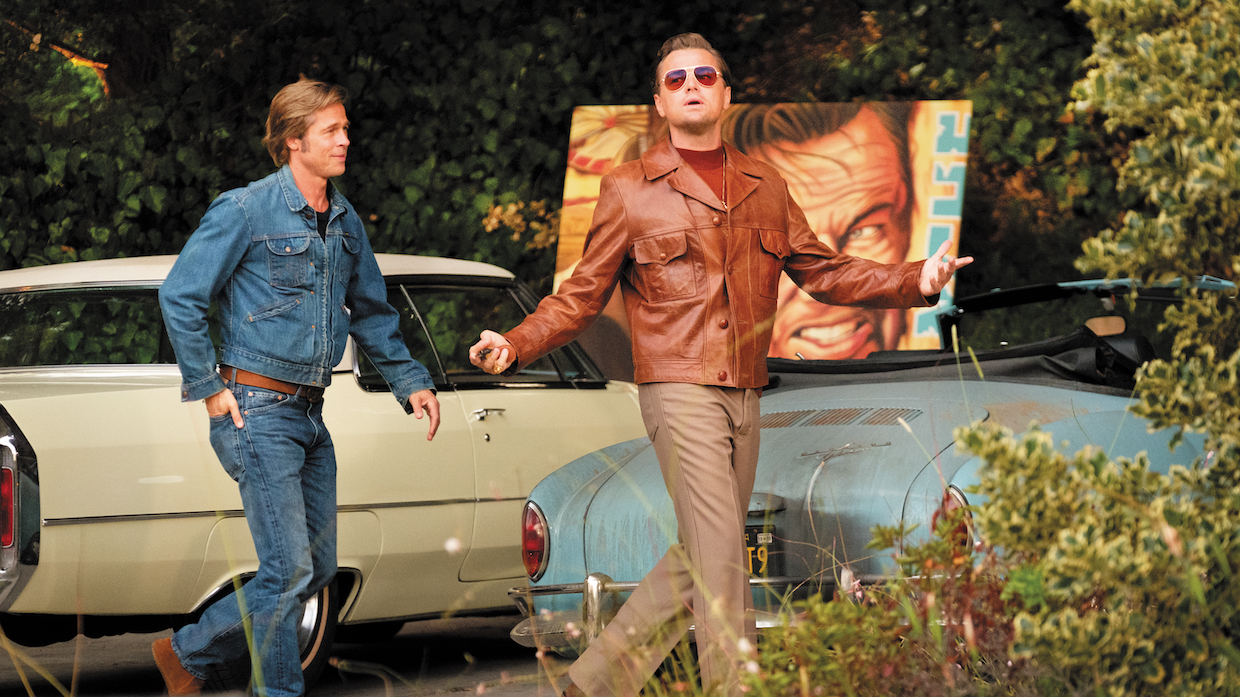 Brad Pitt and Leonardo DiCaprio in Once Upon a Time ... in Hollywood
The credits of Quentin Tarantino's Once Upon a Time … in Hollywood are filled with the director's usual suspects. Cinematographer Robert Richardson, editor Fred Raskin and assistant director William Paul Clark are among the consummate craftspeople who have spent at least a decade collaborating with the auteur. However, Hollywood also features a significant contribution from a new initiate to the Tarantino film family—production designer Barbara Ling. 
While Ling doesn't share any work history with the director, the two are connected in another way. Both grew up in the Hollywood milieu lovingly resurrected in Tarantino's ninth—and, if you believe him, next to last—film. A native Angeleno, Ling was 17 when acolytes of Charles Manson ascended to Benedict Canyon in August 1969 and killed five people, including actress Sharon Tate. For Hollywood, Ling was given the surreal task of recreating her own adolescence spent meandering around Westwood Village, Hollywood Boulevard and Sunset Boulevard. "All of those were my stomping grounds as a teenager, Westwood in particular," says Ling. "Back then, you could get dropped off by your parents and stay there all day. By the time you got picked up you'd have seen a movie, bought records, gone to the poster shop and eaten at Hamburger Hamlet. That was a very big part of my childhood."
Ling designed more than 150 sets in transforming 2019 Los Angeles into its 1969 counterpart, all without the luxury of extensive CGI. A handful of locations had changed little in the intervening years. Musso & Frank Grill and El Coyote, where Tate had her final meal, have barely been touched by the hands of time. Most locales, however, required significant alterations, including recreating the storefront facades and original signs of spots like the Pussycat Theater and Larry Edmunds Bookshop. Some locations had to be reborn entirely, such as the Spahn Ranch complex where the Manson family took up residence. Originally built in the 1940s as a set for shooting westerns, the extant buildings burned down in 1970, and the remnants were subsequently bulldozed.
Hollywood places two fictional characters—fading actor Rick Dalton (Leonardo DiCaprio) and his longtime stuntman Cliff Booth (Brad Pitt)—into this meticulously recreated Hollywood. The two men deal with their dwindling fates in different ways, a dichotomy Ling expresses through the characters' personal spaces. Dalton resides in a ranch house filled with mementos from his career—an abode that happens to sit adjacent to the home of Tate and her husband, Roman Polanski. Meanwhile, Booth inhabits an airstream trailer behind the Van Nuys Drive-In. "Contrasting their lifestyles was important," says Ling. "Cliff is a guy who's just cruising through life. He doesn't have any aspirations, unlike Rick, who's continually aspiring and worrying about losing his status. Cliff is a bit of an enigma, and we purposely didn't want to reveal too much about him. From [his trailer], we know he's not much of a housekeeper. He's a bachelor, but he's a bachelor not looking to bring anybody home."
In addition to providing an elegy to the Los Angeles of Ling's youth, Hollywood allowed the production designer the pleasure of reimagining a multitude of the era's genres. That includes the fictitious World War II action adventure The 14 Fists of McCluskey, which features an eye-patched, flamethrower-toting DiCaprio battling Nazis. "It was a fabulous scene in Quentin's script, and for me it immediately evoked Albert Speer, an architect who created much of the look of Hitler's regime," said Ling. "The flamethrower was something that we really had to work heavily on with special effects because it really was a flamethrower. I think it even surprised Leo. When they were testing it with him, he was like, 'Whoa, that is really hot!'" 
Dalton's career also provided Ling the chance to dabble in two eras of television Westerns–the black and white 1950s heyday of shows like The Rifleman and the color oaters of the 1960s, such as Lancer. Dalton finds himself playing the heavy on the pilot episode of the latter. The scenes were shot on Universal's Western Street set, with the town's saloon as the centerpiece. The watering hole required the addition of a few extra windows at the request of cinematographer Robert Richardson, who Ling had worked with on Oliver Stone's The Doors. "Saloons always had hotel rooms upstairs," said Ling, "so, I created windows on the balcony to let light pour in through three or four sides rather than everything just coming from the front windows."
Hollywood's other vintage western is the fictional Bounty Law, a black and white series where Dalton originally found fame. "With black and white, you actually have to put color into buildings because if it's all just one tone, it's going to look flat," said Ling. "You have to make those black and white sets come to life by how they're scenically painted."