Back to selection
"The Power Was in the Conversations, So I Knew I Had to Help the Viewer to Hear Them": Tomasz Wolski on his Doc Fortnight-Debuting 1970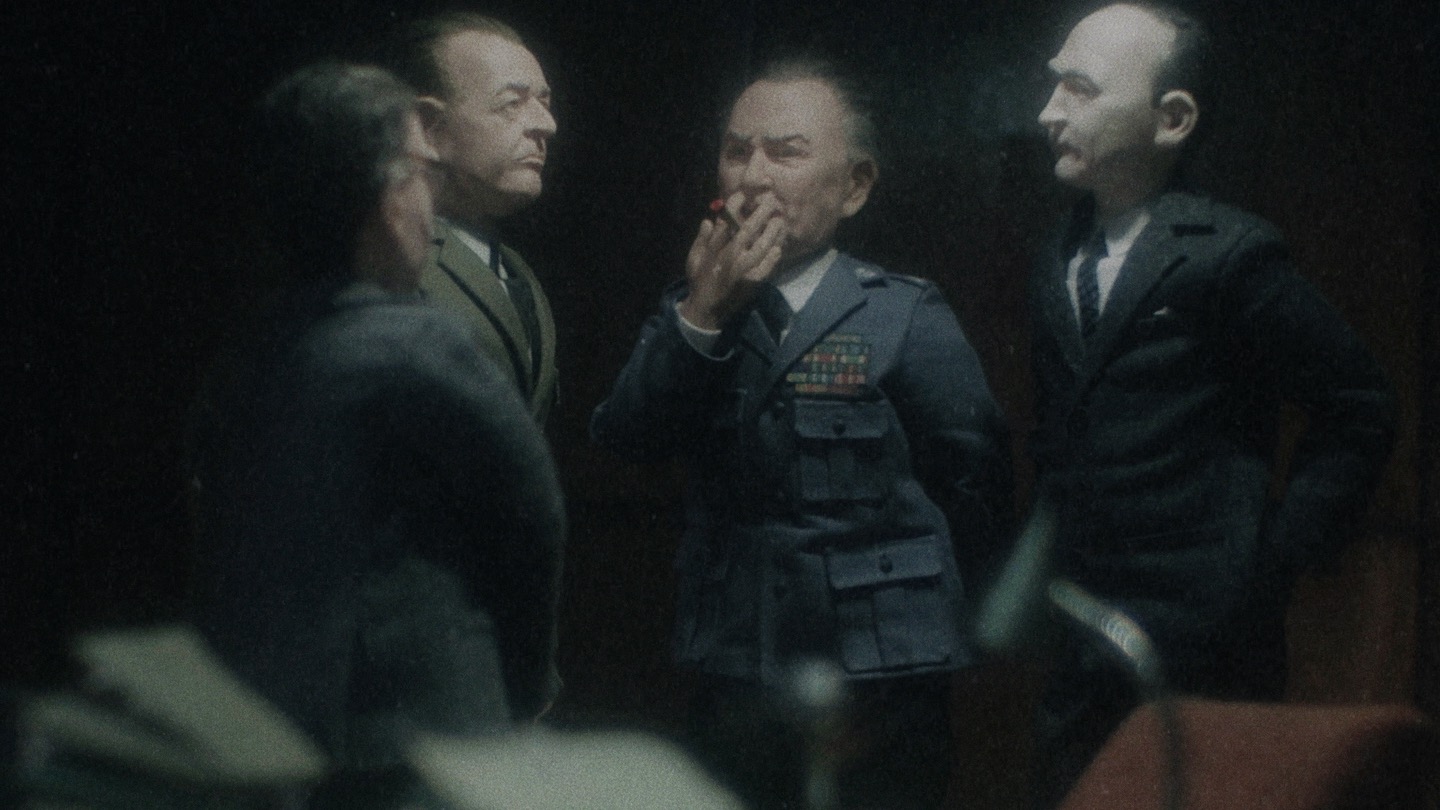 1970 (Courtesy: Grasshopper Films)
Tomasz Wolski's 1970 is a riveting work of ingenious artistry. (And one of the highlights of last November's IDFA, where it screened in the Best of Fests section.) It was during that chaotic titular year that food prices skyrocketed, and Gdansk's striking shipyard workers would spark nationwide protests across Poland, which would culminate in the triumphal Solidarity movement a decade later — but not before the Communist leaders at the time decided to quash the threatening uprising with lethal force, calling in army units, tanks, and militiamen with guns.
None of which we actually see in 1970. Indeed, the veteran Polish documentarian has chosen instead to flip the historical playbook, focusing not on the righteous protestors but on their bureaucratic tormentors. 1970 takes as its basis rare audio recordings of the actual Communist crisis team tasked to figure out how to avoid a repeat of Prague. And these back and forth telephone calls — equal parts frantic and utterly ridiculous — are made visual not through any archival imagery but via realistically handcrafted, stop-motion-animated dolls.
To learn all about the process of turning his country's shadowy past into a high-stakes drama with humanoid models, Filmmaker reached out to Wolski the week of the film's (North American) Doc Fortnight premiere. (1970 continues screening virtually through March 10, and IRL at MoMA on March 1.)
Filmmaker: The film's logline calls 1970 "a story about a rebellion but told from the perspective of the oppressors." So what inspired you to give these ruthless bureaucrats screen time?
Wolski: In Poland, important events are told in film mostly from the point of view of the victims. This is understandable. They suffered harm, they should be celebrated, for their sake and their families.
However, I have not seen a documentary film that would take on the perspective of the perpetrators, trying to bring us viewers, already at a great distance, closer to them. Perhaps to understand, or perhaps to harden our convictions. Something that encouraged me to make 1970, after first listening to 16 hours of telephone conversations of politicians managing the events of December 1970, was that they were surprised by the scale of the protest. You could hear fear and anxiety in their voices, that they did not know how to react.
They are usually portrayed in the Polish media as ruthless thugs who made the decision to use harsh tactics against the protesters without batting an eye. But the world is not black and white, and people's decisions cannot be explained so simply and quickly. Besides, for me as a filmmaker, but also as a human, I'm extremely passionate about sinking into the mouth of a lion or into a wasp's nest. To look at the negative aspects of human nature from a safe distance.
The primary inspiration for this film was disagreement with the actions of politicians who stop listening and talking to the public that elected them. We observed women's strikes against the abortion law in Poland, events in the streets of Belarus after the illegal presidential elections, and the protests in the US after the death of George Floyd. We realized that this topic is universal. The sources of the events are different, but the mechanisms and reactions of the authorities are similar.
Filmmaker: Between the stop-motion animation, and building realistic models and dolls from scratch, this really is a painstakingly-crafted art film. So what was the process like? How long did it take to complete?
Wolski: My previous archival footage film, An Ordinary Country (2020), took four years. And after four years I'm still working on my next film, about the complicated history of one very special Jew — a chief of the biggest spy network during WWII who was not allowed to leave Poland after an antisemitic campaign in 1968.
I spent three years trying to get 1970 made, but due to personnel changes at financial institutions it kept getting delayed. In June 2020 our producer finally got a call that we had the green light to make it, provided that the film would be ready for the 50th anniversary of the events. Which meant we had to make it in six months.
So after a few sleepless nights we decided to take on this crazy challenge. Interestingly, at the time there were no plans for animation or building puppets and mockups. The film was to be based solely on archival footage — film and sound. However, I quickly realized that by limiting myself to these resources alone it would be impossible to make this film. The footage (protests) and audio (conversations) were so engaging on their own that combining them actually lowered the emotional content. The viewer wouldn't know what to focus on, which story to follow, because both would be presented to them simultaneously.
The power was in the conversations, so I knew I had to help the viewer to hear them. I couldn't disturb him. So these conversations were accompanied by images in which not much was happening, which put him into a trance. I imagined a non-existent photo of these rooms at the Ministry of Foreign Affairs during the events. Politicians with phones, drinking coffee, smoking cigarettes. The camera gently zooms in on them and magically drives inside. It looks at these frozen in motion figures from all sides. That's when I invited in Robert Sowa, a great animator, with whom we agreed that the puppets must be as real as possible, despite their size (about 20 cm).
Fortunately, Polish Television also agreed to the additional costs. We collected considerable photo and film documentation of the MoFA rooms and of our characters. And we started the frantic process of building the models and puppets, which took about a month and a half. In the meantime, I was editing the archival footage — both the film footage and the phone calls (while leaving the picture space blank).
Finally, at the end of October we filmed live animation for a week, choosing specific moments to animate. Then I edited these scenes, supplementing them with animations sent to me by the animators. The next stage was another frantic struggle for sound and music composition (for which Marcin Lenarczyk and Bartosz Tyciński were responsible). The film was then ready — 50 minutes before the anniversary screening we had committed to. It was certainly the greatest film madness I've ever embarked on.
Filmmaker: How did you actually acquire these audio recordings? Did the Polish government just release them to the public?
Wolski: I came across them while digging through the archives of the Institute of National Remembrance for An Ordinary Country, which tells the story of communist Poland as seen through the camera eyes of communist security service employees. The phone conversations of the Interior Ministry politicians immediately interested me, and at first I thought I would use them in An Ordinary Country. However, I quickly realize that this is a different subject. An Ordinary Country is about the invasion of our privacy; while the materials from the events in 1970 are for me a story about the inability of politicians to hold a dialogue with society, and what that ultimately leads to. These materials, as well as others, are all available in the Institute's archives. They can be used by the victims (to a limited extent) as well as by journalists and researchers. I only had to define the field of my research, which I outlined quite broadly, to gain unlimited access to the film and audio archives.
Filmmaker: For me the film's most memorable moments were the mundane ones, like a guy munching on bread during a tense phone call. You really bring to the fore not just the "banality of evil," but the black humor occurring throughout this horrific situation. So how did you choose which recordings to animate?
Wolski: I love black humor. It is present in almost all of my films. It doesn't matter if I tell stories about surgeons in a hospital, applicants in a registry office, employees of the Palace of Culture in Warsaw, or old people in hospital beds. It's the element that lightens the load of the issues I take up.
It is similar with archival materials. If I come across black humor it's obvious that I will try to use it. I found the bread pudding politician interesting for two reasons: The first is that it is ridiculous that he answered the phone during a meal. Unfortunately, it shows a lack of culture. And secondly, it created a contrast with the issue that the people on the street were fighting for. They had no money to buy food. And even if they did, the store shelves were empty. Politicians never complain about food shortages.
That said, such scenes were an addition — an important one, but only an addition. As I listened to these 16 hours of audio, I looked for the bits that would make up the narrative. Those which, without additional translation (as there is no voiceover or interviews in the film), will introduce the viewer to the events. That's why I built a whole, rather long sequence around government officials who may be burned in a building set on fire by protesters. I wanted to introduce a certain emotional dissonance in the viewer — to make the viewer start rooting for the perpetrators, for them to succeed, for their people not to die. I wanted the viewer to activate human impulses that the politicians in the film lacked.
Filmmaker: The Institute of National Remembrance, which is credited as a co-producer, has also been politicized by the Law and Justice party in recent years. Did that effect the film in any way?
Wolski: The Institute was not entirely satisfied with the outcome of our work, as they prefer a more standardized production that can be shown in schools. However, they did not influence the final cut of the film in any way. So it seems to me that despite everything they are satisfied enough.
What's more, the film's co-producer is Polish Television, which is also under great political influence. They decided to broadcast the film in primetime, so we had a huge audience. I have a feeling that we made a film that will appeal to Law and Justice supporters because it condemns the communist regime. Yet it also appeals to opponents of this party, people with a leftist perspective, the ones who took part in the recent strikes against stricter anti-abortion laws. We met many of them during the Q&A's. They see a direct parallel to the events of 1970, which was our intention.
By the way, it is worth mentioning that in Poland there is probably no institution financing films that would not be politicized to a lesser or greater extent. Unfortunately, this is a process that we have been observing for many years, even during prior administrations. Now, however, it's become extremely intensified.