Back to selection
"Funnier Is Almost Always Better in My Book": Editor Robert Nassau on Shortcomings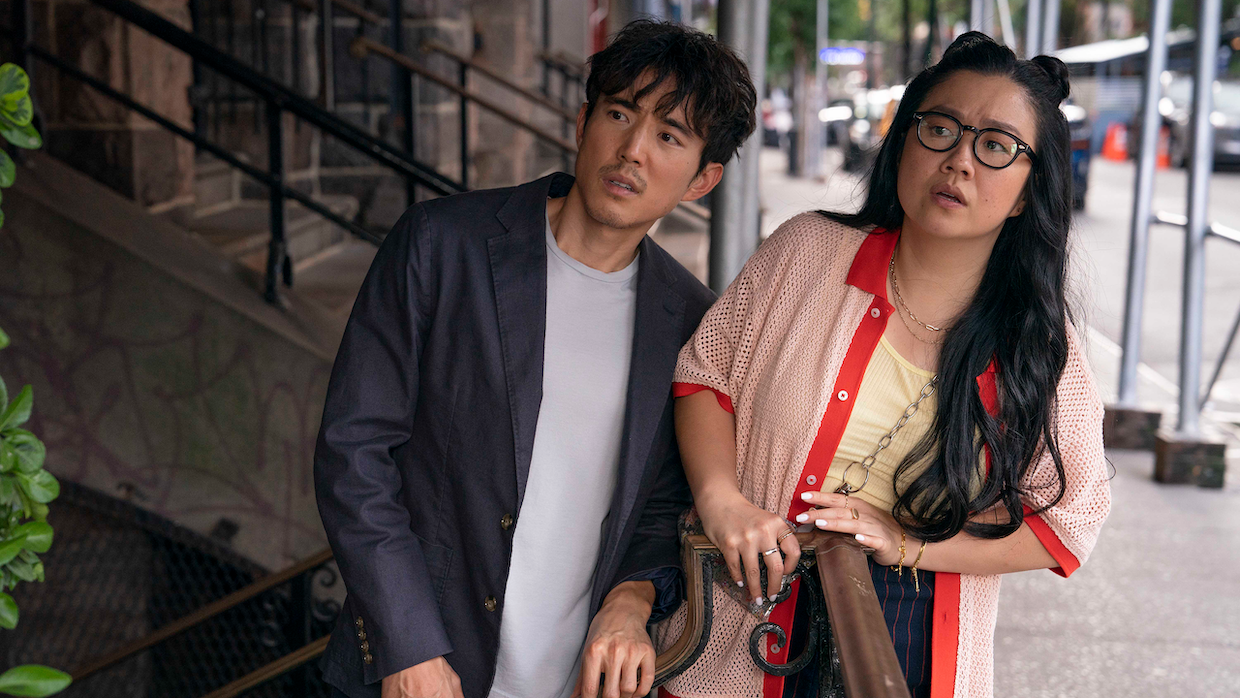 Shortcomings, courtesy of Sundance Institute.
Ben (Justin H. Min) is a movie theater manager and struggling filmmaker whose life is thrown into tumult when his best friend Alice (Sherry Cola) relocates to New York City for an internship. Adapted from Adrian Tomine's graphic novel of the same name, actor Randall Park makes his directorial debut with Shortcomings, a film about the complexity of Asian-American identity.
Editor Robert Nassau talks about his love of Tomine's original graphic novel, the religious childhood experience of watching Close Encounters of the Third Kind and how each project he works on teaches him something new.
See all responses to our annual Sundance editor interviews here.
Filmmaker: How and why did you wind up being the editor of your film? What were the factors and attributes that led to your being hired for this job? 
Nassau: They called and asked so nicely! I'm a fan of Adrian Tomine, and in the years since his book Shortcomings was published it's become even more relevant. The conversation in our culture—about race, gender, art, and, well, everything—is so fraught, and I thought the project could grapple with that in interesting ways. Also, for better or worse I could really see twenty-something me in the character of Ben Tanaka (changed to Tagawa in the movie). One of the first things I said to [director] Randall [Park] when we met was that I really responded to Ben, speaking as a fellow Asshole-American.
 Filmmaker: In terms of advancing your film from its earliest assembly to your final cut, what were your goals as an editor? What elements of the film did you want to enhance, or preserve, or tease out or totally reshape? 
Nassau: Randall and I were on the same page from the beginning—even when the characters are making selfish or thoughtless choices, we wanted the audience to understand and empathize with them. So there's always the need to make things feel as real as possible, even within a slightly heightened and stylized framework. And there are the usual concerns of pace, logic, flow. Plus, funnier is almost always better in my book. 
Filmmaker: How did you achieve these goals? What types of editing techniques, or processes, or feedback screenings allowed this work to occur?
Nassau: The process is really just following what's inspiring in the script and the performances, breaking it down into small discrete moments and building it back up moment to moment. I encouraged Randall to try to keep it loose and get some improv and alt jokes, so we'd have some choices in the edit. Randall said, don't worry, we have a cast that's up for anything, and they really delivered some gems. Another idea we talked about from early on was to clue the audience to the episodic structure of the movie by adding text-on-screen chapter headings, and to use sharp cuts between scenes, creating a more staccato rhythm.
Filmmaker: As an editor, how did you come up in the business, and what influences have affected your work?
Nassau: I saw Close Encounters of the Third Kind as a small child and discovered the religion of movies; grew to become a teenage film nerd; went to art school for college (RISD); moved to New York (Brooklyn); ten-plus years editing documentaries, reality TV, industrial films, commercials, art installations, music videos—whatever came my way, really—followed by years of editing sketch comedy, and then feature films starting about ten years ago. My peers and collaborators, too numerous to mention, have been an influence. Every project teaches you something new. 
Filmmaker: What editing system did you use, and why?
Nassau: Avid. Designed to handle high volumes of mixed media, Media Composer accelerates high-res, HDR, and HD editing while eliminating time-consuming media management tasks. Start with the version that meets your needs now to achieve your creative vision. I hope to get at least a free mousepad and mug out of this. 
Filmmaker: What was the most difficult scene to cut and why? And how did you do it?
Nassau: I'm going to say the shots of Ben's phone as he looks at Instagram. Randall and I had to write all that tiny text that Ben scrolls through.
Filmmaker: What role did VFX work, or compositing, or other post-production techniques play in terms of the final edit? 
Nassau: I learned from my days doing both unscripted TV and visual effects not to let the footage say no to something you want to do. Shortcomings (hopefully) looks like a simple, straightforward movie, but there are 150 VFX shots and 100 ADR lines in there. 
Filmmaker: Finally, now that the process is over, what new meanings has the film taken on for you? What did you discover in the footage that you might not have seen initially, and how does your final understanding of the film differ from the understanding that you began with? 
Nassau: Although I've worked on half a dozen movies made from books, this is my first graphic novel adaptation. Adrian's drawings are so precise, it's like the movie had already been cast and made. So our film can be experienced as a remake in which the meaning has changed slightly, as each actor brings their own unique personality and perspective. Justin [H. Min], for example, brings a certain charm and edge that reveals a different facet of Ben. Sherry [Cola] as Alice, though—she's exactly like she is in the book! So there goes that theory.