Back to selection
"When a Place Is Transformed and Scrubbed, so Are the Original Memories": Editor Mel Mel Sukekawa-Mooring on The Stroll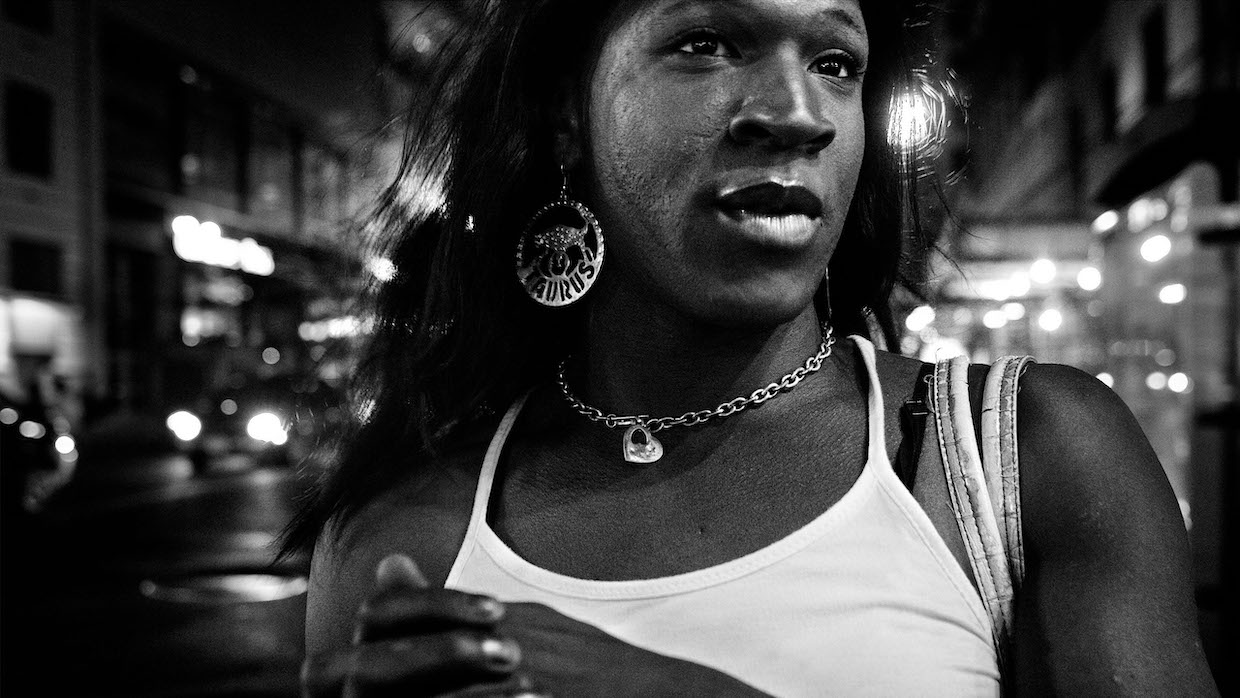 The Stroll, courtesy of Sundance Institute.
In The Stroll, the gentrification of New York City's Meatpacking District is told through the history of the trans sex workers who long worked and resided in the neighborhood. Through extensive archival materials and intimate interviews, co-directors Kristen Lovell and Zackary Drucker explore how police violence factored into the downfall of "The Stroll" where this community would congregate.
Editor Mel Mel Sukekawa-Mooring discusses cutting the film, also touching on the "roundabout journey" that brought them to the industry. 
See all responses to our annual Sundance editor interviews here.
Filmmaker: How and why did you wind up being the editor of your film? What were the factors and attributes that led to your being hired for this job?
Sukekawa-Mooring: Zackary Drucker, one of the directors of The Stroll, and I worked together closely on the HBO series The Lady and The Dale. Several months after we wrapped that show she reached out asking if I'd cut the sizzle for a project being developed. I agreed and was floored with the outstanding archival and the powerful interviews — at that point it was only two audio interviews that had been recorded from phone conversations. Working with Zackary and Kristen Lovell, the other director of the film, on the sizzle was a dream. They're wonderful collaborators and every day was full of engaging conversations and meaningful revisions. After we finished the reel, I told them if the project was greenlit it would be an honor and privilege to return as an editor on the project. As a nonbinary person, I'm extremely excited to work on projects that highlight the trans and gender nonconforming experience. I think my perspective as a nonbinary editor, how well Kristen, Zackary and I worked together, and my passion for this project led to me being hired as the editor.
Filmmaker: In terms of advancing your film from its earliest assembly to your final cut, what were goals as an editor? What elements of the film did you want to enhance, or preserve, or tease out or totally reshape?
Sukekawa-Mooring: For me, The Stroll is powerful because our interview subjects and fearless leader Kristen are powerful. Every person featured in our film's interviews made me laugh, cry, some even shake with rage. They are survivors, icons, pioneers, and phenomenal storytellers. My goal was to let them carry the story as much as possible in their own words recounting their experiences. Our interviews are so special because Kristen is interviewing her sisters, friends and mentors. Although some stories were shortened by the final cut, I did my best to let them play out and to live with our subjects.
Filmmaker: How did you achieve these goals? What types of editing techniques, or processes, or feedback screenings allowed this work to occur?
Sukekawa-Mooring: With documentaries, my goal is to first and foremost familiarize myself with the interviews from the paper interviews. I spent the first two weeks aggressively highlighting each interview and then pulling those segments into a Google Doc where themes and subjects began to emerge. Although this isn't a perfect method, because there are magical moments that happen in performance and you can't be certain how someone's going to deliver certain information, I find that starting from the text helps me dive efficiently into a project and create a reference I can easily return to. From the Google Doc, I started seeing how many people talked compellingly about certain topics and what exactly was being said. Working with Kristen, who had particular events and experiences she wanted to highlight, we began creating a roadmap for what stories we wanted to highlight.
During the rough cut stage, our Producer Matt Wolf suggested using the gentrification of the Meatpacking District as the structure to tell the story, which ended up sticking. While the film is set in New York, I live in LA and have not spent much time in NYC. During my feedback screenings, I was able to ask my LA-based peers if certain things were being explained clearly, which was really helpful insight.
Filmmaker: As an editor, how did you come up in the business, and what influences have affected your work?
Sukekawa-Mooring: I've had a pretty roundabout journey! I started in the camera department as a camera assistant initially thinking I wanted to operate. One year and some wear on my body later I decided to pursue editorial, another part of filmmaking I'd enjoyed since making videos in high school. In editorial I've worked on reality TV, scripted series and feature films across a variety of genres. I've learned important lessons from every project and am grateful to have so many mentors in my life. 
Filmmaker: What editing system did you use, and why?
Sukekawa-Mooring: I cut this project on Avid with my Assistant Johanna using AfterEffects for some of the animated elements. I'm comfortable with both Avid and Premiere, happy to use either. In the case of this project, the post house we worked with had Avid support and preferred that system, which is why I used that system.
Filmmaker: What was the most difficult scene to cut and why? And how did you do it?
Sukekawa-Mooring: For me, the most difficult section to cut in our film was the repeal of Walking While Trans. Unlike other parts of the film where one or a few subjects talk about their experiences, this was an area told primarily through more contemporary archival clips. I knew I had all the right pieces but it took a team effort to crack which order they needed to land in. We worked as a team, Kristen, Zackary, Matt and myself, to comb through interviews to find some key sound ups and get things into the correct sequence.
Filmmaker: What role did VFX work, or compositing, or other post-production techniques play in terms of the final edit? 
Sukekawa-Mooring: We used animation in this project to illustrate key moments in a way that felt more dynamic and compelling than archival. Zackary and I previously collaborated with Awesome+Modest on The Lady and The Dale, who are an absolute delight to work with. Knowing they were on the project gave us permission to dream big and identify key segments where for many rounds of cuts slates described what we would eventually see. From the first animatics to the composites, the animation experience was a blast seeing what Awesome+Modest delivered. I'm really proud of the finished vision and what their style of animation brings to our project.
Filmmaker: Finally, now that the process is over, what new meanings has the film taken on for you? What did you discover in the footage that you might not have seen initially, and how does your final understanding of the film differ from the understanding that you began with?
Sukekawa-Mooring: When I started working on The Stroll, a story so tied to New York City, I didn't think I had a personal connection to the area. It wasn't until several months in that I remembered that I'd actually been on The Highline when I visited in 2013. Looking at the archival images and hearing people speak about how it was was so disconnected from my post-gentrified memory of glitzy shops and curated greenery. It brought home to me one of the main points of our film: that when a place is transformed and scrubbed, so are the original memories and associated history. I'm grateful to have been able to edit this film and help preserve some of the important history of the Meatpacking District and the trans community that survived and thrived there for so long.