Back to selection
"I Wanted the Camera To Be an Actor": DP Johan Aidt on Poacher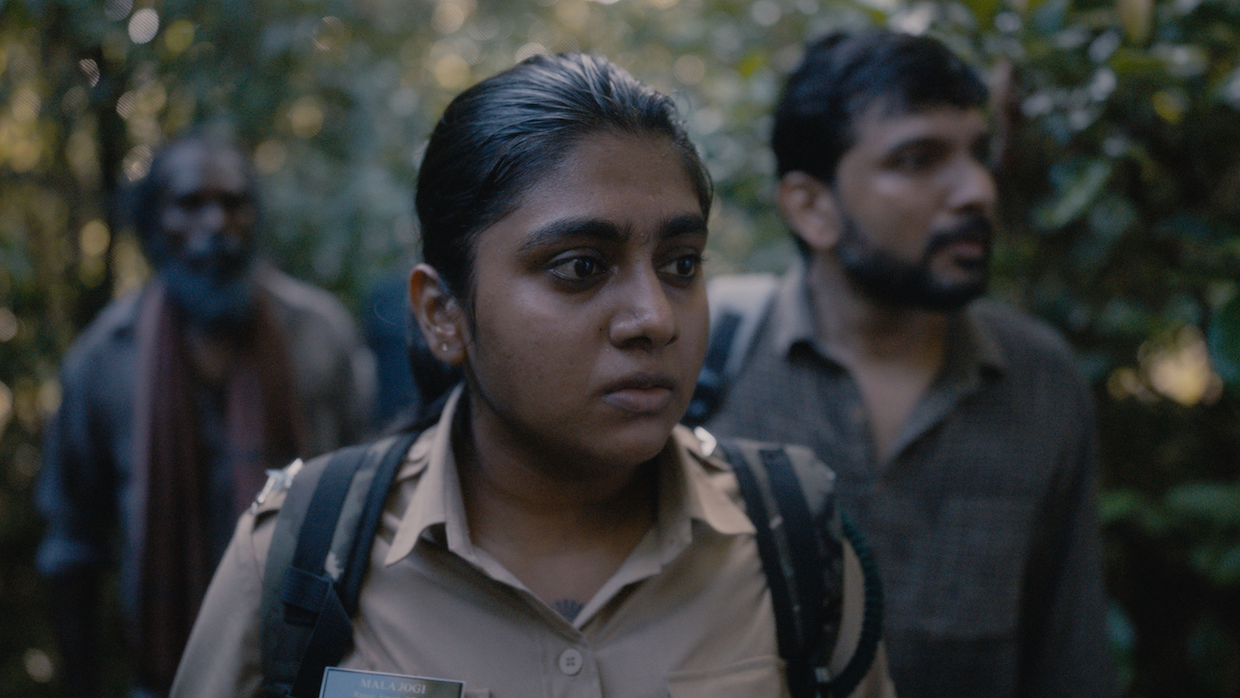 Poacher, courtesy of Sundance Institute.
In Poacher, the limited series from director Richie Mehta, a group of NGO workers, wildlife officials and well-intentioned volunteers band together to take down some of India's biggest ivory poachers. In the process, they uncover conspiracies and cover-ups often involving those who are tasked with protecting these endangered elephants who calls the the jungles of Kerala home.
Johan Aidt, the cinematographer of the series, cites the "strong connection" he felt with Mehta, who he collaborated with previously on the first season of Delhi Crime. 
See all responses to our annual Sundance cinematographer interviews here.
Filmmaker: How and why did you wind up being the cinematographer of your film? What were the factors and attributes that led to your being hired for this job?
Aidt: I became a cinematographer in the first place because I always wanted to know the moment before and after in still photography, the expression before the expression.
On this production I was hired by the incredible Richie Mehta. I have never had such a strong connection to any director and we read each other without speaking much. It all fell in place naturally as we had previously done Delhi Crime season 1 together and created a new way of approaching cinema.
Filmmaker: What were your artistic goals on this film, and how did you realize them? How did you want your cinematography to enhance the film's storytelling and treatment of its characters?
Aidt: My goal was to visually show how human beings can do such horrendous acts so casually while other human beings would sacrifice their life for these animals. There is good and there is evil. Light and dark. I wanted to show the contrast in and of the human heart and consciousness. I wanted my cinematography to portray how you can see the light in darkness but not the darkness in light. I wanted the camera to be an actor as well as a part of the audience. The goal was to feel as present as possible and feel the characters emotions.
Filmmaker: Were there any specific influences on your cinematography, whether they be other films, or visual art, of photography, or something else?
Aidt: I looked a lot at Storaro's work and how he used colors to portray feelings.
Filmmaker: What were the biggest challenges posed by production to those goals?
Aidt: The elements of nature and the harshness of the sun were the biggest challenges. Lighting in the wild was dangerous and wildlife encounters. We had to keep in mind we were in their house. I had to black out lots of sky and had fantastic tree climbers to achieve this.
Filmmaker: What camera did you shoot on? Why did you choose the camera that you did? What lenses did you use?
Aidt: Alexa Mini LF. I always prefer to shoot ARRI because I feel that is the evolution of film. Red, Sony and other big digital cameras are the evolution of digital.
Filmmaker: Describe your approach to lighting.
Aidt: My approach to lighting was to make it as realistic as possible
Filmmaker: What was the most difficult scene to realize and why? And how did you do it?
Aidt: We had a tent scene in the rain we had to build outdoors at night as a set. It was pouring rain and we were all incredibly exhausted. I couldn't figure out how to light it as it had to match the location we had previously shot. I ended up using one light and it is perhaps my favorite visual scene today.
Filmmaker: Finally, describe the finishing of the film. How much of your look was "baked in" versus realized in the DI?
Aidt: It was all baked in. Joe Gawler created a fantastic show LUT. I did everything in-camera. I shot not to grade.
TECH BOX
Film Title: Poacher
Camera: ARRI Alexa mini
Lenses: Signature primes
Lighting: Light ' light india
Processing: Pictureshop, Toronto
Color Grading: Marc Bachli