Back to selection
"Painting with Colors That Have Some Muddy Water in Them": Costume Designer Quita Alfred on Women Talking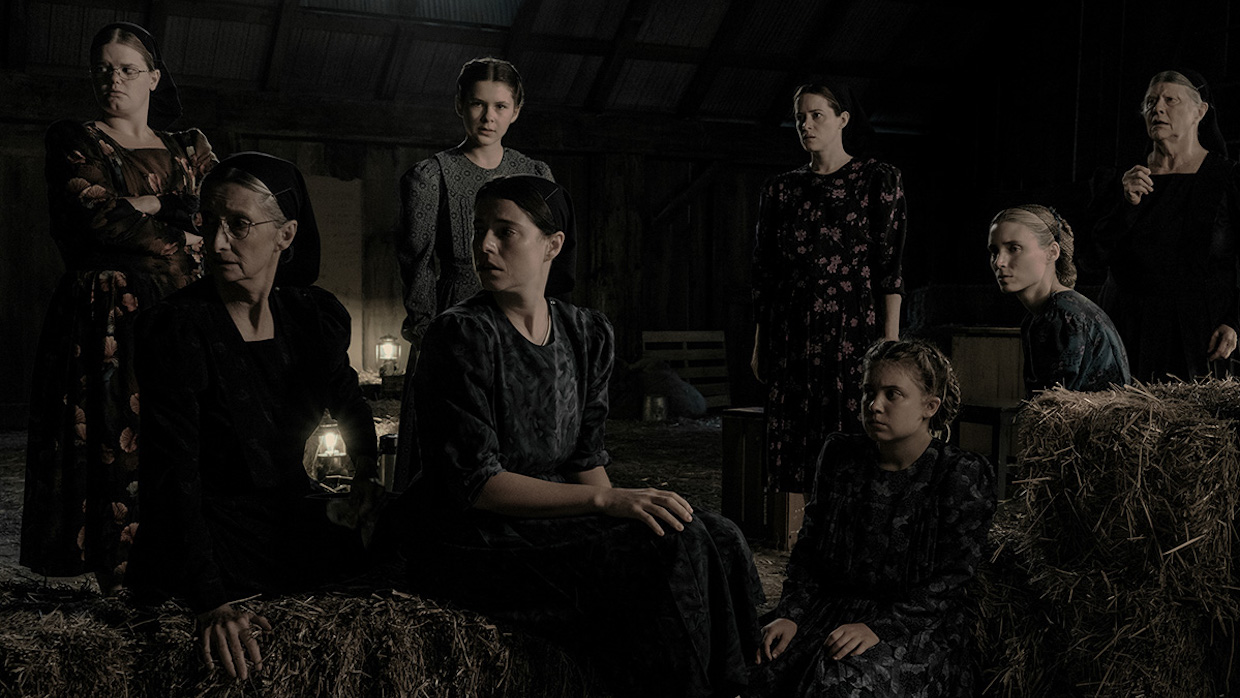 Women Talking
Sarah Polley's Women Talking tells a harrowing story of women in an isolated Mennonite colony attempting to find justice in the wake of vicious abuse by the men of their community. Adapted from Miriam Toews' 2018 novel, which was inspired by true events, Women Talking is a dark film in both a narrative and visual sense, probing all-too-relevant issues of patriarchal violence and religious extremism in dark, shadowy tableaus. 
On its face, the film doesn't seem like the type to prioritize fashion, but the wardrobe of modest long dresses and rigid silhouettes speaks volumes about how clothing can be used to create a haunting atmosphere of conformity and oppression—while the film takes place in 2010, you'd be forgiven for thinking it could be 100 years earlier or more. Costume designer Quita Alfred, who previously worked on projects like American Gods, The Long Kiss Goodnight and Honey, did intense research to create authenticity in her costumes, and even drew on her personal experience of the Mennonite community. I spoke to her about the complex process of costuming characters in such an insular world.
Filmmaker: Where did you source the costumes from? Were they mostly handmade or rented?
Alfred: You can't rent this stuff. It doesn't exist in those places. We built costumes for the principal actors—I think we did three different looks for the main cast, but you may not notice them unless you look very closely. Then, for most of the background players, we bought authentic Mennonite dresses through yard sales, thrift stores and word of mouth. Those were the main sources. We also had things made by Mennonite women and had hundreds of mens' overalls made—not many of them made it into the film, but there were hundreds. For the principals, I had a very skilled team of cutters and sewers who made not just one dress for each character, but multiples to the tune of eight or ten with the exact same patterns and pleats. So we had both handmade costumes and pieces from Mennonites. 
Filmmaker: What was it like working with Sarah Polley? As someone who's been in the industry for so long and started as a child actress, did she have a unique perspective?
Alfred: We actually first met each other when she was nine years old when she was in [the Canadian TV series] Road to Avonlea and I was the assistant costume designer. I had fit Sarah many times. Road to Avonlea had elaborate period costumes, so she spent a lot of time as a young person in high collars, bows and frills. She really appreciates the process from a personal standpoint and understands the character-building that's involved, so her perspective was an enormous help to me. Having somebody who knows what we do can be an unusual circumstance, so that was fantastic. We hadn't been in contact for a long time, and reconnecting was very rewarding. 
Filmmaker: What was the research process for creating these costumes?
Alfred: In yet another moment of synchronicity, I grew up in Manitoba, in the middle of Canada, near one of the biggest centers of Mennonite culture, so I was casually familiar with it. Once I got the job, I had access to people and communities and resources that I probably wouldn't have otherwise. Our producers and studio made it possible for me to start my research very early—I had months and months of real-life research in real communities. I had two cultural consultants, one in a small town outside of Winnipeg, Winkler, Manitoba, and another in Southern Ontario near an area called St. Jacob's. My two consultants, Mary Anne Hildebrand and Esther Janzen, are Mennonite by faith and culture, but modern. A few people in those areas do still live as traditionally as the women in the film do, and the consultants had family members and friends who lived that way and were very familiar with it. I won the research lottery on this film. 
Filmmaker: The characters wear socks and sandals, a look often associated more with hippies than religious communities. Where did that come from?
Alfred: That's the real deal. It's actually very traditional in Mennonite colonies. These folks are eminently practical and frugal. Nothing goes to waste. Wearing socks and sandals is a way for them to be practical while living on a farm in a hot place—it's hot, but if you're milking cows, you don't want your toes hanging out of your sandals. The hippies jumped on the Mennonite train there. 
Filmmaker: Prairie dresses not unlike the ones in the film are actually back in style now. What do you make of that?
Alfred: We did not in any way make concessions to fashion. It's a coincidence that it's in style, and I think a lot of it is nostalgia that's perhaps misplaced. The women that really dress like that have very hard lives and do manual labor with very few resources. There's nostalgia for a simpler time, but that way of life is actually not simple at all.
Filmmaker: How did the film's use of dark tones contribute to your costuming choices?
Alfred: It was really interesting and entirely informed my choices. I was very lucky to be able to do camera tests and share things with Luc Montpellier, our director of photography, very early on, because the palette and the desaturation really set the tone for the entire story and look. We started testing months before. When we were first doing camera tests at the farm, I sent some real dresses I'd found at the beginning, so I had an idea of what would stand up to the desaturation and what would completely disappear. The fabrics you see in the film are actually very vibrant, and that is the norm for many Russian Mennonite colonies. We had to make choices about what would show up, what scale would best express character and what would get lost. It was almost like painting with colors that have some muddy water in them. We had to differentiate the characters and families as well, which I did through color and the scale of the patterns—there weren't many other details to work with. 
Filmmaker: What was it like immersing yourself in a narrative world filled with so much trauma?
Alfred: All of us dealt with it differently. For me, I would say that I put a really tight cork on it. I had to be very analytical about the subject matter until I got through it and found my process and put it into action. My mum was a social worker and probation officer for all of her working life and my consultants were also social workers. So, as an outsider, I was used to hearing about traumatic events and watching them deal with them in a way that would allow them to maintain their lives and sanity. Sometimes that works well and sometimes it doesn't. For me, I had to tamp it down until we could get to a point where we knew things were working, then I found I was able to deal more directly with the emotionality. What really put me over the edge was hearing Hildur Guðnadóttir's score with the film. The first time I saw it in its entirety, we knew all of it, but seeing it with this incredibly moving score was just mind-blowing. We did a Q&A recently after a screening and it was the first time I heard her speak about her own process. She said she was so enraged by the story that she didn't know how she was going to approach writing music. She felt paralyzed with rage at first, and it was hard to face, but she ultimately used that in her creative process. My method was keeping a lid on it and then in more private moments, I'd think about the subject matter and details.
Filmmaker: Have there been any changes in Mennonite fashion throughout the years?
Alfred: It's incredible how little has changed in hundreds of years. Those dresses you see are a culmination of 500 years of the Mennonites' movements through Europe and taking details from each of the countries that they spent time in. The puffed sleeves are from Holland, the bright colors are from Russia and Prussia, the embroideries and florals are from Russia and parts of Southern Europe. The dresses that we have in the film have essentially not changed for almost 200 years. Now they're polyester, because that's practical and easy to wash and widely available, but other than that it's the same. Mennonites who know Plain Dress—and that's a term within the community, not just a plain dress [Plain Dress indicates living in accordance with one's faith and trying to eliminate pride and focus on the worldly]—would recognize these. I've heard that 80- and 90-year-old Mennonite women have seen the film and thought the women looked like their sisters and mothers. Not much has changed, and that's how that particular colony likes it.
Filmmaker: Did you have a favorite costume from the film?
Alfred: I loved the nightwear, which doubles as slips the women wear under the dresses. Traditionally, that's how it works. You have a couple of dresses and a couple of slips, and because of the practicality of the culture, you sleep in your slip and put it under your dress. You don't have lingerie and nightwear and daywear. Those slips are traditionally made out of old sheets and curtains. It would be rare that a woman would go out and buy fabric to make nightwear. They'd use whatever was still serviceable and, if that was an old faded pair of kitchen curtains, then that's what it would be. I loved those. And I loved the vibrance and ridiculousness of some of the prints. They also reveal what's underneath those very austere exteriors. I had a lot of fun with that. 
Filmmaker: What were some of the challenges you faced in the design process?
Alfred: There was a lot of intricacy in the bodices and pleating of the dresses, and the maintenance was challenging for my team. And trying to convince world-class actresses to wear long-sleeve polyester dresses in 110 degree heat was a challenge. They all put it into their work. Whatever their reaction was to their dresses, love or hate, went right into their work. Strangely, they're not quite as hot and restrictive as you'd think. I tried them on to see how uncomfortable the cast would be. I actually came to love them. They're so practical, but the lack of pockets is an issue for me.