Back to selection
Hot Docs Podcast Festival Showcase 2023: Non-Fiction Without Borders: A Co-Production Case Study with The LA Times and CBC Podcasts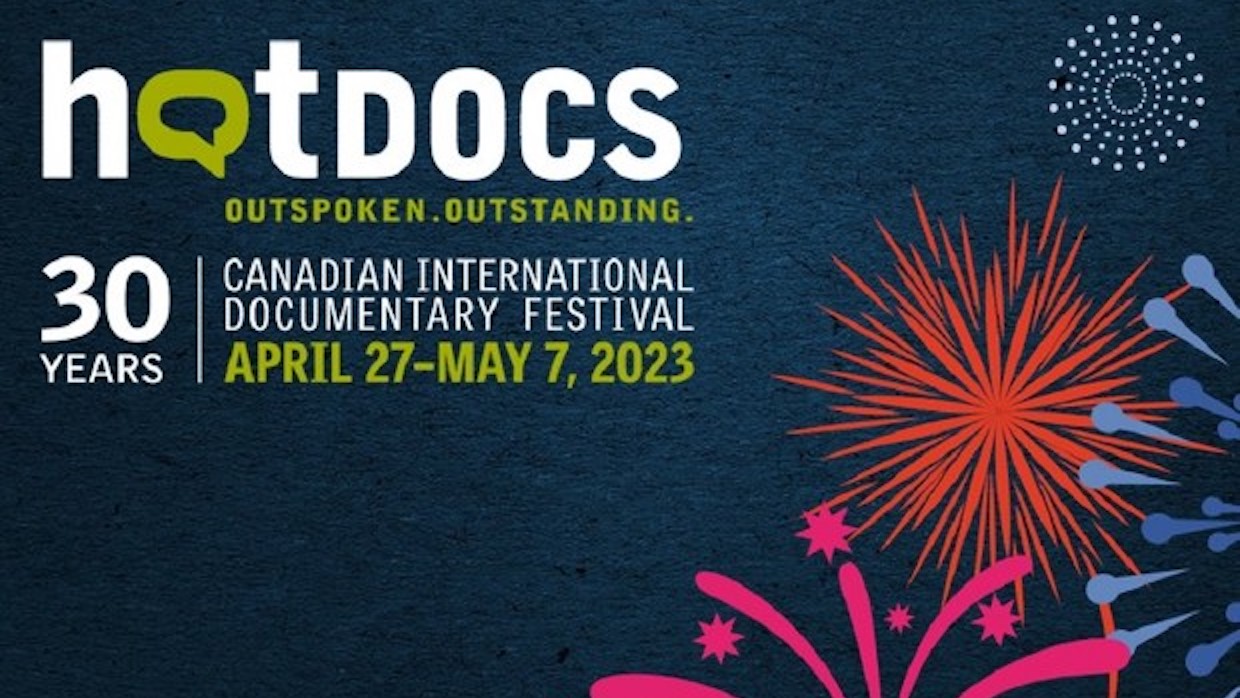 Featuring LA Times head of audio Jazmín Aguilera and CBC Podcasts director Arif Noorani (and moderated by Lindsay Michael, Senior Podcast Manager for Amazon Music in Canada), "Non-Fiction Without Borders: A Co-Production Case Study with The LA Times and CBC Podcasts" covered an impressive amount of ground for an hour-long panel. Part of the Hot Docs Podcast Festival Showcase (a mini audio-storytelling fest nestled within this year's 30th anniversary edition, April 27-May 7), the discussion began, ironically enough, with a high-adrenaline video teaser for Outlaw Oceans, the case study at hand. It starred both Somali pirates and Ian Urbina, the former NY Times investigative reporter who is also the pod's originator and host. (Tapping into our latest financially lucrative obsession, the trailer concluded with the tagline: "If you want to understand true crime, start where the law of the land ends.")
Aguilera, a refreshingly upbeat and no-BS speaker (New Yorkers might remember her from NY Mag's The Cut, Californians from Snap Judgment), launched into the discussion by recounting Urbina's initial approach to her. The veteran journalist actually came seeking advice: How does one get into podcasting? In other words, Urbina wasn't there to sell but to listen. And Aguilera was more than happy to comply, both with mentorship and to help develop Outlaw Oceans. By the time Urbina got around to tentatively proposing the idea of a partnership between the LA Times and another entity he was in talks with, the CBC, Aguilera was all in. (Though I'll also note that Urbina has a filmmaker podcast producer attached, which might explain that trailer.)
The project's success prompted Noorani to tout the "spirit of collaboration"—as opposed to competition—in the podcast industry right now. He emphasized that everyone is trying to grow the audience for the medium itself. The podcast director then brought up the fact that Urbina's access was crucial to the company's decision to sign on in the first place, as the award-winning journo's 17 years of reporting got him into places the CBC just didn't have the contacts to enter.
Aguilera mentioned that she's currently sitting on a "pile of pitches" from students, adding that she prefers not to make folks "pay their dues" (something she herself had to unhappily do). Her message to podcasters everywhere? "If you have a great idea, pitch it!" Noorani concurred, as he too is open to cold pitches. He spoke of the radical change in the industry, from podcasting in basements to teamwork being key. Coming from community-building, resource-sharing backgrounds, both firmly considered themselves "indie at heart." (This self-assessment didn't come as much of a surprise because, if you haven't figured it out yet, neither hail from the straight, old, white male demographic.) Aguilera pointed out that Snap Judgment relied heavily on local collaborators when she was a producer at the award-winning series a dozen years back. "Standing out in a crowded landscape" is more important than the costs of producing right now, she asserted.
The moderator then inquired about working with the Sea Shepherd organization, which Urbina had partnered with for his original story. How did this three-pronged alliance actually work? Aguilera admitted that they had to build trust throughout all of the various entities, while Noorani added that everyone had the same vision but different approaches. And there were indeed a number of hurdles. For example, "What level of insurance does each side need?" was a tricky question. Noorani acknowledged that the business and legal teams at the CBC got pushed to take more risks, and sometimes they just weren't on the same page as the LA Times. Canada and the US simply have different requirements. Aguilera suggested, "budget for insurance before you pitch" (or build that cost into your pitch), while Arif stressed the need for an advocate on each and every side. A "contract whisperer" to go to bat for you and your project is an absolute necessity when it comes to co-pros.
As for Aguilera, "don't be professional" was her sage advice. (Lawyers and businesspeople will drain the life out of any project.) "Bring back the schmooze!" she also urged. Noorani then cautioned that content lawyers "will not be your advocate." A sentiment to which Aguilera eagerly agreed, reminiscing about the time she once sent a lawyer at the LA Times an Edible Arrangement just to get them on her side. (For the record, it worked.) The native Californian also mentioned that she was able to make the concession that the CBC host the podcast on their feed, as she felt it just made more sense for the project. In return, the LA Times was able to secure a few perks (cross-promos, etc.) of its own. The organizations ultimately agreed to split the revenue share. It was a complicated process, Aguilera admitted, but it worked out in the end. That said, this particular partnership was much different from her teaming with Wondery since the CBC is "not a tech company." The infrastructure just wasn't in place for such an outsized endeavor.
Aguilera also advised that if you're "small" the content needs to "shine," and you need to be flexible. Either that or have the project completed and "have it be a banger." Or if you're lucky enough to already be well-known, then "lean into that." (She brought up the fact that a company like iHeart is especially eager to work with big names.) Story editing, sound design, mixing—these are all different skills, so podcasters should band together to work on each other's projects, Noorani added. Aguilera then recommended having two pitches at the ready, "One for people who have time and one for people who don't."
The CBC director acknowledged that combining editorial teams—as the CBC has done with BBC World—will inevitably slow production down. Though he also cited "Hollywood Exiles," a series about the blacklist hosted by Oona Chaplin (and which delves into her grandfather's hounding by the FBI), as one example of the reason to pursue co-productions. Simply put, the BBC partnership allowed the CBC to produce something "more ambitious." Likewise, the CBC doesn't really have the means to, say, send reporters into hostile territories. Of course, the BBC does, which led Aguilera to plug another podcast she's excited to have at the LA Times. Foretold is about Romani fortune tellers and is available to download right now! The energetic head of audio is even thinking that season two could be a co-pro.
Noorani then turned to the topic of pitches, specifying that three paragraphs is sufficient for the CBC to determine if they're interested. He also emphasized the foundational importance of access to a "great story" with "layers and surprises." "We build teams around a story," he explained. As for Aguilera, "This is what I think it could be" is the perfect pitch. In other words, an openness to trying new and different things is what she's looking for in a storyteller. And Aguilera also likes "things"—audio clips, etc.—to be part of the pitch. "I want the gold," she declared.
Noorani noted that even if the CBC doesn't initially go with a project they like, they are always willing to revisit it later (to help with distribution, etc.). With co-pros, "The work doesn't get cut in half—the pie gets bigger," he added. Aguilera also mentioned that working with the CBC meant "less money in the short-term but more in the long-term" for the LA Times. The CBC "is Canada" (whereas the LA Times is more local in its reach). For his part, Noorani emphasized that his company actually "built its prestige" through co-pros.
As for intellectual property, this is non-negotiable for Aguilera. (Noorani concurred that IP was also not up for discussion at the CBC.) It's actually the first question she broaches with potential podcasters, putting it bluntly, "Five years from now it could be a movie." Adaptation and IP are just "not on the table for us," she asserted. (That said, earlier she urged storytellers everywhere to "Know ahead of time what your dealbreakers are.") Nevertheless, Aguilera stressed that she can always "have a conversation," sticking points be damned. Who knows? Perhaps the LA Times might one day be able to act like a broker for the project instead. In other words, the possibilities are endless in this brand new audio world.