Back to selection
Vu One: Vu's New All-in-One Virtual Production Studio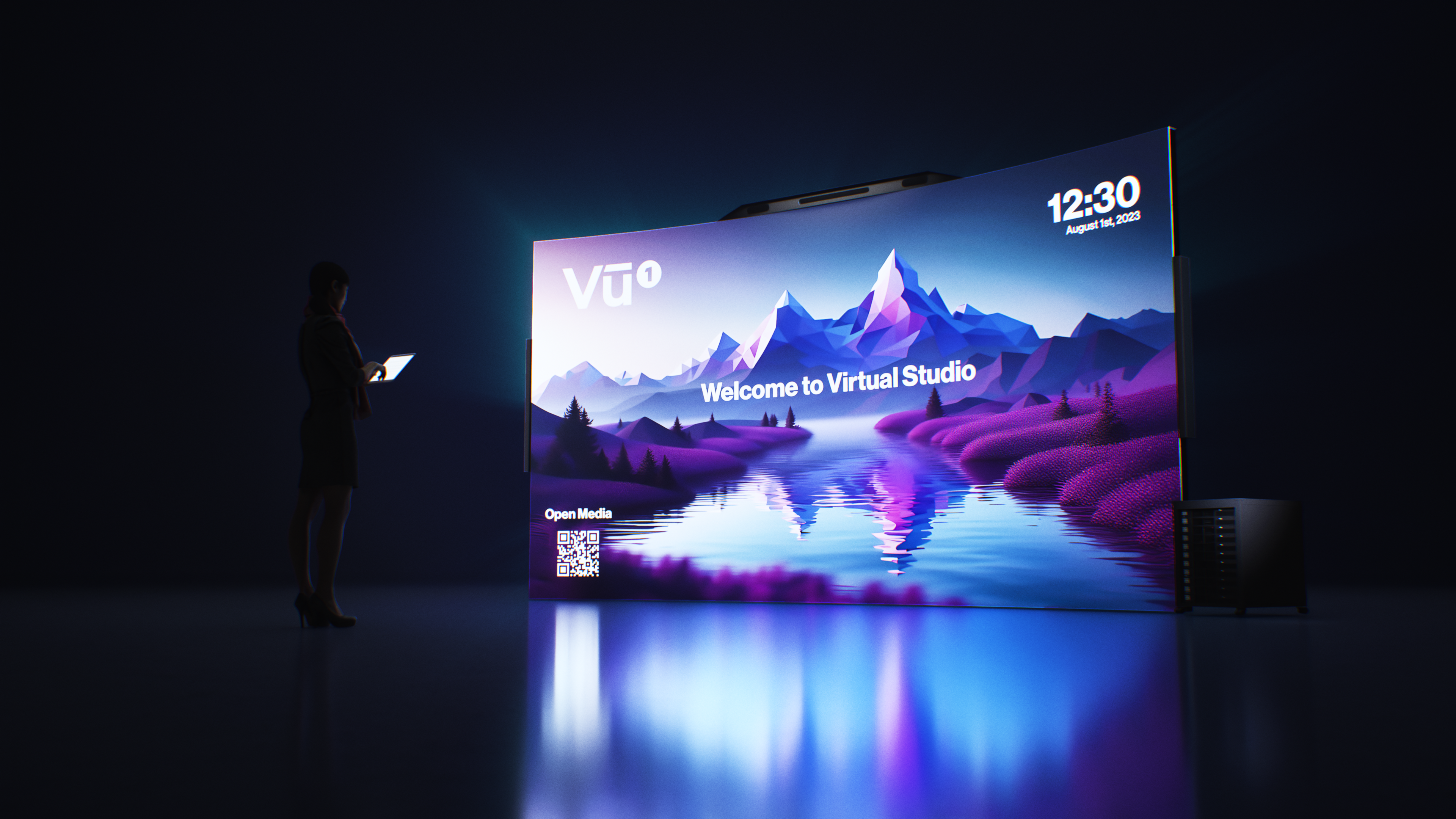 Vu just announced a new product that aims to make virtual production a lot more accessible: the Vu One.
It's two parts. One part turnkey virtual production studio in a (very, very, big) box. One part Vu's Virtual Studio, a software platform that makes creating and running virtual scenes a lot easier.
Let's break down both parts.
Complete Virtual Production Setup
Vu One offers a complete, configurable VP setup, which includes:
LED Wall by Unilumin, with sizing starting at 13×9 ft

Media Server by Puget Systems

LED Processor by Megapixel

Stereoscopic camera tracker (more on that below)

Optional camera tracker by Vive Mars or Stype
The stereo camera tracker is quite clever. You can use gestures to manipulate objects in the scene, such as a light or chair, Minority Report style, without having to deal with Unreal Engine or a computer.
For smaller installs, the stereoscopic camera can be used as a camera tracker. But for larger setups, if you want full VP, you'll need to go with a dedicated camera tracker, such as the Vive Mars or Stype.
While this covers your background and camera tracking, you may have noticed one component missing – lighting. The key to selling a VP shot is getting your subject lighting to match your virtual environment.
"In November, we're releasing a number of new features and integrated lighting is a big part of it," says Vu CEO Tim Moore. Basically, the stereoscopic camera will also be able to track and measure the amount of practical lights in the real world and adjust the lighting in the virtual scene to match.
"That allows you to intelligently understand where the light is motivating in the scene, and then use wireless lights for that."
Now what brings the stage together (and makes the tracking possible) is Vu's Virtual Studio software.
Vu's Virtual Studio
One of the biggest challenges with virtual production isn't the hardware but the technical knowledge and crew needed to run the equipment and Unreal Engine.
This was a continual problem Tim would keep encountering as they built custom installs around the country.
"We were running into the same problem, and that was that he really needed to train an expert team to be able to run all this technology. So the Vu One came out of the thought process of, 'Can we make a product that has the power of virtual production, but the simplicity of just a smart TV?'"
Vu's Virtual Studio is an app store of sorts for virtual production. Running off a smartphone or tablet, it has a library of 2D and 3D assets, built-in tools such as Scene Forge, Remote VP, and Vu.ai, plus integration with programs such as Unreal Engine, Volga, Storia.ai, and more.
This enables a variety of workflow options, from something as simple as loading a 2D image or using a text prompt to create a 2.5D plate, to more technical setups such as scanning and loading a NeRF of an environment or loading a complete Unreal Engine scene.
"Our thought is that by aggregating all of the best tools, we can let the user decide what their workflow is," says Tim.
Tim also sees other use cases for the Vu One beyond film and media, from architecture previz to leveling up corporate internal communications.
The creation of simpler, more accessible tools for running virtual productions is a rising trend we noted at NAB, such as the ARFX StudioBox from ARwall and the budget-friendly Vive Mars tracker (and recently released lens encoder). [See also last issue's case study of virtual production. — Editor.]
The Vu One offers monthly payment options starting at $5600 for the base model (or you can buy it outright for $249k). It's projected to start shipping in Q4 of 2023.
---
Joey Daoud is a media producer and founder of the agency New Territory Media. He also runs the free newsletter VP Land, covering virtual production and new video tech.