Back to selection
Tatia Rosenthal, $9.99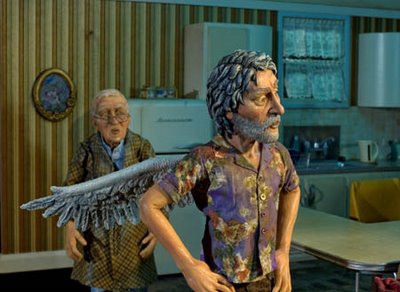 ALBERT (VOICED BY BARRY OTTO) AND THE ANGEL (VOICED BY GEOFFREY RUSH) IN DIRECTOR TATIA ROSENTHAL'S $9.99. COURTESY STRAND RELEASING.
Being an independent filmmaker is difficult enough without adding the further challenges of animation, so it's always a pleasure to see the emergence of a visionary talent like Tatia Rosenthal. The Israeli writer-director and stop motion animator was born in Tel Aviv in 1971 and explored some very diverse avenues before deciding on her current profession: Rosenthal was in the Israeli Defense Force for two years, spent a period of time at medical school and then studied photography in Paris for a year. She finally found her niche while studying for a BFA in Film & Television at NYU's Tisch School of the Arts when she discovered an aptitude for stop motion, and particularly for claymation. During her time as a student she made Breaking the Pig, based on the short story of the same name by Etgar Keret, and in 1998 she directed Crazy Glue, also based on a Keret short story. Between 2000 and 2005, she worked as an animator for Nickleodeon on shows such as Blue's Clues, Wonder Pets and Piper O'Possum. In 2005, she made A Buck's Worth, a 6-minute animation voiced by Philip Baker Hall and Tom Noonan.
A Buck's Worth was, in fact, made as a proof of concept short for Rosenthal's now completed first feature, $9.99. The claymation stop motion film is, like all of Rosenthal's previous work, derived from tales by Etgar Keret, with this production synthesizing six of the short story specialist's literary thumbnails into a cohesive panoramic narrative. The title comes from the price of a book promising the secret of happiness which is bought by Dave Peck, a man in Sydney, Australia, who feels that his neighbors – including an elderly man with an angel as a house guest, a man who neglects his fiancée in favor of two-inch-tall party animals, and a dent-ridden magician plagued by repo men – could benefit from the volume's wisdom. The first Israeli-Australian co-production, Rosenthal's film features the voice talents of such antipodean actors as Geoffrey Rush and Anthony LaPaglia, and loses nothing from the transposition of the action from the Middle East to Down Under. Keret and Rosenthal's sprightly script stays true to the spirit of its source material despite the change in medium and location, while Rosenthal's animation creates a cinematic look, bridging the realistic and the fantastic, that brings the world of the film colorfully and vividly to life.
Filmmaker interviewed Rosenthal over email and discussed with her the slow and painstaking process of making an animated indie, how she came to make $9.99 in Australia, and her discovering the existence of oral sex thanks to The World According to Garp.
Filmmaker: Can you tell me about your formative years in Israel and how you first became interested in animation?
Rosenthal: Like most kids, I loved animation since I can remember and it was through a piece of animation that I was first inspired to become a filmmaker. I was eleven or twelve and I watched The World According to Garp, which was amazing (and the way I found out that oral sex existed). But that one moment when Garp's drawing of his hero pilot dad comes to life in animation was the moment that I fell in love with film. Later, on my first day of film school at NYU, they showed us some of the professors' show reels. The scene from The World According to Garp was screened because its creator, John Canemaker, was the head of the animation program. I was truly elated, it was one of those moments when you feel that you're where you're "supposed" to be. Mr. Canemaker later became my thesis advisor and a continuing source of inspiration.
Filmmaker: Were you always drawn to stop motion? What in particular makes you like it? What makes you well-suited to it?
Rosenthal: To be completely honest, once I'd started to take animation classes and realized one has to draw thousands of minutely different drawings in order to make even the shortest of shorts, I started doubting I would have the patience to do it. Then I took Dean Lennert's wonderfully diverse stop motion class and fell in love with the various techniques and their richness of textures. We tried our hands in coffee grain/sand animation, cut-out paper animation, oil paint under the camera and finally puppet animation. I was hooked. There is something very emotional and beautiful in puppet animation and I think it has to do partly with its invitation to project the audience's emotion onto its own touching yet limited expression.
Filmmaker: What effect did your experiences in the Israeli Defense Force, in medical school and studying photography have on you? Did they help you realize the direction you wanted to take in life?
Rosenthal: My military service was quite miserable, which in retrospect was a great gift. When the going got tough on $9.99 – and the going got tough on $9.99 – away from home, making a film on a shoe string budget for a two year stretch… I would think back on how it felt to be in the army for two years, and knew I could survive it. There's a lot that can be said for discipline. Medical school was a really short stint, and there I learned that I need to have passion in order to be voluntarily disciplined… I didn't have the passion for it. However, I was quite serious about photography. My portfolio for film school consisted mainly of photos and paintings. Film is really the ultimate art form for those who can't or don't want to chose between their artistic inclinations.
Filmmaker: What impact did your time working at Nickleodeon have on you?
Rosenthal: It was a great experience, I learned a lot about animation but also editing, and indirectly about directing. Dave Palmer, Blue's Clues's director and my first boss in the industry, is a real role model. I feel very lucky to have worked for him for as long as I did.
Filmmaker: Do you see yourself as an "adult-oriented" animator? And do other people see you this way? Do you feel you have been marginalized at all because your work is not aimed primarily at children?
Rosenthal: Marginalized is a strong word… But yes, animation for grown ups is still a start-up of sorts. I wasn't aware of the extent to which it was considered a risky venture when we started pitching it ten years ago. Now I really think it's starting to shift with films like Persepolis, Waltz with Bashir, Sita Sings the Blues, $9.99, and Mary and Max, which will keep getting made, I believe.
Filmmaker: Your films so far have all been inspired by Etgar Keret's short stories. Do you share a special affinity with his work? What makes you keep returning it?
Rosenthal: I really admire his writing – it's funny, imaginative, utterly original and most of all he describes the world in ways I recognize as true – albeit a fragmented truth. He expresses his ambivalence toward "greater truths" without being indifferent, which I find deeply moving.
Filmmaker: Independent animated films are rare, especially ones that are truly independent such as yours. How much thought did you give it before embarking on such a daunting and difficult task?
Rosenthal: I had no idea what I was taking on. Not in the slightest, nor will I want to make another film in the same way for such a long stretch of time, but having said that, I'm really glad I did. After finishing the film, I went back and re-read The Phantom Tollbooth by Norton Juster (I've always wanted to remake that film…) and was tickled to realize that one of its themes was that in order to achieve the impossible, one has to be ignorant of the obstacle along the way. It was very true in my case.
Filmmaker: How did you go about taking short stories, which are all by the same author but otherwise unconnected and create a single film out of them? How closely was Etgar Keret involved at this stage?
Rosenthal: It was a wonderful process and I've learned a lot from Etgar while we were adapting it. First I picked ten of my favorite stories, and we pared them down to six, based on the fact that they all dealt with yearning in one way or another. Then we started uniting characters, i.e making the love interest of story A become the newly invented brother of the protagonist of story B etc… We wrote drafts two and three, which were the most significant drafts of the script, while together in the same country (in Israel and at Sundance where we workshopped the screenplay between those two drafts.)
Filmmaker: What was it like going to the Sundance Writers Lab as an animator?
Rosenthal: I always felt and the directors of the Filmmakers Labs Michelle Satter and the late Lynn Auerbach agreed that because puppet animation engages real space (albeit in 1/6 scale) and $9.99's screenplay was a fully realized dramatic/comic screenplay, Etgar and I would benefit from the labs as much as live action writers and directors. It turned out to be very true.
Filmmaker: How clear in your mind was the vision of the physical world these characters lived in?
Rosenthal: The overall visual tone and color scheme was quite clear, I also knew who the puppets should look like and how they should be painted. But the full visual world came from collaborating with Melinda Doring our production designer and Philip Beadsmoore our puppet master and their great teams.
Filmmaker: How did the film come to be set in Australia and have an Australian cast?
Rosenthal: Emile Sherman, our Australian producer, was interested in being the first to use the Israeli-Australian co-production agreement, which was in place for more than a decade. He heard about Etgar from two writers he had previously worked with. Etgar pitched him our screenplay, which Emile loved immediately, but he was apprehensive about producing an animated project. I flew to meet Emile right after showing A Buck's Worth – our $9.99's proof of concept short – at the Annecy Animation Festival. It had had a successful run. The timing couldn't have been better. Once Emile was on board, Etgar recruited Amir Harel who was producing Etgar and Shira Geffen's Jellyfish, and the co production was on its way.
Filmmaker: After spending 10 years on this film, do you feel able to make another in this manner? Do you have ways to make the next film a quicker process?
Rosenthal: I would love to make another stop motion feature, if only to implement all that I have learned on $9.99. But as I mentioned, I wouldn't want to make another film on such a tight budget for such a long time.
Filmmaker: Do you view your animation work as a bridge to other things? If someone were to offer you live action directing work, would you be interested?
Rosenthal: Bring it on!
Filmmaker: Do you feel as if there will be any impact from the release in a brief period of time of Ari Folman's Waltz with Bashir and your movie? Do you think or hope that there will be a wave of yet more innovative Israeli animators who will be inspired by these films?
Rosenthal: Our two films are as different as two animated films for grown ups could be… and I think the fact that they came out roughly at the same time is coincidental as far as the Israeli animation industry is concerned. However I do think and hope that the fact that they both got made is probably quite inspirational for Israeli animators.
Filmmaker: When was the last time you cried in a film, and which film was it?
Rosenthal: Does laughing so hard I cried during The Hangover count? If not, then the last time before that was during most episodes of John from Cincinnati to which I'm currently catching up with as a part of my latest obsession with David Milch's work.
Filmmaker: Should a director always take risks?
Rosenthal: Only if the risks are in the service of their true vision, not just for the hell of it.
Filmmaker: Which actor would you pay to see in anything?
Rosenthal: Ian McShane.
Filmmaker: Finally, which classic film are you most ashamed to admit you've never seen?
Rosenthal: There's a big Ingmar Bergman shaped hole in my cinematic education.