Back to selection
DOHA TRIBECA FILM FESTIVAL: LUCKY STARS
So much depends upon… the position in which one reclines. Seated next to me in the elite section of a flight to Doha, Qatar, an Indian financial wizard with rings on each slim finger nodded and looked thoughtfully out the plane window. Across the aisle, Harvey Weinstein, an overstuffed teddy bear in Qatar Airways pajamas, turned another page of "My Week with Marilyn" and growled for the stewardess. Upon touchdown, a phalanx of young stewards ushered a group of remarkably well-rested travelers into private cars and whisked us away to the second annual Doha Tribeca Film Festival.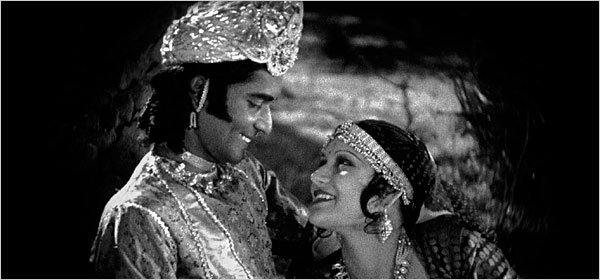 Could any film festival program match the perfection of that flight or the lavish hospitality that followed? (I attended as a guest of the festival.) Although screenings of the modest work in DTFF's 10-film Arab Film Competition were often eclipsed by the star-studded panels, networking lunches and desert excursions, one program could and did: Franz Osten and Himansu Rai's A Throw of Dice (1929). The film, which is silent, was accompanied by the Qatar Philharmonic Orchestra performing a recently commissioned score by Indian-English composer, Nitin Sawhney, who flew in for the occasion. Thousands of extras, elephants and tigers, fire breathers and jugglers, veils and belly dancers all contributed to a film that mirrored the opulence of the festival itself. A Throw of Dice was beautifully restored by the British Film Institute (BFI) (whose budget, along with that of the UK's National Film Fund, was slashed earlier this week). Alternately known as Prapancha Pash, the film's English title echos the intricately designed lines written in French by Stephen Mallarmé: A throw of dice / Will never do / Away with chance.

When is a film more than a film? When it's presented in a magical open-air theater erected temporarily for a festival, complete with a free-standing projection booth; a secret backstage as big as a train station; an open-air orchestra tuning area (necessary, of course, for audio fidelity); and plush seats for over 1800 spectators. Designed by the British-born New Yorker, Jeremy Thom, whose work has ranged from The Rolling Stones at Live Aid to The Grateful Dead at the Pyramids, and constructed by a handpicked team of expert construction and production designers, the Katara Open-Air Theater was the crown jewel of a heavily jeweled crown. In a particularly loving touch, Thom coaxed the orchestra onto a series of platforms, rendering them uniquely visible to the audience from all angles. (Carnegie Hall, take note.) For an idea of the scale involved, check out this new nominee for Best Short Film, one of the first movies made entirely in Doha:
The best seats in the house were known to the behind-the-scene crew alone: four directors' chairs arranged on a hidden platform between the free-standing projection booth and the three house spotlights looking out into the night. As the film credits rolled and the orchestra played their final notes, Thom grinned mischievously and asked, "That wasn't bad, was it?"
For our complete wrap-up of the second annual Doha Tribeca Film Festival, see our Winter, 2011 issue on stands in January, 2011. Meanwhile, here are the festival's award-winning films.
2010 Doha Tribeca Film Festival Award Winners
Lifetime Achievement Award:
Abdel Imam
Best Arab Film, $100,000:
Hawi by Ibrahim El Batout
Best Arab Filmmaker, $100,000:
Balls by Josef Fares
Audience Award for Best Narrative, $100,000:
The First Grader by Justin Chadwick
Audience Award for Best Documentary, $100,000 + Special Jury Mention:
Grandma, A Thousand Times by Mahmoud Kaabour
Best Arab Short Film, $10,000:
Missing by Sirwar Zirkly
Best One-Minute Films:
iPod Man by Mohammed Al-Malek
My Grandfather's Past Through My Eyes by Noor Ahmad Yagub
For Filmmaker Magazine's complete wrap-up from the second annual Doha Tribeca Film Festival by Livia Bloom, subscribe to our print or online issue, Winter 2011.