Back to selection
SOPHIA TAKAL'S "GREEN"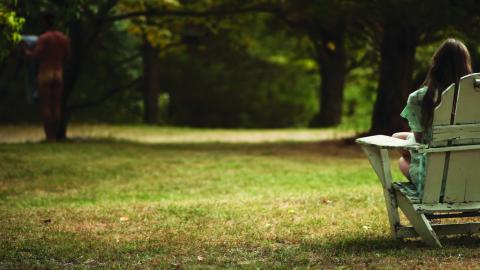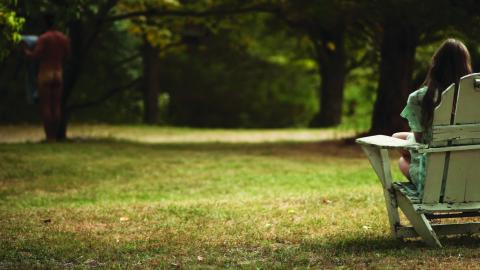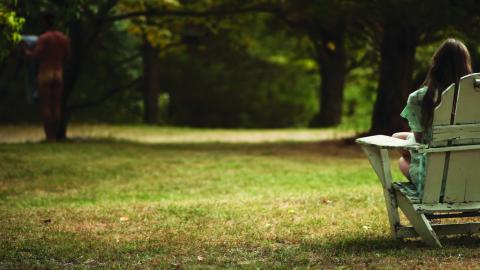 Screening Times: Saturday March 12th, 5:30pm (Alamo Lamar C), Tuesday March 15th, 12:00pm (Alamo Ritz 1), Friday March 18th, 7:00pm (Alamo Lamar C)
A couple of young, New York sophisticates travel upstate in order to research a book on sustainable farming, but when a working-class local woman becomes the object of their affection, jealousy and sexual gamesmanship threaten to ruin there relationship. Green, a new film from the team behind the recently opened Gabi on a Roof in July, marks the directorial debut of that film's producer, editor and star, Sophia Takal.
Filmmaker: You and many of your collaborators worked together on Gabi on a Roof in July — what did you learn from that experience that informed your work on Green?
Takal: Gabi on the Roof in July was a really ambitious project, we had very little money and a big cast, lots of locations, and a long rehearsal period. I loved every minute of it but it was pretty fraught and emotionally draining. I knew that while I wanted my next film to be just as emotionally complex, I wanted the actual process to be more intimate and relaxed. After Gabi, Kate Lyn Sheil and I became very close friends. She moved in with my fiance, Lawrence Michael Levine, who directed Gabi and both produced and acted in Green and the three of us formed an intimate bond that seemed like the perfect jumping off point for exploring the issues that I wanted to delve into in Green. Without that foundation, I don't think I would have made this movie.
Filmmaker: What do you find to be the most difficult aspect of filmmaking and why?
Takal: I had a really hard time asserting myself, which was surprising. It felt terrible being the one charge even though in day to day life I'm pretty bossy! But on set it felt like I really had to step into my power, into knowing what I wanted and asking for it, sometimes demanding it, even when no one was there to support me. For a while I wondered if it had to do with being raised with a specific idea of what being a woman meant. I'm really not sure why that was hard but that was a big struggle for me.
Filmmaker: Was SXSW always your target destination to debut the film?
Takal: I love the films that come out of SXSW and I've always heard such great things about the festival so I absolutely wanted to premiere here. But I also knew it was really competitive and had no idea it was actually going to happen — so when I found out Green was premiering there I was really, really excited!
Filmmaker: Are you planning to do any DIY promotion or distribution with the film?
Takal: I have a really great support system helping me figure out what to do with Green now that it's going out into the world. I'm not sure what's going to happen! Certainly, I'm sympathetic to the DIY movement and all the films I've done have been made in that spirit. But also I'm really tired and want some help!
Filmmaker: Any other projects in the pipeline?
Sophia: I'm acting in a lot of movies. I just shot another film with Kate and Lawrence that Joe Swanberg directed and I'm heading down to Argentina right after SXSW to film The International Sign for Choking by Zach Weintraub and then I head down to Memphis to finish filming Open Five 2 which is co-directed by Lawrence and Kentucker Audley. Then in the fall Lawrence and I are going to shoot our next project — we like to take turns so this time he'll be directing and I'll be producing!