Back to selection
Leitner's Mondo NAB, Part 2
Not to worry, NAB is play too. AJA's blow-out last night at the Hard Rock Hotel, where despite the booming techno bass I had interesting chats with Ted Schilowitz of RED and Guenther Noesner of ARRI. NAB is magical that way.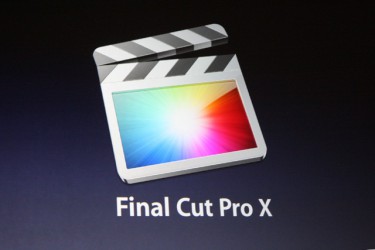 Originally posted April 2011.
I wish to continue my notes about developments in large-sensor cameras, but of course the magnesium-powder newsflash sucking up all the oxygen at NAB today is Apple's stealth sneak peek at Final Cut Pro X last night.
Apple hasn't officially attended NAB for several years—many of us miss the consummate showmanship of their former press conferences—so when news broke on the eve of NAB that an entire slate of speakers at the 10th annual FCP User Group SuperMeet had been swept aside for a special guest, Apple fever took hold. The event sold out in a nanosecond.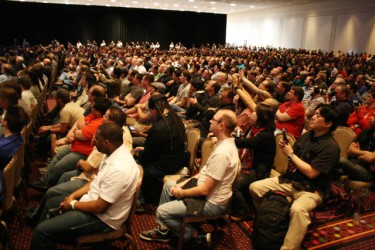 I held a second-row seat in the huge convention room at Bally's, surrounded by the largest, most energized throng I've encountered at this year's show. Ironically the SuperMeet is a satellite event, not officially part of NAB. Apple, in other words, had it both ways—avoiding the costs of a massive trade show yet reaping the promotional benefits.
As a result, you've probably heard the news already: dramatically revamped interface, 64-bit processor capability, no more RAM ceiling of 4GB, continual background rendering by means of unused CPU cycles (the more cores, the better)–and sayonara to transcoding. You can mix and match different codec's and formats, from DV to AVCHD to 4K, and enjoy native editing of each on the same timeline.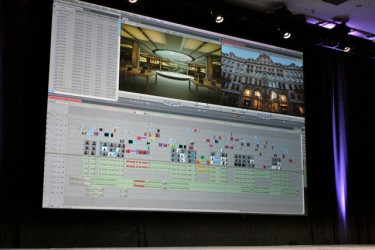 The light gray background of FCP's current interface has been replaced by serious-looking dark gray with big clips containing thumbnails of their contents. A "magnetic" timeline protects complex arrangements of clips from accidental bumps and sync loss. New "compound" clips incorporate entire sequences for a decidedly less-cluttered appearance. These are readily "auditioned" anywhere on the timeline without essentially disturbing it.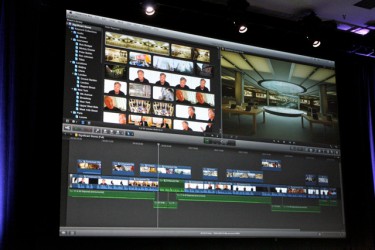 A new single-click color matching capability joins instant cropping and keyframing in the Viewer window (upper right, where the former Canvas window was). Power windows now isolate color correction. Scrubbed clips are pitch-corrected for audio. Clips are automatically image-stabilized and color-corrected upon ingest if desired.
Randy Ubilos, Chief Architect, Video Applications, who demoed a beta version of FCP X on stage (no crashes), emphasized that in FCP X, "timelines are no longer fragile" and that "tracks [automatically] come and go as needed" to make timeline conflicts a thing of the past.
To anyone, like myself, who has spent perhaps too many precious hours here on earth pushing tiny colored clips back and forth on a screen only to discover a mistake made thirty clicks ago is now knitted into the fabric of my intricate fine cut, this is the promised land.
So a collective gasp—literally—met the final announcement that FCP X would be available in June as a download from the App Store for $299. Followed by a roar and standing ovation. The only full-throated standing ovation I've seen at NAB. Ever.
With FCP X, Apple is returning to the one-size-fits-all ethos of the original FCP. In other words, no more FCP Express. I think it's revolutionary, in a democratic sense, to spend years to overhaul an epochal product to make it more powerful, more protean, yet more accessible, with the goal that my teenaged daughter and Walter Murch would both edit with the same software.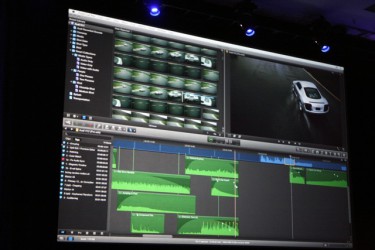 I've been asked a dozen times since last night, didn't I think FCP X reeked a little of the new iMovie, also reworked by Randy Ubilos?
And I've answered that ten years is an eternity in software design. That it's about time FCP evolved deeply and truly; and in doing so, that Apple leverage what it's learned about animated user interfaces in its iPhone and iPad products. Why shouldn't pro products evolve equally?
After all, those standing to cheer and applaud last night were… professional editors.
Afterwards I asked Phil Schiller, Apple's senior vice president of Worldwide Product Marketing, what would become of the other components of Apple's Final Cut Studio like Soundtrack Pro, Color, and Motion. He said he couldn't speak about future products beyond what Ubilos had shown on stage, but he did indicate that since much of the capability of these ancillary apps is now folded into FCP X, they are less needed. I took this as an answer.
I'll return to intriguing developments in affordable large-sensor cameras in my next NAB blog.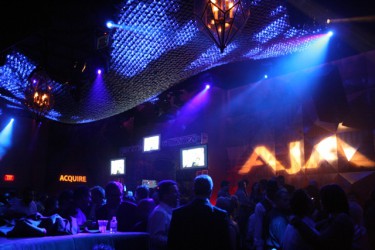 Photos by David Leitner.