Back to selection
"A SCREAMING MAN" HAMMER TO NAIL REVIEW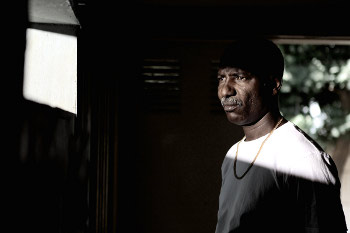 (A Screaming Man was picked up for distribution by Film Movement. It opens theatrically at the Film Forum on Wednesday, April 13, 2011. Visit the film's official page at the Film Movement website to learn more. )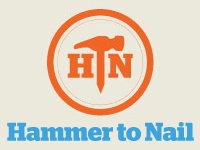 For the first half of Mahamet-Saleh Haroun's A Screaming Man, you might think Haroun's sole mission is to deliver one of those poignant little personal fables that feel warmly contained within their own worlds. But something happens along the way. The news reports of civil unrest that filter through the background of so many early scenes maneuver their way into the forefront, to the point where the film's scope widens dramatically. But here's the trick, and it is what most likely resulted in its winning of the Grand Jury Prize at the 2010 Cannes Film Festival: Even as that external scope widens, A Screaming Man retains its small, personal, internal purpose. Haroun's deft balancing act between an actual civil war and the civil war in one's man mind is a quietly groundbreaking achievement.
Adam (Youssouf Diaoro) lives in the West African country of Chad with his wife and teenage son Abdel (Diouc Koma). A former swimming champ, Adam is the head attendant at the pool of an upscale hotel. Abdel is his right-hand man. From the very first scene—an amusing breath holding contest that only later, upon reflection, hints at conflicts to come—we understand that this father-son relationship is a loving one. Adam is happy and content in every way—as a husband, as a father, as an employee. It seems that nothing can disrupt his pleasant life.
Whether it's a reaction to the increasing civil unrest or the result of general economics, a first bump in Adam's road arrives when he finds himself transferred from his proud role as head pool attendant to front gate security guard (not only does this result in his good friend losing his job, but it also means that Abdel has been promoted into his father's beloved position). In one brilliantly orchestrated shot, which burns with humorous sadness—think Jacques Tati's version of Umberto D.—Adam, dressed in a too-small uniform, scurries between gates, opening and closing them only to be met with incessant honks of impatient drivers, flailing like a literal fish out of water.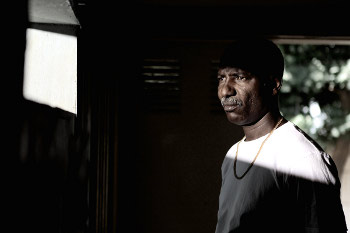 Though his performance is one of stoic reserve, Diaoro nonetheless manages to express Adam's inner turmoil to the point where we can see through his muted expression into the emotions that roil beneath. It's clear that Adam is thoroughly disappointed with himself for feeling competitive with, angered by, and jealous of his son, yet he can't help himself. This leads to a brief moment of fatherly betrayal that turns out to be as massive as they come. That it finds itself tangled up inside the raging Civil War only adds to Adam's helpless state—it's as if he's been buried in the sand and high tide is rolling in. In a last-ditch attempt to right his wrong, Adam springs into action, but it's far too late. Both internal and external forces have conspired against him, turning his world irrevocably upside down.
Haroun's film moves at a somber, languid pace, which will undoubtedly frustrate many viewers—though, chances are, if you're sitting down to watch A Screaming Man in the first place you have the appropriate cinematic temperament for this sort of thing—but it is this approach that allows us to not just perceive Adam's inner conflict but to suffer right there alongside him. Haroun's measured directorial patience rewards greatly. By the time the film's credits are rolling, one is able to fully appreciate what he has achieved. With A Screaming Man, Haroun has brought to life a complicated, three-dimensional, gray-and-gray world in which not one factor is to blame, in which we are as complicit as we are impotent, in which our own personal inner civil wars are as devastating as those that rage around us.
Filmmaker has partnered with our friends at Hammer to Nail for a weekly "Pick of the Week" post that will be exclusive to our newsletter and blog for a long weekend, at which point it will go live over at Hammer to Nail as well. In the meantime, be sure to visit www.hammertonail.com for more reviews and lots of other great editorial.