Back to selection
TRIBECA AT 10 YEARS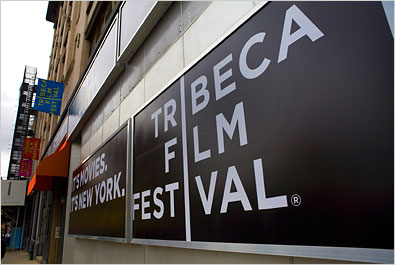 "It's evolving well — I hope it will be an American institution that's part of the culture of New York City, something that people will want to be part of every year," Robert De Niro tells Filmmaker on the occasion of the Tribeca Film Festival's tenth anniversary. De Niro co-founded the festival with Jane Rosenthal and Craig Hatkoff as a defiantly local event in the wake of 9/11. A decade later the 10-day festival has branched into an enterprise that includes an institute, a sister festival in Doha, Qatar and a distribution arm.
"We started as a four-day festival that was here to bring business downtown," says Tribeca Film Festival executive director Nancy Schafer, "and out of that we've built a community that celebrates film and storytelling."
Through the efforts of Schafer (who was a head programmer before becoming executive director in 2007), director of programming David Kwok and senior programmer Genna Terranova, the festival prides itself on searching the world for titles that will resonate with New York City's multicultural audiences. Though complaints about Tribeca have often focused on its programming being too broad in scope, or, more recently, its lack of screenings in its former home base of Lower Manhattan, Schafer believes the long lines at their main hub in the Chelsea section of New York prove people like what Tribeca is offering. (Schafer on the lack of screenings downtown: "If I can have someone build me a multiplex like they did in Toronto I would be so happy, but it's not going to happen anytime soon, so we're fixed where we are.")
And while the festival's close proximity to Cannes can make it tough on buyers prepping for the French event, past titles such as Dylan Kidd's Roger Dodger, Marshall Curry's Street Fight and Gloria La Morte/Paola Mendoza's Entre nos make Schafer confident in saying that Tribeca is a "discovery" festival.
But early on it was evident that the festival wanted to be more than a yearly showcase of films. In 2003 Beth Janson was brought on to create Tribeca All Access, a program offering year-round assistance to filmmakers. Dedicated to supporting communities traditionally underrepresented in the film industry, TAA invites filmmakers to pitch industry executives one-on-one during the festival. Winners of the juried TAA Creative Promise Awards are then provided with cash awards and year-round alumni benefits such as free access to shooting and post equipment, promotional support for completed films and special presentations of works-in-progress. The success of TAA was quickly followed by the launch of the nonprofit Tribeca Film Institute, of which Janson is the executive director. The institute consists of programs that currently give away more than $1 million in grants — some of the most recognized are TAA, the Alfred P. Sloan Partnership and Gucci Tribeca Doc Fund — and Janson says its biggest challenge has been differentiating its work from that of the festival. "We focus on the stuff that comes before the work is ready to platform," she says. Submissions are now open for Tribeca's most recent program, the TFI New Media Fund, which will give grants from $50,000 to $100,000 to transmedia projects covering social issues.
The film festival is also focusing on new technology and distribution platforms, this year announcing the Tribeca (Online) Film Festival. Spearheaded by Tribeca Enterprises' chief creative officer Geoff Gilmore, throughout the festival audiences can view six features screening at the fest and 18 short films (some from this year, some from past years) for free at tribecafilmonline.com (only in the U.S.). Along with streaming the films, viewers can also live-stream festival events such as premieres and the award show (available worldwide), submit questions for their "Tribeca Q&A" online community with participants ranging from Whoopi Goldberg to David Gordon Green and read expert analysis on the industry through the "Future of Film" blog. So has Tribeca developed a new festival model for our increasing online world? "We're experimenting with this," Schafer admits. "We believe in the idea that people want to view films all the time." Offering this constant access is Tribeca Film, which acquires films year-round to release theatrically, on home video and VOD.
Schafer says in the world of film festivals 10 years isn't very long, so don't plan to see them slowing down anytime soon. They are two years into their Doha Tribeca Film Festival, which brings to the Middle East the big festival's goal of showcasing artists and building community. Recently the Tribeca Flashpoint Media Arts Academy launched a two-year program focusing on gaming, interactive media, animation and visual effects. As for filmmaker Dennis Lee, who was part of Tribeca All Access in 2005 and whose film Jesus Henry Christ is in this year's narrative competition, he's shocked by the growth of the festival and institute, but he's happy it's here. "Sundance isn't the 'end all be all' and filmmakers need to understand that," he says. "Tribeca proves there are other places where you can get noticed."
The 2011 Tribeca Film Festival takes place April 20-May 1. Follow our coverage at Filmmakermagazine.com.