Back to selection
Polish Brothers Release Successful No-Budget Movie On iTunes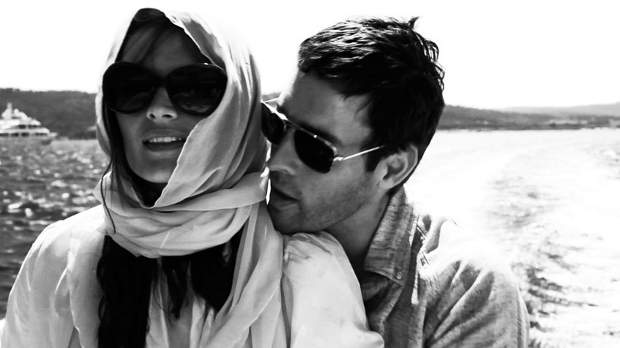 From Steve Pond at The Wrap comes a piece on the Polish Brothers' latest, a French-shot no-budget romance called For Lover's Only, which was made with a production budget of, the article says, "zero," and has already made $200,000 on iTunes. It stars Mark Polish and Stana Katic (Detective Kate Beckett on ABC's Castle), and it was shot on a Canon 5D, with the filmmakers posing as tourists, not worrying about location fees, and, writes Pond, "They even got the film classified as an experimental film by the Screen Actors Guild, which meant they didn't have to pay Katic, who shared an agent with Mark and brought her own wardrobe." (I don't know if he is referring to the SAG Experimental Contract; if so, I believe that means a negotiated rate with the actor but additional monies owed if the film is released beyond film festivals.) And just as I was wondering if the filmmakers and actors ate at soup kitchens and teleported themselves to Paris, I got to this:
The brothers said that their hotels and some meals were comped; they shot and edited with equipment they already owned; and they don't consider the few grand worth of meals, taxis and the like to be part of an actual budget. "There was not one dime that came out of our pocket specifically for this movie — besides the food we ate, but we had to eat, anyway," Michael said.
What's most interesting about the story, though, is not the budget contortions but the release method. And although there seems to have been at least one industry screening in L.A. last Fall, the film wasn't distributed early to journalists — including, um, magazines that once put the filmmakers on the cover. Instead it relied on the Facebook and Twitter feeds of the director and star Katic for publicity. From the piece:
Katic's rabid Twitter and Facebook followings spread the word – and when Mark Polish found that the film was drawing almost 1,000 tweets an hour, he made up posters using the Twitter raves in place of critics' quotes. Those posters themselves went viral on Twitter and Tumblr, and helped prompt a healthy iTunes presale.

"They'd put 26 reviews up on iTunes before the movie was even out," said Mark. "The fans who'd already seen it were going around like a swarm of bees attacking IMDb, Facebook, Twitter… It's a very passionate crowd, and they felt like they'd discovered it."
I'm eager to check this film out; it went up yesterday on iTunes, where it's $19.99 to buy and $4.99 to rent in HD versions. Right now it sits at #26 on the chart. Pretty good. Read the entire story at The Wrap. And visit the film's excellent Tumblr site.
for lovers only… from Polish Brothers on Vimeo.