Back to selection
Criterion: The Killing
It's extremely difficult to type the words "my favorite Kubrick film" because I honestly feel I could put that down while writing about any of them. But what I can say about Stanley Kubrick's Hollywood calling card The Killing is it's the one film of his that I'm most nostalgic about.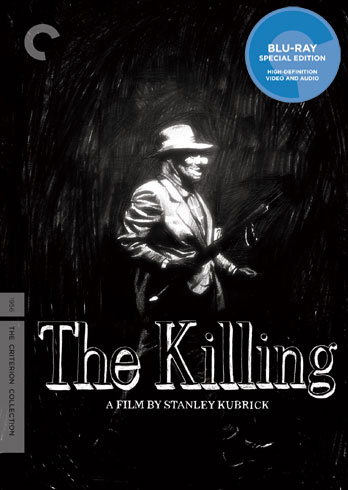 Film noir. Jim Thompson's words. Sterling Hayden's "when men were men" bravado. The contract studio picture was on the way out and the New Hollywood of Bogdanovich, Ashby and Nichols were breaking down the doors.
But before that (and likely escalating the emergence of New Hollywood) there was Kubrick. Then 28 and coming from New York's beatnik era having just made a twisted romance drama Killer's Kiss (which he shot with no sound and dubbed the dialogue in post) in 1955, one year later he would team with indie producer James B. Harris and Thompson writing a screenplay for the first time to adapt the Lionel White novel, Clean Break.
Now titled The Killing, Hayden plays Johnny Clay, an ex-con who masterminds the heist of a racetrack with a group of men who aren't "criminals in the usual sense," as he puts it. All with jobs and different lives, like Clay, they converge in the hopes of a score in the millions that will make them for life. Of course there are problems: women, booze, and other unavoidable wrenches (or should I say horseshoes) in the "masterplan" that leads to one of the most memorable endings in the noir genre.
But unlike the majority of noirs, the combination of Kubrick and Thompson creates an elevated, hard-boiled story that makes the movie standout. Thompson's razor-sharp dialogue ("smack that face into hamburger meat") and Hayden's delivery is filet mignon to the skirt steak of most noirs. Then there's also Kubrick's vision and the execution by d.p. Lucien Ballard (though they didn't get along well), particularly the tracking shots. However, the biggest standout is the structure of the story. Told from the perspective of each player involved, the story moves back and forth from Clay, the track window teller (Elisha Cook Jr.), corrupt cop, track bartender and the sharpshooter who has the dirty job of shooting a horse (played in all his usual creepiness by Timothy Carey). It's the film's trademark, and what turned off most when it was released. In fact, after a screening Hayden's agent walked up to Harris and told him he and Kubrick "really screwed over his client."
What's great about Criterion's release of The Killing (which is out today) is it also carries Killer's Kiss in its two-disc packaging. Now a young cinephile can sit and study the vast differences between the two works (and be in awe of the elevation in Kubrick's skill in just a year's time).
Extras include new video interviews with Harris on working with Kubrick and  poet/author Robert Polito on Jim Thompson; excerpt from a French interview with Sterling Hayden; and a booklet essay by film historian Haden Guest.
[AMAZONPRODUCT=B005152C9G]
[AMAZONPRODUCT=B005152C78]