Back to selection
THE SANTA FE INDEPENDENT FILM FESTIVAL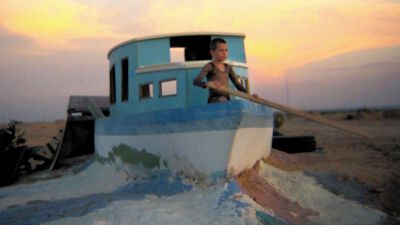 Back when I fled Colorado for NYC it was the rebellious thing for an artist to do. Now two decades later it's the opposite as young bohemians across the nation are radically giving the finger to both coasts, forcing the arts culture to come to them. Case in point, the Santa Fe Independent Film Festival, which was originally launched just three years ago as a Slamdance-style antidote to the more established Santa Fe Film Festival, and is made up of folks who want to play in their own backyard – and spruce it up locally. This year the two festivals' dates unfortunately overlapped – with The (smaller) Man opening with Michel Hazanavicius's Cannes buzz-generating The Artist and bringing in Emilio Estevez and his dad for a screening of Estvez's The Way, while the sprawling SFIFF chose to present Billy Wilder's Albuquerque-set classic Ace in the Hole at the New Mexico History Museum, and hosted Kirby Dick (along with a special screening of Dick's bar-none best work Sick: The Life and Death of Bob Flanagan, Supermasochist).
And while I've spent the past year covering a slew of film festivals, from the internationally acclaimed to the virtually unheard of, SFIFF's gung-ho executive director and co-founder, Jacques Paisner, with his magician's ability to conjure something from nothing, impressed me more than any other programmer I've encountered. After authoring a book called Albuquerque Blues and having his feature-length, New Mexico neo-noir – the appropriately titled Rejection, made for under three grand – rejected from film festivals, he and his producer/actor David Moore decided to start their own film fest with the funds Moore won in a poker game. The two's obsession with film is matched only by their love of community and passion for backbreaking work. (Literally – as Moore was a constant presence at this year's festival, despite having only been recently released from rehab after being hit by an Amtrak train last December!) And because of this, they've been able to convince an entire town to come onboard to make their dream come true. Indeed, this is the first time I've ever been to a festival with volunteers (around 75 of them) and local businesses (close to 50!) practically vying with one another to pitch in. (All of the screenings at the cavernous Warehouse 21 – an arts center located on the historic Railyard that teaches grassroots entrepreneurship to local youngsters, and which reminded me of Amsterdam's former-squat-turned-artists'-hub OT301 – were even accompanied by a table of free snacks courtesy of none other than corporate Whole Foods.) In fact, the humble, democratically-minded Paisner's main problem seemed to be how to organize too much of a good thing.
"I'm committed to developing this community," Paisner told me over coffee at one of the many downtown cafes sponsoring SFIFF, before surprising me with the admission that he initially envisioned using the festival as a springboard to getting on the Santa Fe Railyard Community Corporation, which is responsible for developing and running downtown Santa Fe. But this statement started to make sense the more time I spent around New Mexico's filmmaking scene – courtesy of Paisner's near-zealous effort to introduce me to everyone from SFIFF's Lifetime Achievement Award recipient Alton Walpole, the line producer on Crazy Heart and New Mexico's number one UPM; to Jon Hendry, the Scottish business agent for the local IATSE who still keeps in touch with onetime classmate Danny Boyle; to the box office personnel at The Lensic, Santa Fe's 80-year-old performing arts center where a recent $10 million renovation is on wondrous display.
For Paisner doesn't invite filmmakers to attend SFIFF so much as adopt them into his family. (This isn't just a metaphor. I spent many a meal chatting with Paisner's parents about their days living in the East Village in the '70s, where mom Charleen Touchette hung out with a young artist named Jean-Michel before he became known simply as Basquiat. Alas, Paisner's siblings were working too hard behind the scenes to join us.) Whether you're a first-time director of a short or the team behind the SXSW hit Happy New Year, Paisner's grateful you chose to attend. "How's the festival?" and "What do you think of Santa Fe?" were the two most FAQs – even from my hotel's front desk clerk who also inquired as to what I thought of Alma Har'el's Bombay Beach (pictured above), which features music by New Mexico native Zach Condon and had a packed Saturday night screening at The Lensic. (We also discussed New Mexico's tax incentive program, which despite an anti-arts Republican governor is still far friendlier than that of most southwestern states.) In fact, I often felt like I was at an all-inclusive resort for cinephiles rather than attending a mere film festival.
And in addition to locally-themed features such as Henry Lu's Run to the East, a doc that follows four Native American high school students, elite cross country runners who are using their brains and feet to get off the reservations and into college, SFIFF also showcased odd shorts like Brad Durham's Dawn's Highway, which attempts to reconstruct the 1947 road accident in New Mexico witnessed by a five-year-old Jim Morrison, and which spawned The Doors song of the same name. (There was also Kathleen Brennan's The New Neighbor, the titular character being the deceased Dennis Hopper, who is buried nearby the director's home in Taos.)
But perhaps my most informative local experience was a noontime talk at the Aztec Café by the legendary Navajo filmmaker Norman Patrick Brown, who turned to directing after acting in The Thin Red Line, which allowed him the opportunity to learn from Malick and DP John Toll. Brown is the force behind Rezwood Entertainment, which he is adamant about turning into the Native-American Hollywood. He was an early adopter of Kickstarter, having financed one of his first features via the site, and takes a "thanks but no thanks" approach to initiatives like Milagro at Los Luceros, a joint venture between Robert Redford and the State of New Mexico designed to empower Native Americans and Hispanics working in the arts and on environmental issues (and which ironically partnered with SFIFF this year). "We don't need Robert Redford. We don't need the Sundance Institute," Brown proclaimed. "We don't need your interpretation of our stories," he added, referring to the many non-Natives working on Navajo themes – which he calls the "new uranium, the new gold." Giving Robert Redford the boot – you can't get much more indie spirited than that. Here's hoping the Santa Fe Independent Film Festival stays true to its roots in the coming years – and that the Rez one day produces the next Bill Gates.