Back to selection
IRAQ AT 24 FRAMES A SECOND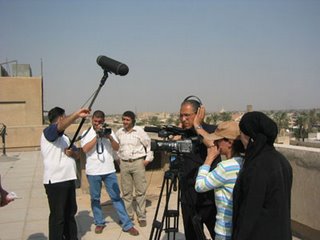 Over at FilmInFocus, Anthony Kaufman takes a look at filmmaking in Iraq by talking to the leaders of the Baghdad Independent Film and Television College.
Here's the opening:
Filmmaking requires perseverance, zeal, sometimes even a pathological commitment to see a project through. Now imagine making movies in Baghdad.

Kidnappings, killings, suicide bombings and blackouts haven't deterred a number of intrepid aspiring directors from pursuing their passion, whether Oday Rasheed and Mohamed Al-Daradji, the first two people to make feature films in the wake of the U.S. invasion in 2003 (respectively, Over Exposure and Ahlaam) or the roughly 80 young Iraqis who have gone through Baghdad's Independent Film and Television College since it was launched by two Iraqi exiles in 2004.

Based in London, Kasim Abid and Maysoon Pachachi had taught filmmaking courses to Palestinians in Ramallah and decided to bring that experience to bear in their homeland. "We thought, 'What can we do to help?'" says Pachachi. "We're not doctors, we're not engineers, we're just filmmakers."
The site also has a piece by Peter Bowen on the history of Iraqi cinema.