Back to selection
ENJOY THE DOG DAYS AT HULU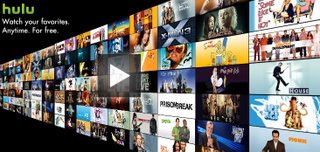 I've been hooked on the free streaming video site Hulu the whole summer. And not just because I can watch episodes of The A-Team whenever I get a B.A. Baracus craving.
Since June they've launched a new movie or TV show every weekday in their Days of Summer series (it ends in a few weeks). Today they premiered The Taking of Pelham One Two Three. Not one of my favorites, but for the most part I've been impressed by their taste: Lost In Translation, The Three Stooges collection, Eternal Sunshine of the Spotless Mind, (and that was just the first three days of the series, talk about coming out of the box strong) Raising Arizona, Lost Highway, Casino Royale (1967), Coffee and Cigarettes, Weird Science (yes, sometimes you just need some Kelly LeBrock on a hot day), Open Your Eyes, Hoop Dreams and Groundhog Day.
If you haven't been to the site I highly recommend it. There's nothing like getting through the work day by watching Bill Murray repeat the same one.