Back to selection
25 NEW FACES UPDATE #4
Here's the fourth of our catch-ups with previous "25 New Faces" filmmakers. If you've been on the list and haven't sent us an update, you can still email one to editor.filmmakermagazine AT gmail.com.

Laura Colella, writer/director, 2000: In 2000, I was gearing up for the Sundance Directing & Screenwriting Labs with my 2nd feature project Stay Until Tomorrow. After the amazing lab experience, I spent over a year trying in vain to get a company or established producer behind the project. Amy Geller, a great young producer, signed on. We set a date, were offered many substantial donations of equipment and services through Sundance, and began trying to raise the needed funds. As the date approached, we had everything in place with the exception of any investors. Just at that time, I learned Robert Redford happened to be coming to Providence, RI, (where I live and was planning to shoot) to accept an award. I called Sundance to ask if there were any way he would consider briefly meeting with investors in my project (as a way for us to actually secure investors). They said no, he was completely booked, and gets way too many requests for a broad range of causes. But then they called right back and said he'd do it. To make a long story short, the funds we needed for this shoestring 35mm feature all came as a direct or indirect result of a meeting with Robert Redford. His generosity and commitment led him to talk about the importance of supporting regional filmmakers to a small group of our investors (and to my mother, who was so thrilled she could barely speak, and for the first time thought perhaps filmmaking wasn't such a worthless pursuit). Despite the overall good fortune, there were many desperate financial struggles in the making of Stay Until Tomorrow. The film was finished in 2004, had a good festival run, won some awards, and has a small distributor. I'm proud of the way it turned out, and also disappointed with the distribution options that were available for it.
I'm currently in the process of getting a new feature off the ground that I'm extremely excited about. It's adapted from a timely novel that's alternately darkly comic and vividly surreal, the author of which is often mentioned as a potential future Nobel prizewinner. The film is mostly live action, but incorporates a few animation sequences, and has elements that echo genres such as westerns, drug movies, and detective thrillers. I have an agent for the first time (from UTA), who is very smart, helpful and cool. I had about a dozen meetings for the project about a month ago in Los Angeles, mostly with major companies that were probably longshots for a project like this (at least from the outset). I had meeting after meeting with people who used the word "love" to describe their feelings about the script, and almost all said it was the best or most interesting script they'd read in a long time. It was a fun lovefest, but most from this first round have passed. As the last responses come in, my agent is selectively sending the script to other producers/companies who may be more appropriate, and more likely to do what they love. In the meantime, as with my last project, I'm moving forward in full preparation mode: location scouting, budgeting, storyboarding, working with others on the VFX/animation and production design components, etc. My filmmaking strategy involves dogged belief in the inevitability of a project's fruition. Any interested parties can contact me through the address on my website, www.lauracolella.com.
Larry Blackhorse Lowe, writer/director, 2004:
right now i'm traveling raising money
for a short film
which is costing 3 times what my feature 5TH WORLD cost
crazy
but its worth a small film with epic qualities
shot on black & white
Anamorphic 35mm
the struggles are all the same
finding money for movies with brown people
with no robots and no explosions
just panorama's and emotions
is extremely hard
so it goes
30 grand to finish this next one
then onto the robots and explosions
or a russ meyer remake
Neill dela Llana and Ian Gamazon, writer/directors, 2005: The Cavite Boys struggle to get their next projects off the ground. Hollywood hasn't been receptive to our ideas but we continue to write and hope to get financing for them. It's been a rough ride the past two years. We've met with every big studio, were offered really bad scripts that we turned down, fought for projects that we didn't get, got a development deal with Rogue Pictures that's now in development hell, and wrote three scripts that never got beyond our agents because they were not commercial enough. After all this we keep going because we're masochists and don't know when to quit. We will keep trying to get the next film made, even if it means we'll be in festivals with filmmakers who are half our age. We both have projects in different stages of development with the goal of getting one or both made before it's time to retire.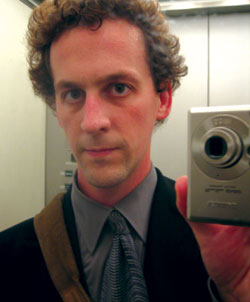 Todd Rohal, writer/director, 2006: Since making the 2006 25 faces list I continued to distribute my film, The Guatemalan Handshake, around the world…traveling with it as much as possible and somehow forging a living from it (actually paying my rent by working as my film's theatrical distributor). I solidified a deal, put a lot of work into a new HD video version, and released the film on a beautiful DVD through Benten Films. I finally put the film behind me after years of work (although, as I write this it is continuing to screen theatrically in Canada, show on Eastern European TV, run as a midnight film in Australia and play at art houses and festivals in various parts of the world)..
Although much of the last few years was spent working as my own distributor, I did manage to shoot a short film in Amsterdam with Danny McBride, shoot a music video for David Wingo's band Ola Podrida, created some short musical video pieces with Cory McAbee, earned a membership card into the mumblecore club by "acting" in Joe Swanberg's Hannah Takes The
Stairs, and I am gearing up to again "act" in a feature film with Linas Phillips (also of the 25 Faces of 2006) called Bass Akwards.
After months of writing, my newest projects are now moving forward into the funding stages, one of which (Scoutmasters) is participating with producer Sophia Lin at the 2008 Sundance Producer's Lab and the other (The Untitled Buttock Adventure Movie) is taking part of the IFP's Emerging Narratives Program during this year's Independent Film Week.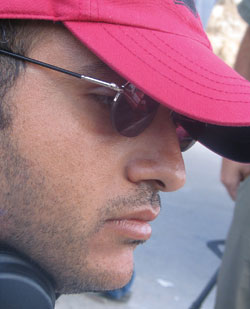 Sameh Zoabi, writer/director, 2006: For the last couple of years I've been working on my first feature film script Man Without a Cellphone. Finally I locked the script with my Co-Writer David Rice. We will start Pre-Production this Fall 2008. Man Without a Cellphone takes a comical and political look at post-adolescent Palestinians living inside Israel. A young man confronts dating, cell phones, nosy friends, cultural tradition, an oppressive political reality, and his crazy father's battle against an Israeli cell phone company in an indifferent village. The project won the Film connection Award in the 2007 Dubai Film festival. Producers attached to the project: Amir Harel (Lama Films- Tel Aviv), Christoph Hahnheiser (Black Forest Films GmbH- Berlin), and Marie Gutmann (Meroe Films- Paris.)